'Shark Tank': Here's the 1 Thing Mark Cuban Goes 'Hard' For, But Probably Shouldn't
Mark Cuban knows what makes a product successful. As a top shark on ABC's Shark Tank, Cuban has personally invested millions of dollars into up-and-coming entrepreneurs. One of his latest ventures includes a business that tested Cuban in one notable way.
Mark Cuban is committed to a healthy diet and fitness regimen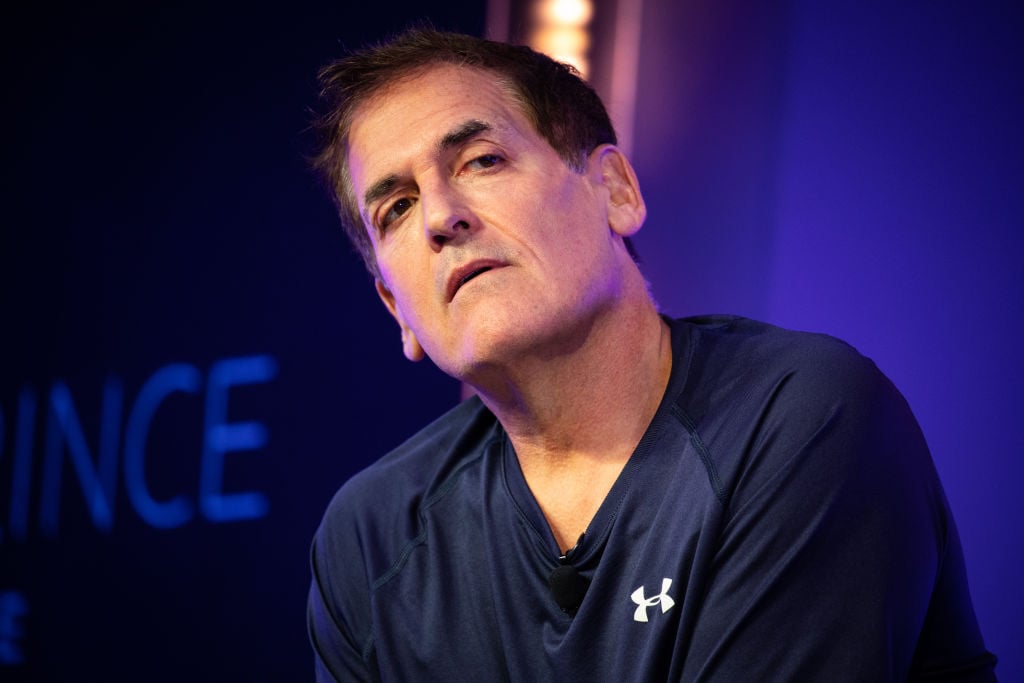 As the owner of the Mavericks basketball team (he bought the team in 2000), Cuban keeps a fit lifestyle. Though, Cuban previously said his way of thinking goes against his better instincts.
"I consider myself as someone who lives to eat," he said. "Unfortunately, I find myself thinking more about when I can eat again, than what I will be eating."
Cuban's workout routine involves a lot of elliptical training, stair-stepping, and basketball playing. He said the key is keeping his diet to around 2500 calories or less, then burning at least 450 calories by working out.
His typical diet consists of Alyssa's cookies (which he also invested in), fish, and salad. He might add in tomato soup, mashed potatoes or green beans from time to time, but overall, he keeps things light.
As for indulgences, the shark he admits to snacking on Skinny Pop popcorn or whipped cream.
"I'll walk around squirting whipped cream in my mouth. Hey! It's low carb, haha," he said.
If he's out and about, Cuban confessed to ordering a chocolate-dipped soft serve from McDonald's.
"Without question my favorite guilty pleasure," he said. "If I'm stressed, I'll drive around till I finish the first and get a second."
The 1 thing Mark Cuban will 'go hard' for is not part of his usual nutrition plan
During the Nov. 10 episode of Shark Tank, husband-and-wife team Logan and Chelsea Green came on asking the sharks for a $400,000 investment in their franchise locations for The Yard Milkshake Bar.
The business model is just as it sounds: a buffet-style milkshake bar where customers can concoct the most social-media-worthy ice cream creations. Cuban volunteered to "test" the product claiming it's the one thing he'll "go hard for," but probably shouldn't, according to Cuban himself.
Considering his usual diet, an over-the-top ice cream treat is likely on his "occasional indulgence" list. Cuban's reaction to the dessert proves why the business has already found success.
"We knew people would love our milkshakes, but we didn't think people would line around the block to wait for one," said the owners.
The store has four locations, but their investment request doesn't include the existing stores. This news threw some of the sharks off but Cuban steps up to the plate, offering close to the owners' request.
"I want you guys to use the $400,000 to open up units and I want 25 percent, not of the existing units, but of the new business," he said.
The couple countered with 20 percent and Cuban came back with 22 percent and a deal was made.
Cuban's investments include other food-related products
Even though health is a priority, some of Cuban's food-related investments include Tom + Chee, a tomato soup and grilled cheese restaurant, Nut 'N More, a selection of high protein nut butters, and Plated, a food subscription delivery service.
If Cuban invests in something, it'll likely hit the big numbers. Plus, anything that looks good enough to photograph — like those decadent milkshakes — can't be a bad thing.