'Shark Tank': How Much Money Did Click & Carry Make After Deal With Mark Cuban and Barbara Corcoran?
A great product taps into an everyday problem. Shark Tank showed the creator of Click and Carry, which offers a product doing just that. It's been some time since the deal with Mark Cuban and Barbara Corcoran was made and the company has made more sells since then.
Click & Carry's deal with Mark Cuban and Barbara Corcoran
RELATED: 'Shark Tank': Why Alex Rodriguez Reportedly Won't Be Asked to Return as a Guest Shark
The Dec. 12 episode showed Kim Meckwood pitching her company called Click & Carry. It offers a light-weight device which rest on your shoulder to help you carry multiple bags in one hand. Meckwood said she got the idea after a breakup and she no longer had her ex-boyfriend around to help her carry groceries.
She hoped to get $225,000 for a 15% stake in the company, with an evaluation of $1.5 million. Meckwood auditioned for Shark Tank seven times before the episode. That is a record for how many times someone has auditioned for the show.
"You're special," Cuban told her. "That's crazy, right? But it shows where your heart's at and where your head's at."
He went on to say she needs to bring someone else in to run the company. Meckwood eventually agreed to go into business with Cuban and Corcoran. The sharks will give $225,000 for 40% of the company. They will work on inventory and operations, as she brings them new products.
Meckwood happily said yes. "I get to work with Barbara and Mark. I am the winner seven years in the making so it paid off," she said.
It made $70,000 in sales after 'Shark Tank'
RELATED: 'Shark Tank': Are Entrepreneurs' Pitches on the Show Scripted?
There has been an update since Click & Carry's episode. The product is available through its own website. There is currently 12 different products available to purchase, which is mostly the same product in different colors. It's also being sold through Amazon.
CNBC claims the company has made $70,000 in sales 12 months after the episode was filmed. The Cinemaholics also claimed Meckwood has expanded her business with the product being in stores in England and Japan.
She's also working with an organization called Canine Companion, which is dedicated to helping people with disabilities by using trained assistance dogs. The dogs have been trained to use Click & Carry.
Auditioning 7 times isn't easy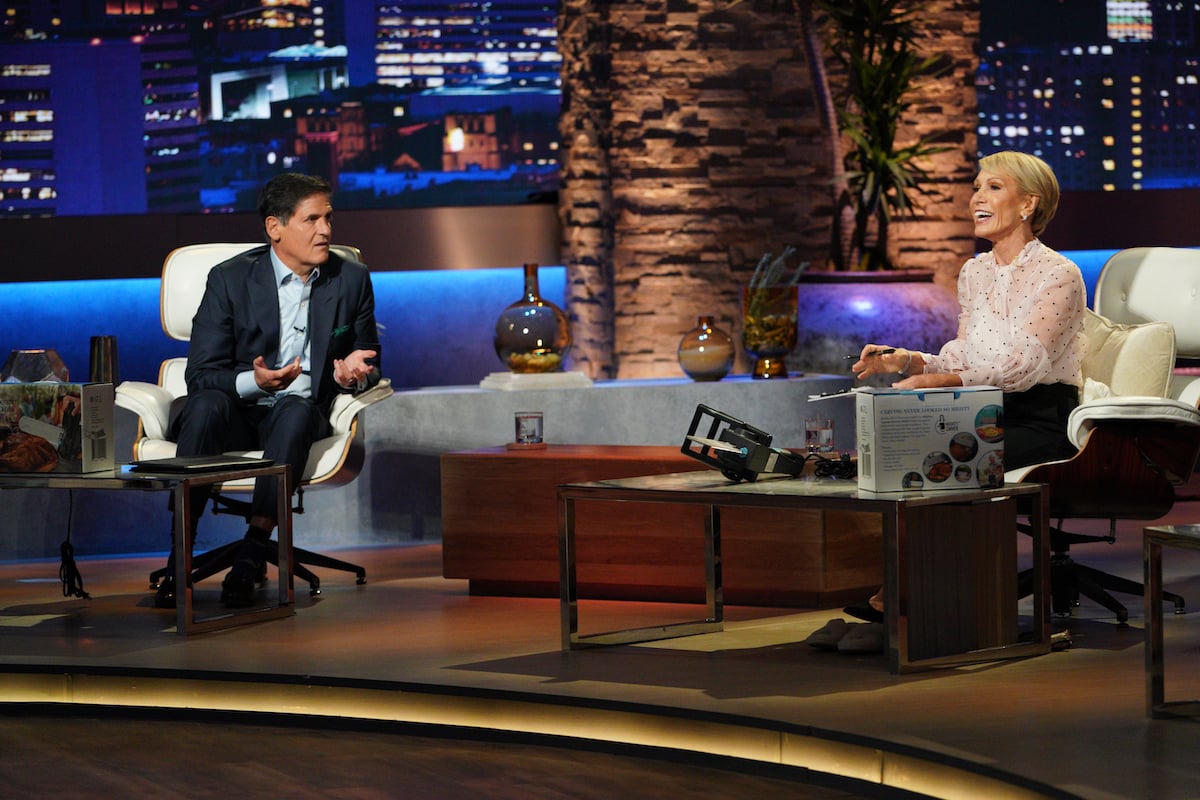 RELATED: 'Shark Tank': Do Entrepreneurs Have to Pay to Be on the Show?
Every year, new entrepreneurs audition to be on the show. It's not easy since your pitch has to stand out from a lot of competition.
Insider claimed more than 650 people showed up to a New York City audition for Shark Tank. Each person had only one minute to give their pitch. People tend to dress up, bring props and prototypes to give their pitch.
That's a lot of work, but the seventh time was the charm for Meckwood. Only time will tell how long she'll hold the record for most auditions and if she'll come up with a new product.