'Shark Tank': Is Daymond John Married?
The personal life of "Shark Tank's" Daymond John is rarely discussed - until now!
FUBU clothing brand founder and millionaire business investor on ABC's hit show Shark Tank, Daymond John is also a family man. Not much is known about his personal life, so here are a few details on the savvy shark.
Daymond John recently married his longtime girlfriend in a private ceremony
Engaged to girlfriend Heather Taras since September 2016, the two tied the knot in 2018 in what he called a "very private" wedding, according to Closer Weekly. "It was [a great day]. Filled with family and friends, very, very private — a few people knew about it and it wasn't in the public eye and I got married to the girl of my dreams," John said. "We have been together for quite some… It has been really great and I am enjoying it."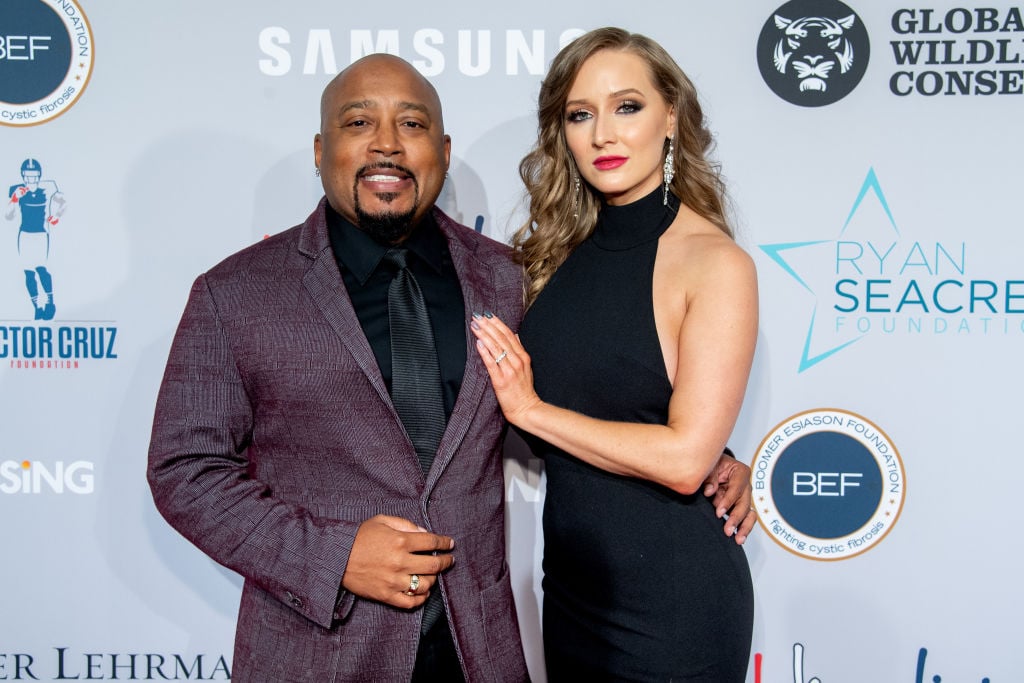 John proposed to Taras on the set of Shark Tank in front of a live audience, as reported by the Hollywood Mask. Their 6-month-old daughter Minka was there to see her parents' engagement.
John has been married before
John was previously married with two daughters, Yasmeen and Destiny, while building his FUBU brand. When the clothing company hit $6 billion, his personal life started falling apart. John told CNBC that his first wife "literally saw me on TV more than she saw me in person, because I was in commercials all the time and other than that I was hanging out." 
His first wife ended up leaving John, telling him, "You are no longer the person I fell in love with," according to CNBC. "She took everything from me. And it wasn't one red cent," John said. "She took her love and my two little girls away from me. I wouldn't be there anymore on Christmas to watch my girls open up their presents."
The couple ended up coming to an agreement, where his first wife promised not to take away his daughters completely if he would start to use his success for benefiting others by paying it forward, as reported by CNBC. "This deal is non-negotiable," John said his wife told him, so he started helping under-served entrepreneurs and mentoring young men of color, through programs such as President Obama's initiative, My Brother's Keeper.
John recently had thyroid cancer
In May 2017, John publicly disclosed that he had thyroid cancer, according to the Hollywood Mask. He was diagnosed two months earlier during an executive physical — a more extensive physical than what many people get annually — when his doctor found a nodule on his thyroid, later discovering that the result was Stage 2 cancer.
"I had no symptoms at all," John told People. "You would think you'd be able to feel a 1-inch nodule in your throat, but I didn't feel anything."
John decided to speak openly about his cancer to inspire others to be proactive about their health. "I'm so grateful that I went and got this thing looked into. I know there are a lot of debates about if executive physicals are worth it or not, but in my case it was worth more than gold – or anything else – because it saved me from a lot of potential problems down the road," he told People. "So I'm sharing this information with all the people I know — if they have [financial] resources or they don't. And if they don't, I'm discussing the options of what else they can do: look into family history and illnesses and do what you can to catch things early. 
John is now cancer-free and makes his health a priority, especially for his three daughters. "I want to be around in my daughters' lives for a long time. I want to walk my daughters down the aisle," John said in his interview with People. "I want to see them grow up to be productive people who can help add some value to this world. If I am so busy and neglect my own health, I may not be around at all. That would make my family suffer at the same time."
"There's an old saying: 'A man with his health has 1,000 dreams. A man without his health only has one,'" John said. "No matter how successful you think you are, if you are not healthy, it doesn't matter what money you make."