'Shark Tank': Why Kevin O'Leary Was Picked Over Lori Greiner By 'Wad-Free' Inventor Cyndi Bray
Entrepreneur Cyndi Bray appeared on 'Shark Tank' in November with her self-made product Wad-Free and had a feeding frenzy on her hands when Kevin O'Leary and Lori Greiner competed over landing a deal.
When Cyndi Bray appeared on Shark Tank last month, she had no idea she'd cause a bidding war between business icons Kevin "Mr. Wonderful" O'Leary and Queen of QVC Lori Greiner. Pitching her laundry device that prevents sheets from getting tangled up in the dryer, Bray wowed the Sharks with her invention and wound up with a tough choice to make.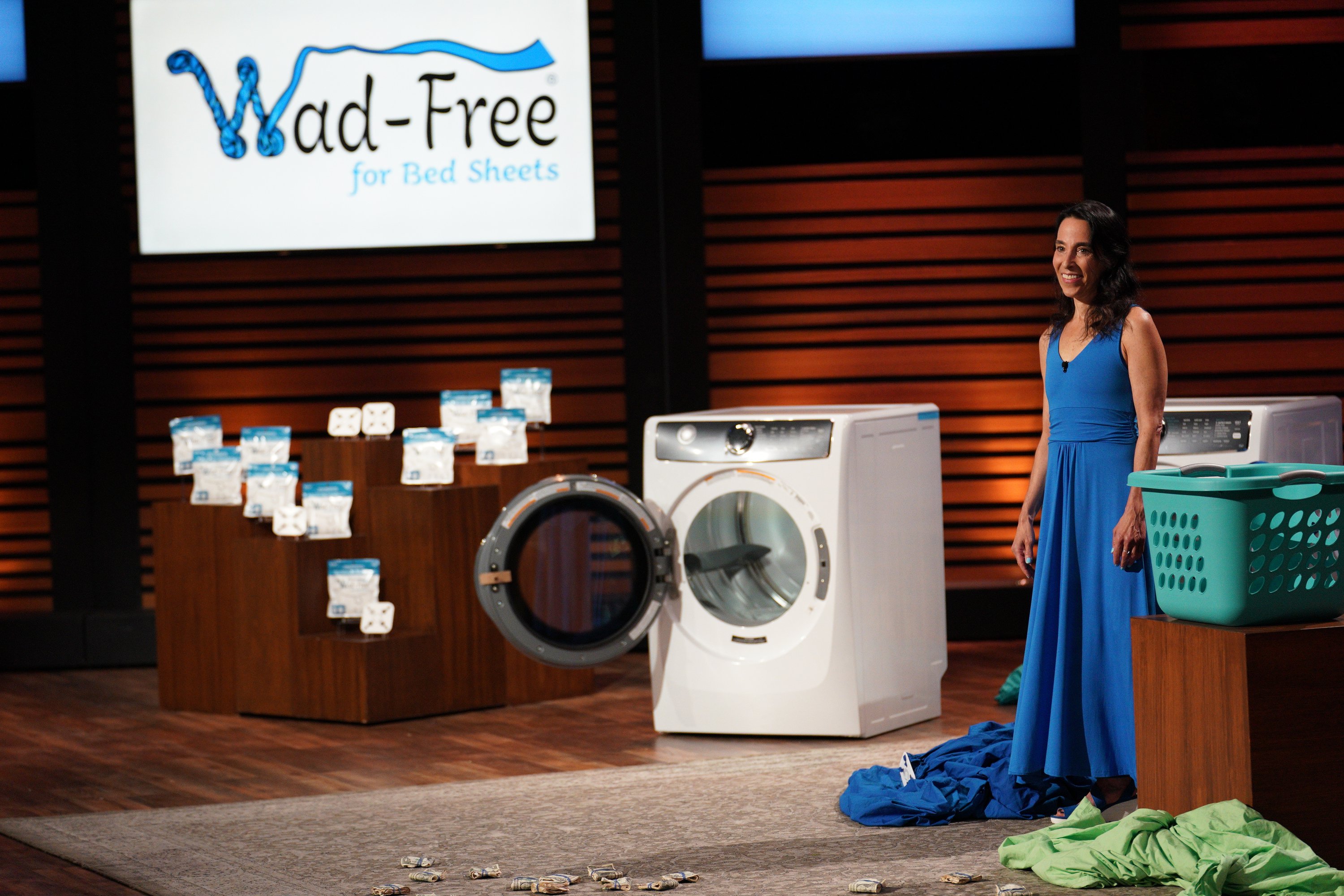 Cyndi Bray created all aspects of Wad-Free
The Wad-Free product consists of a 4-inch plastic square with rounded corners. Each corner includes a hole with a snap closure. To use the product, just take the fabric a few inches from each corner, and attach it to the Wad-Free similar to a garter clip.
In a recent interview with Showbiz Cheat Sheet, Bray described how she singlehandedly designed the product and gave props to Shark Tank for providing her with an education on entrepreneurship.
"In all honesty, since watching Shark Tank since 2009, I felt like I already had a playbook," she told Showbiz Cheat Sheet. "I've seen so many entrepreneurs, so many inventors bring their products to market, all of the things that the Sharks have said over the years – they stuck with me. So between Google, the library, and Shark Tank, I felt like I had a really good inventors handbook right there."
Inspired during the coronavirus (COVID-19) lockdown to make her dream a reality, Bray studied the physics involved in the sheet-drying process. She learned how to create CAD drawings, made various 3D prototypes at the library which she tested on friends and family, and even wrote the provisional patent for the product.
"I learned about injection molding and I found a U.S. manufacturer," the Shark Tank contestant explained. "I did my own logo, packaging, website, and my own videos, and I did all of this during the stay at home order all by myself. I launched 14 months after I came up with the concept in the middle of the pandemic."
Kevin O'Leary and Lori Greiner both wanted to partner with Cyndi Bray
Bray's pitch on Shark Tank was aired on Nov. 5, where she asked for $200,000 for a 5 percent equity stake in her business. Her presentation impressed the Sharks and netted an offer from Mr. Wonderful for $200,000 for 10 percent, plus a $1.50 per unit royalty until he recouped $1 million.
Greiner jumped in with a bid of $200,000 for 25 percent. She offered to upsell Wad-Free with one of her other Shark Tank bedding products and suggested an infomercial. After some pondering, Bray countered Greiner with a 10 percent equity stake.
After some back-and-forth between O'Leary, Greiner, and Bray, the QVC queen dropped to 20 percent. Mr. Wonderful went down to 5 percent without being prompted, though he kept the royalty in place. Bray took O'Leary's offer.
Why Kevin O'Leary got the deal
When asked why she went with Mr. Wonderful rather than Greiner, Bray pointed out O'Leary's willingness to drop his percentage.
"What really stood out to me was he came down on his equity ask without me even asking, without me countering him," she told Showbiz Cheat Sheet. "He offered to reduce, to half it, from 10 percent to five percent, which is what I went into the Tank asking for. He did that on his own accord."
O'Leary's unsolicited reduction of his equity stake proved to Bray just how committed he was to the product.
"That said to me in that fast and furious moment… who really wants this," she remarked. "Not that Laurie didn't, and that was clear, too, but it was just too much equity."
While Bray was grateful for the deal, she mostly cherished being in front of the Sharks, whom she considers to be mentors.
"It was a dream come true," she shared. "I walked into that Tank and I felt like I already knew all of them. … I was so proud to be able to stand there and thank them personally because that's the impact that they had on my life."