'Shark Tank': Kevin O'Leary's 1 Revealing Remark Helped Cyndi Bray Recover From 'Shark Tank Amnesia'
Cyndi Bray appeared on Shark Tank last month to pitch her groundbreaking laundry device to the captains of industry. Kevin O'Leary and Queen of QVC Lori Greiner battled it out to partner with Bray, with Mr. Wonderful landing the deal. Bray had little memory of her time on the famous Shark Tank carpet until she heard a comment from O'Leary that jogged her memory.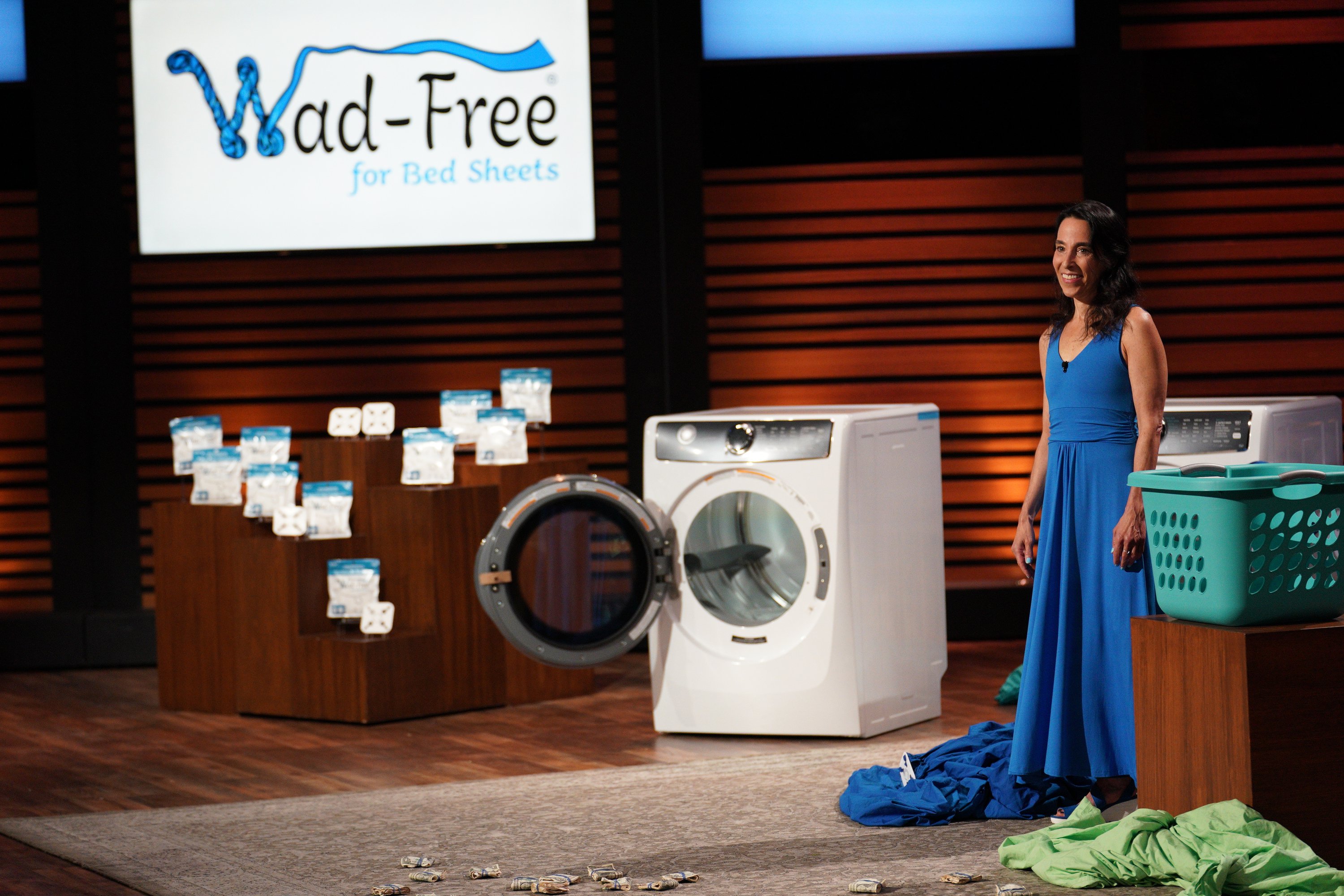 'Shark Tank' experience was hard to remember
Bray told the Sharks of her Wad-Free product that consists of a 4-inch plastic square with rounded corners. Each corner includes a hole with a snap closure. To use the product, just take the fabric a few inches from each corner, and attach it to the Wad-Free similar to a garter clip.
Though inventor got accolades for her pitch, Bray admits she didn't remember much from the Q&A with the Sharks that followed.
"I can't even tell you," she told Showbiz Cheat Sheet. "I experienced what I am calling Shark Tank Amnesia – I walked out of the Tank thinking, 'First of all, what just happened? Second of all, what did I say? Did I say that or did I wish I said it? Or what did the Sharks say or I'm making this up?'"
One comment from Mr. Wonderful stood out to Bray when she went back and watched the segment of her pitch, which gave her memory the jumpstart it needed.
"I knew the gist of it, but certain things I had no recollection of," Bray remarked. "It all came flooding back to me when Mr. Wonderful said, 'I sleep naked'. I had erased that from my mind until I saw it on TV the other day."
RELATED: 'Shark Tank': Why Kevin O'Leary Was Picked Over Lori Greiner By 'Wad-Free' Inventor Cyndi Bray
Mr. Wonderful had a thread count to protect
As the Sharks began to inquire about Bray's product, O'Leary shared that he goes au naturale at bedtime and needs his sheets intact.
"Here's what I'm concerned about," O'Leary said. "I sleep naked, and I buy the most expensive Egyptian cotton the world makes – thousands of dollars. Is this going to damage my fine Egyptian cotton when i'm jamming it up into this clip?"
Bray did such a good job assuring Mr. Wonderful that his sheets would be unharmed that he gave her an offer. She had asked for $200,000 for a 5 percent equity stake in her business. O'Leary said he would shell out $200,000 for 10 percent, plus a $1.50 per unit royalty until he recouped $1 million.
Then the waters got a bit choppy with Greiner offering $200,000 for 25 percent sans royalty. Bray countered Greiner with a 10 percent equity stake but the QVC queen only lowered her bid to 20 percent. O'Leary made a bold move by lowering his offer to 5 percent with the royalty in place, which tipped the scales in his favor. Bray walked away with Mr. Wonderful as her partner.
Cyndi Bray considers the Shark her mentors
Bray has been a Shark Tank viewer since the reality show debuted in 2009 and felt a kinship with the Sharks before even entering the room.
"It was a dream come true," she shared with Showbiz Cheat Sheet. "I mean, I walked into that Tank and I felt like I already knew all of them. I was dancing on that carpet – I felt like I was proudly presenting to them as their star pupil."
The entrepreneur gave props to the business moguls for giving her the tools and incentive she needed to launch a successful product.
"They really did inspire me," Bray raved. "They gave me the courage to launch Wad-Free. And I was so proud to be able to stand there and thank them personally because that's the impact that they had on my life."
RELATED: How 'Shark Tank's Star Mark Cuban Set a Guinness World Record