'Shark Tank': The Worst Idea Ever Pitched on the Show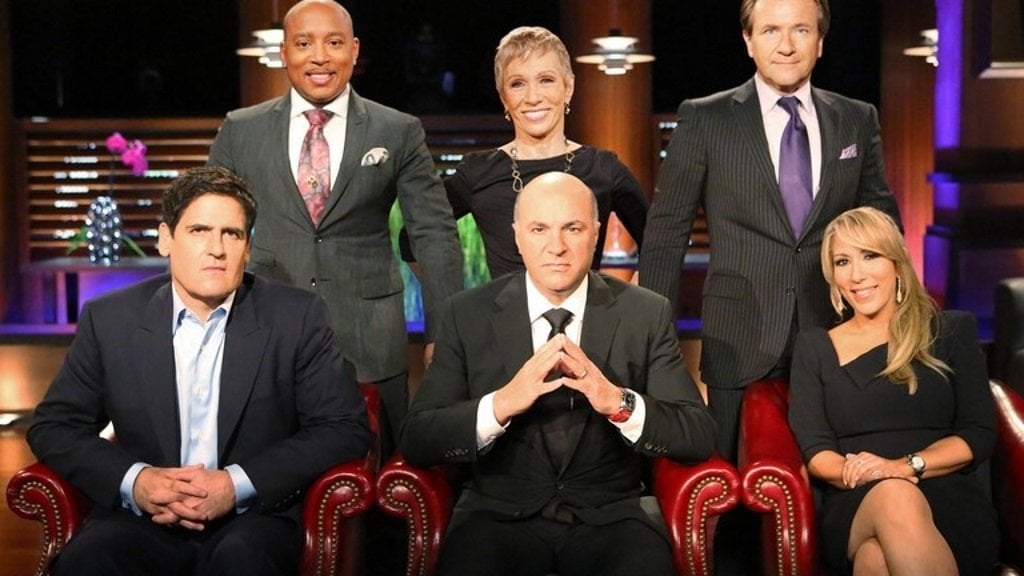 Since premiering in 2009, Shark Tank has become a bonafide hit, enticing viewers with its focus on the ideas of aspiring entrepreneurs. Over the years, the inventions seen on the show have ranged from innovative and practical to inefficient and, at times, downright strange. The reality series has featured plenty of wacky products throughout its run, but which are truly the worst of the worst?
Below, check out nine of the most ridiculous items ever pitched on Shark Tank, leading up to the very worst:
9. Squirrel Boss

How many times have you been tempted to zap a squirrel because it was getting into your bird feeder? Never? Neither have the Sharks, which is why they turned down this weird pitch from Michael J. Desanti in Season 4.
The Squirrel Boss, which Desanti dubbed the first "interactive squirrel-proof bird feeder," allows customers to fend off squirrels and other critters by giving them a static shock with the press of a button.
Though Desanti claimed the jolt was "harmless," the Sharks found it to be a little too strong and the concept a little barbaric. Luckily for squirrels everywhere, they all passed on the idea.
8. Track Days

James LaVitola and Brian Pitt appeared on Season 4 of Shark Tank, asking for $5 million in exchange for 34% of the profits from their developing motorcycle movie, Track Days. The catch? Though the guys had created a mock trailer for the thriller, they didn't have a completed script or any cast members lined up for the film. Yikes.
Unsurprisingly, the Sharks were not interested in investing in a half-baked concept for a hypothetical movie. Not only did they all decline to join the project, but Kevin O'Leary aka Mr. Wonderful ended the pitch by calling it a "horrifically bad idea." Ouch.
7. The Skinny Mirror

Belinda James appeared on Season 8 to sell the Sharks on The Skinny Mirror, a custom mirror targeted to women that makes the viewer appear slimmer. James valued the business at $1 million, asking for $200,000 in exchange for 20% of her company.
But the pitch went wrong pretty quickly. The Sharks criticized the product for not only perpetuating society's body image issues, but also not even being particularly original. James admitted that there were other slimming mirrors on the market and defended her product by saying it helps businesses sell more product (since customers feel like they look thinner).
That did not go over well with any of the Sharks — especially O'Leary, who stated, "The truth is you're lying to people. I'm out, but I also forbid any other shark from investing in this."
6. Throx

In Season 1, Edwin Heaven entered the Tank looking for $50,000 for a 25% stake in his company, Throx. The concept? Socks — specifically socks sold in threes, so that customers will have an extra if they lose one.
You're probably wondering, "That's it? But there must be something special about the socks, right?" Nope. The socks  (and their quality) were entirely ordinary, other than the fact they came in a trio instead of a pair. Needless to say, the Sharks did not offer Heaven a deal.
5. Sticky Note Holder

Mary Ellen Simonsen appeared on Shark Tank back in Season 1, but her pitch is memorable for being one of the most absurd in the series history. Simonsen asked for a $100,000 investment in exchange for 20% equity in her "invention," the Sticky Note Holder.
Yes, it's exactly what it sounds like — a piece that attaches to your laptop and holds all your Post-It reminders. Guess she hasn't heard that there's a Notes app in most computers these days? The Sharks made sure to point that out before sending her on her way with no deal.
4. Cougar Energy

Ryan Custer showed up in Season 3 with a, should we say, interesting proposition — an energy drink for middle-aged women called the Cougar Lifestyle Shot. According to Custer, the drink is tailor-made for single, older women looking to date younger men.
He asked for $150,000 for a 30% stake in the company, but the sharks weren't exactly thrilled with the idea — and for good reason. Besides just being in poor taste, the gimmicky product was (unsurprisingly) not selling much, leading the Sharks to send Custer out of the tank empty-handed.
3. NoPhone
https://www.youtube.com/watch?v=zrMn44EIB00
In Season 7, Van Gould and Chris Sheldon came to the Tank with NoPhone, a gag gift meant to satirize the world's obsession with smartphones. Prior to appearing on the show, the inventors had managed to garner around $18,000 on Kickstarter for the item, which is basically a purposeless chunk of plastic that supposedly helps break your cell phone addiction.
While that's impressive for an essentially useless product, the Sharks didn't really get the joke and certainly didn't think it warranted the $25,000 investment that Gould and Sheldon were asking for in exchange for 25% equity.
At the end of the pitch, Mark Cuban proclaimed that the only thing he hates more than people staring at their phones are "dumb patents."
2. Wake 'N Bacon

Matty Salin appeared on Shark Tank in 2011 during Season 2, seeking $40,000 for 20% equity. His pitch: Wake 'N Bacon, a wooden alarm clock that begins cooking bacon at the time it's set to go off.
While waking up to the smell of bacon may sound awesome in theory, there are all sorts of issues with this in practice. Not only does it require you to leave raw, unrefrigerated meat next to your bed all night, but — as the Sharks pointed out — it's also a potential fire hazard.
Given that, it's no surprise that O'Leary ended the pitch by saying, "I'm going to put that in my Museum of Really Bad Ideas That Kill People."
1. Ionic Ear

Many of the Sharks still consider this pitch from the 2009 pilot episode the worst they've ever seen on the show. Though it seems like a lifetime ago, that's when Bluetooth headsets were the primary method of answering your cell phone without picking it up.
The accessories often felt uncomfortable in your ear and needed to be adjusted — which is why Darrin Johnson showed up to the Tank with the Ionic Ear, a Bluetooth device that is surgically implanted in the customer's ear canal. He asked for $1 million for a 15% stake in the product, which you could recharge with a Q-tip-sized charger.
If you think that sounds insane, you're not alone. The Sharks started laughing uncomfortably when they heard the idea, but Johnson was scarily serious. All four quickly bowed out, with Barbara Corcoran summing it up best: "This is the weirdest damn thing I ever heard."