'Shark Tank:' Which Male Shark Has the Highest Net Worth?
The men on ABC's "Shark Tank" are all successful - find out which one has the highest net worth!
ABC's hit show Shark Tank boasts a panel of wealthy investors who have built their fortunes from the ground up. The four male sharks – Mark Cuban, Robert Herjavec, Daymond John, and Kevin O'Leary – all have a full portfolio of businesses that are flourishing. The men thrive on competition in the tank – ever wonder which one is the wealthiest?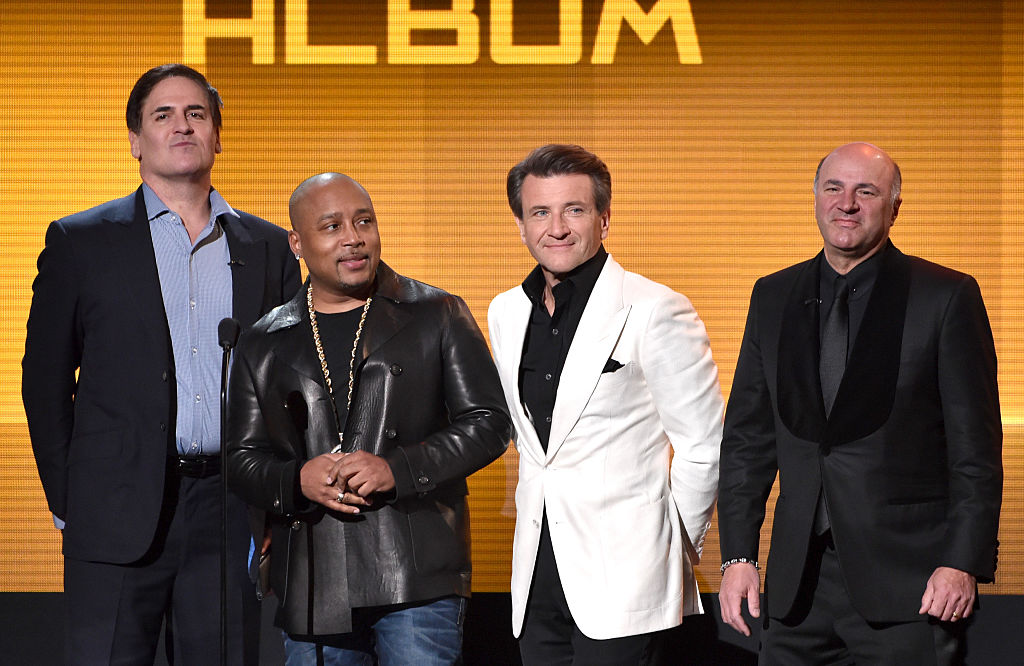 Robert Herjavec
Herjavec is working from the moment he gets out of bed. "When I wake up in the morning, I'm thinking business but I'm thinking opportunity," Herjavec told Ladders.
Herjavec's empire began in 1990 when he started the tech company Brak Systems, according to Fortune. Selling the company in 2000 for $30.2 million, he went on to launch the cybersecurity firm the Herjavec Group, which continues to be highly successful. He's made some extremely profitable investments on Shark Tank, including the apparel company Tipsy Elves, which sells garish Christmas sweaters. The company has sold over two million products and brought in $70 million, according to Business Insider in October 2018.
Herjavec's net worth is $200 million, as reported by Wealthy Gorilla.
Daymond John
John created the urban hip-hop fashion brand FUBU in the early 1990s in his home town of Queens, New York. Working out of his home making hats and T-shirts with the help of his mom and business partners, New York buddies J. Alexander Martin and Keith Perrin, John would sell his clothing products out of a van. "On the weekends I would take the seats out of that 15-passenger van, pack it full of FUBU and go down to a festival and sell FUBU, and then sleep at night in the van, to then go to another festival," John told CNNMoney.
In addition to his fashion brand and growing investments on Shark Tank, John is also an author, serves at multiple speaking engagements, and was appointed an Ambassador of Global Entrepreneurship by President Barack Obama. According to Money Inc., John's net worth is $300 million.
Kevin O'Leary
Known as "Mr. Wonderful" since Shark Tank premiered in 2009, O'Leary has been a force of nature in the business world for decades.  According to Inc., O'Leary spearheaded the company Softkey Software Products from his basement in 1983 sold it in 1999 to Mattel Toy Company for $3.7 billion. He also launched several other successful businesses including O'Leary Funds, O'Leary Fine Wines and the O'Leary Financial Group.
His many profitable deals on Shark Tank helped create the "Something Wonderful" platform that hosts several of his investments from the show, helping his net worth to reach $400 million, as noted by Investopedia.
And the title goes to …
Business Insider reported that Mark Cuban cultivated his riches through a myriad of business dealings, including the 5.7 billion sale of Broadcast.com and ownership of the basketball team the Dallas Mavericks. Cuban obviously works hard, and also plays hard, spending millions on private airplanes, a yacht, and luxurious residence, according to Business Insider.
The business mogul stresses the importance of scrimping while building a company. Cuban told Inc. that when he started out, he lived with numerous roommates, ate a lot of mac and cheese, and drove a beat-up car to save money. "I had a Fiat X1/9 with a hole in the floorboard. That was my decision. I was determined to save money and I was determined to be able to retire."
It looks like those lean years paid off. According to Business Insider, Cuban's net worth is $4.1 billion (that's billion, with a 'b'), making him the richest shark in the tank.