'Shark Tank': Who is Kevin O'Leary's Wife and Why Did He Cut Off His Kids Financially?
He's more widely known as "Mr. Wonderful" since ABC's hit show Shark Tank premiered in 2009, but Kevin O'Leary has been renowned in the business world for decades. According to Inc., O'Leary spearheaded the company Softkey Software Products from his basement in 1983 and sold it in 1999 to Mattel Toy Company for $3.7 billion. He then launched several other successful businesses including O'Leary Funds, O'Leary Fine Wines and the O'Leary Financial Group.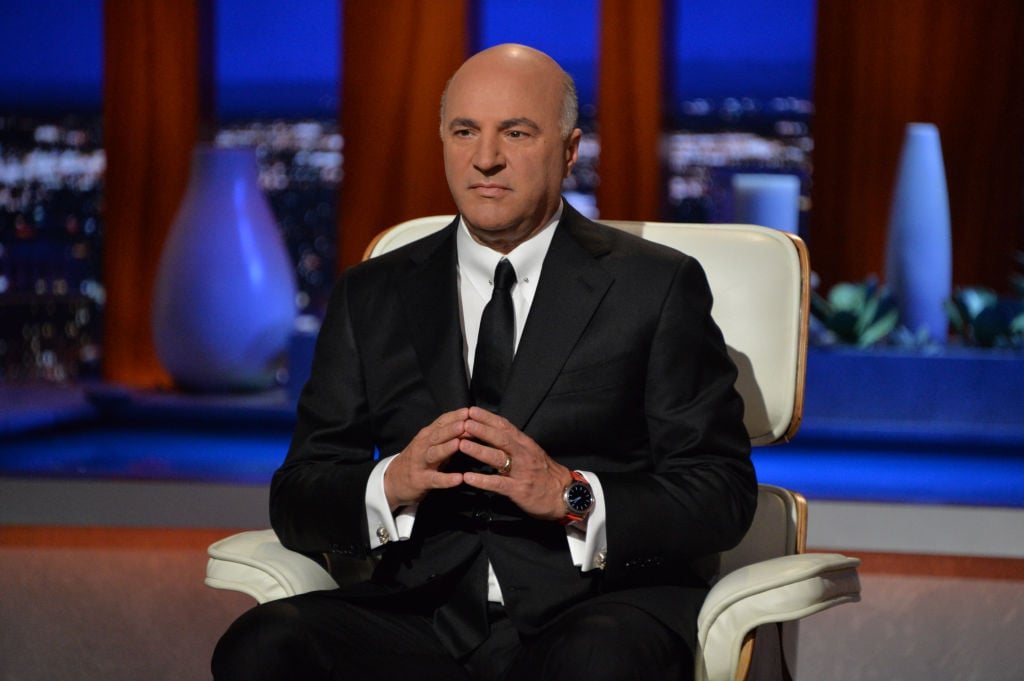 Notorious for his tough demeanor on the entrepreneurs entering the tank, O'Leary has often said his approach is for their benefit. "I'm trying to test the mettle of those entrepreneurs, because if they think it's tough in the "Shark Tank," wait until they get out in the real world," he told Business Insider in 2015. "If they can't take a guy like me, then they're not ready."
With his professional life in the spotlight, very little is known about his personal life. O'Leary has actually been married for almost 30 years and has two adult children. Here are some details about his family.
Linda O'Leary is VP for one of Mr. Wonderful's companies
Married in 1990, O'Leary's wife Linda holds her own in the business world. As an integral part of O'Leary Fine Wines, Linda took on the role of Vice President of Marketing. She also serves on the Board of Directors for the National Ballet of Canada, according to Bustle.
The couple once separated
O'Leary blamed his sudden television stardom for causing a rift between himself and Linda at one point, as reported by Bustle. The two separated for two years and almost got divorced, but chose to reconcile.
"We were at the point of dividing the assets. But as we neared it, we decided not to do it," O'Leary told Guelph Mercury Tribune in 2014. "We have reunited and kept the family together. I'm glad we did that."
Maybe that was due to his own advice. In his 2013 book Cold Hard Truth on Family, Kids, and Money, O'Leary discusses how divorce can destroy a family's fortune, recommending that couples separate for 90 days before permanently dividing their assets to provide each person a time to cool off. And, that time apart could result in the old adage that "distance makes the heart grow fonder," which may have cultivated the reunion of the O'Learys.
O'Leary cut off his children financially after college
O'Leary's strict business practices aren't just for the entrepreneurs he invests in – he also implements them in parenting his two children, son Trevor and daughter Savannah. For instance, according to CNBC, O'Leary will have his kids fly coach on trips even though he flies first class.
"We were getting on a flight to Geneva, it's a long flight, and Trevor said to me, 'Dad, why is it every time we get on this flight, I have to take a left and go sit in the back of the plane, and you take a right and go to the front?'" O'Leary recalled to CNBC. "'[You] sit in a big chair and they roll roast beef on a trolley by you, and I'm back in 69D.'" O'Leary told his son,"Trevor, you don't have any money."
"My son is making the connection between money and personal freedom," O'Leary wrote in his book. "I think that's the greatest gift I've ever given him: to help him see that connection. And I constantly reinforce it by doing Mean Dad things like making him sit in those crappy economy seats."
O'Leary also forewarned his kids not to expect much financially from him once they graduated college. "I told [my kids] when they finished college, I was going to give them this: nothing," he told CNBC. "Because that is what my mother did to me. You have to go make it on your own, and I think that is a very important lesson."