'Shark Tank's' Robert Herjavec and Wife Kym Johnson Just Posted the Sweetest Anniversary Messages to Each Other
"Shark Tank's" Robert Herjavec and "Dancing With The Stars" Kym Johnson tied the knot three years ago - see their sweet messages to each other!
Has it really been three years since Robert Herjavec of ABC's Shark Tank married former Dancing With The Stars champ Kym Johnson? Yes it has, and the two recently sent loving wishes to each other on Instagram.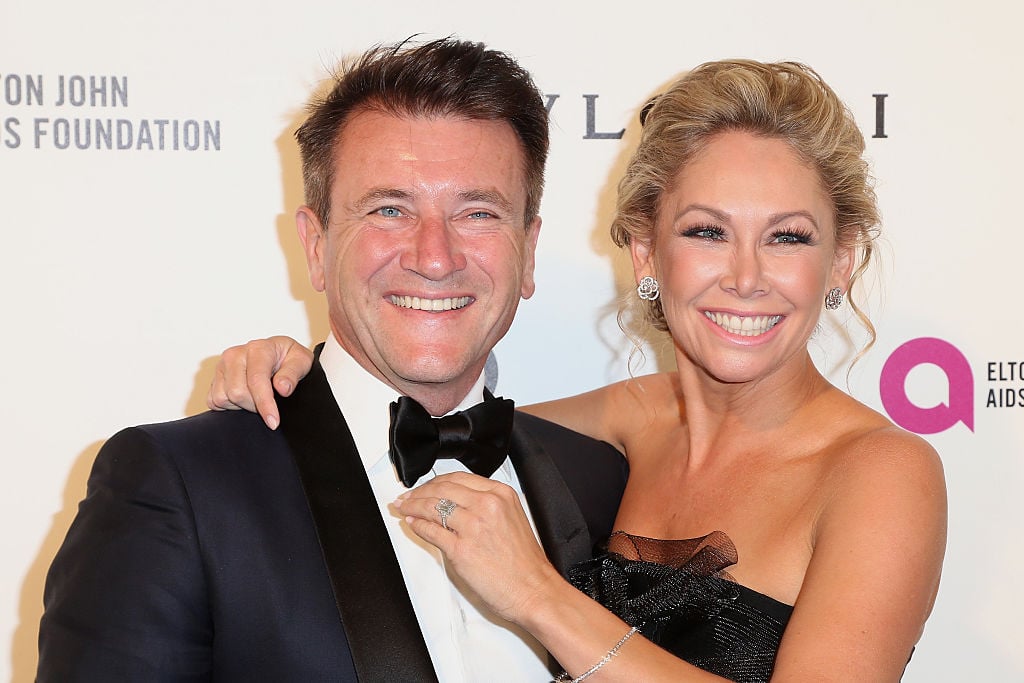 A picture says a thousand words
Johnson put up a romantic tribute to her husband on her Instagram on Tuesday, according to People. "3 years ago today 🤵👰👼👼🐶 💕" she wrote in the post, along with several black-and-white photos of their special day in 2016. The dancer also posted several pics of the couple on her Instagram Story, including what they had for their anniversary meal.
Herjavec also posted several images from their wedding day on Instagram, along with the caption, "My ❤️ happy anniversary @kymherjavec5678."
It all started with dancing …
Herjavec and Johnson met when they partners on season 20 of ABC's Dancing With the Stars. At the time, Herjavec had a difficult time hiding that he was completely smitten with dancing pro. "I don't do anything for publicity," Herjavec told People in 2015. "From the moment I met her, I love hanging out with her. We are having a great time."
Their co-stars on the show that season noticed the couple's chemistry. "I think they're an adorable couple," DWTS champ Derek Hough told Us Weekly in 2015. "Literally when Kym describes the kind of man that she's looking for, it's him! She's like, 'I need a guy like this and like this' and I'm like, 'Yo, that's him!' More power to them! I say yay to that."
Herjavec frequently praised Johnson publicly during their dancing season, telling Us Weekly, "From the moment I met [Kym], we got along great. This is a very scary experience for me, and it's great to have somebody like Kym to go through it with,'
The two tied the knot in 2016.
A new beginning, babies and all
Herjavec has three children from his previous marriage to Diane Plese – two daughters, Caprice and Skye, and a son, Brendan. The couple separated in July 2014 and were divorced in 2016. At the time of the separation, Herjavec took the split very hard, even contemplating suicide, according to his interview in People. "I just wanted to end it," he told People. He hit bottom when, for a time, his children stopped speaking to him. "Everyone has their kryptonite," Herjavec said. "For me, it was my kids. It took me to a place I never thought I would go."
Now in a much better place, the self-made multi millionaire is building his new life with Johnson and their two new additions. Johnson announced her pregnancy in December 2017. "We waited so long that we decided to double up! We are very grateful for the blessing of twins." the couple told People. Johnson also had posted a sonogram pic on her Instagram at the time, confirming the happy news.
Their son and daughter, Hudson and Haven, were born in April 2018. "I'm just so happy," Johnson told People in June 2018, shortly after the twins' arrival. "I was just hoping that the babies would be healthy… and to have two beautiful, healthy babies is the most incredible thing."
Johnson also praised the Shark Tank star on his strong support. "Robert's been great," she told People at the time. "He's been taking care of me and the babies. I saw the picture of [Dwayne] 'the Rock' [Johnson] feeding his girlfriend [while she was breastfeeding], and Robert was doing the same thing to me — feeding me as I was feeding the babies. It's really nice to see him with the kids."
Happy anniversary to the happy couple!