Shawn Mendes, Finneas O'Connell, and Benito Skinner Hang Out After Met Gala
Shawn Mendes and Finneas O'Connell had an enjoyable and exciting night on Monday, Sept. 13, and not just because they both attended the Met Gala. 
The two musicians also got to hang out with Benito Skinner. The three men took a photo together that has the Internet going wild. See the picture and find out the connection between the three celebrities here.
Who is Benito Skinner?
Benito Skinner, also known as Benny Drama on Instagram, is a comedian and YouTuber. He parodies various celebrities in his videos, including the Kardashians, Noah Centineo, and the cast of Queer Eye. Skinner also creates original characters, such as Jenny the hairstylist and Kooper the millennial intern. 
He has 1.4 million followers on Instagram and 307,000 subscribers on YouTube. Skinner was recently invited to the White House as part of an initiative to encourage young people to get vaccinated against the Coronavirus.  
How did the three stars meet?
There is no known history of the three stars being friends, but Mendes and O'Connell likely recognize Skinner from his parody videos.
Skinner has several videos comedically impersonating Mendes, who has expressed approval of Skinner's parody videos of him. Skinner has also posted multiple videos impersonating Billie Eilish, who is musician Finneas O'Connell's sister and frequent collaborator. O'Connell helps Eilish write most of her songs, and he famously produced her first full-length album, When We All Fall Asleep, Where Do We Go? in his bedroom studio.
Finneas O'Connell attended the Met Gala with his sister Billie Eilish, and Shawn Mendes attended the event with his long-time girlfriend, musician Camilla Cabello. 
The three stars likely met at a Met Gala after-party. In the photo, Mendes appears to be wearing the same jewelry from the Met Gala, but O'Connell changed from the bright red suit he wore on the cream carpet into a black and white outfit.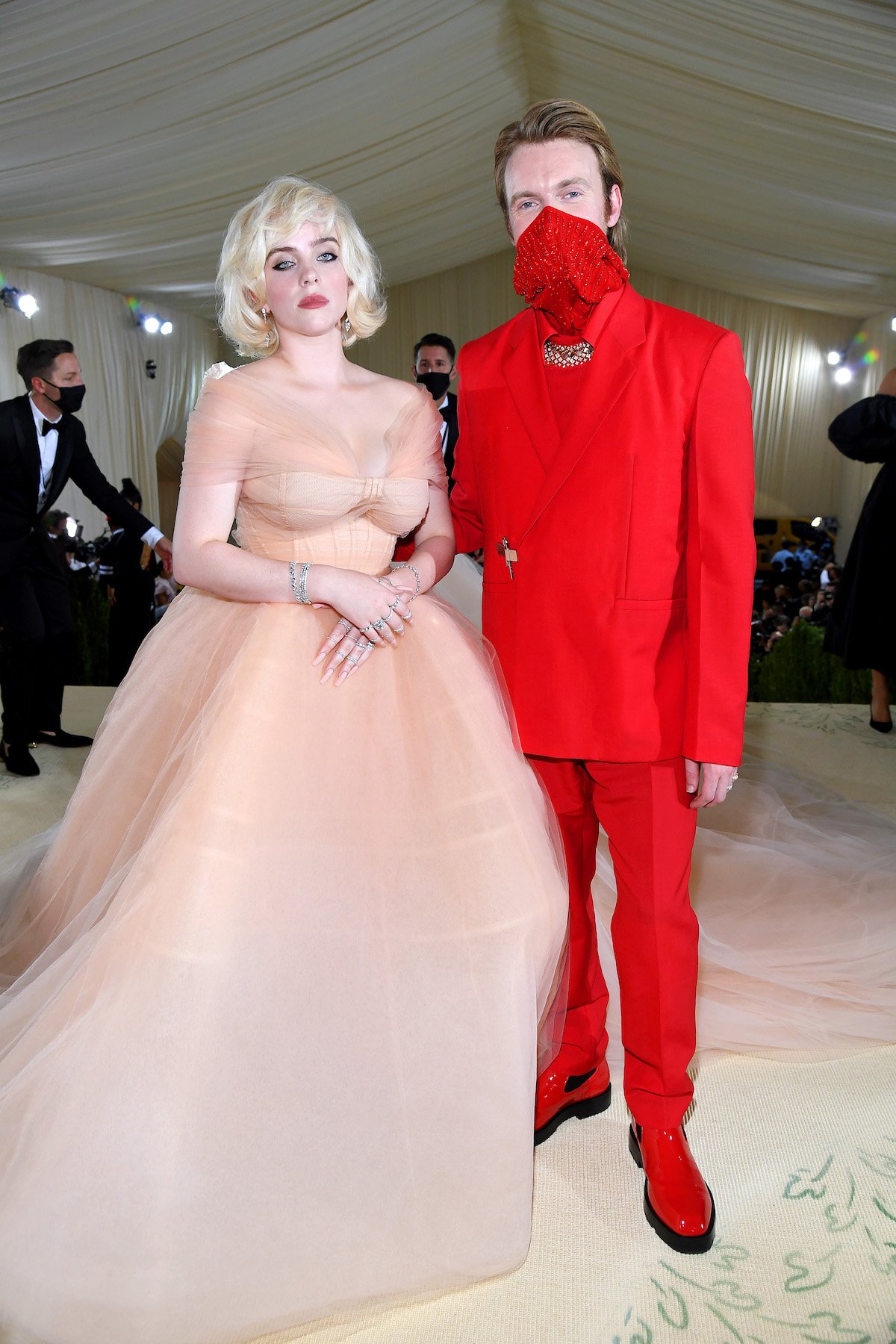 It was Finneas O'Connell's idea for the three men to get together
Although it's doubtful that the three stars have ever been in the same room together before, it seems as if O'Connell was the one who instigated taking the photo together and posting it on social media.
O'Connell posted the photo on his Instagram grid on Tuesday, Sept. 14, the day after the 2021 Met Gala in New York City. He captioned it, "I just f—ing made this happen," and tagged the two other celebrities. He also posted the photo on Twitter with the caption, "Look at what I f—ing did."
Skinner commented, "LOVES OF MY LIFE 💕💕💕" on O'Connell's Instagram photo. He also posted the picture to his Instagram account, along with images of himself and his partner from the same evening. 
Fans of all three men can't stop commenting on the photo, specifically requesting a musical collaboration between Finneas O'Connell and Shawn Mendes or another parody video from Skinner. 
On O'Connell's post of the photo, one fan commented, "PLEASE we need the feat with Shawn 🔥🔥🔥" while on Skinner's post, someone commented, "If you stop impersonating him cos you're besties now I'll be very upset."
With the number of likes and comments the photos are receiving, it's possible that fans can expect some sort of collaboration between at least two of the three artists in the future.