She May Be A Co-Host of 'Dish Nation' Now But Da Brat Was the First Female Rapper to Do This
Da Brat has millions of viewers and listeners from her hosting duties on the radio show 'Dish Nation' but before radio, she was the first female rapper to go platinum.
Da Brat is a popular fixture on the daily radio show, Dish Nation. For the past three years, she's carved out her own lane on the show, making millions of fans laugh daily around the world. Before her job as a radio host, she was a chart-topping female rapper, who set the standard for record sales.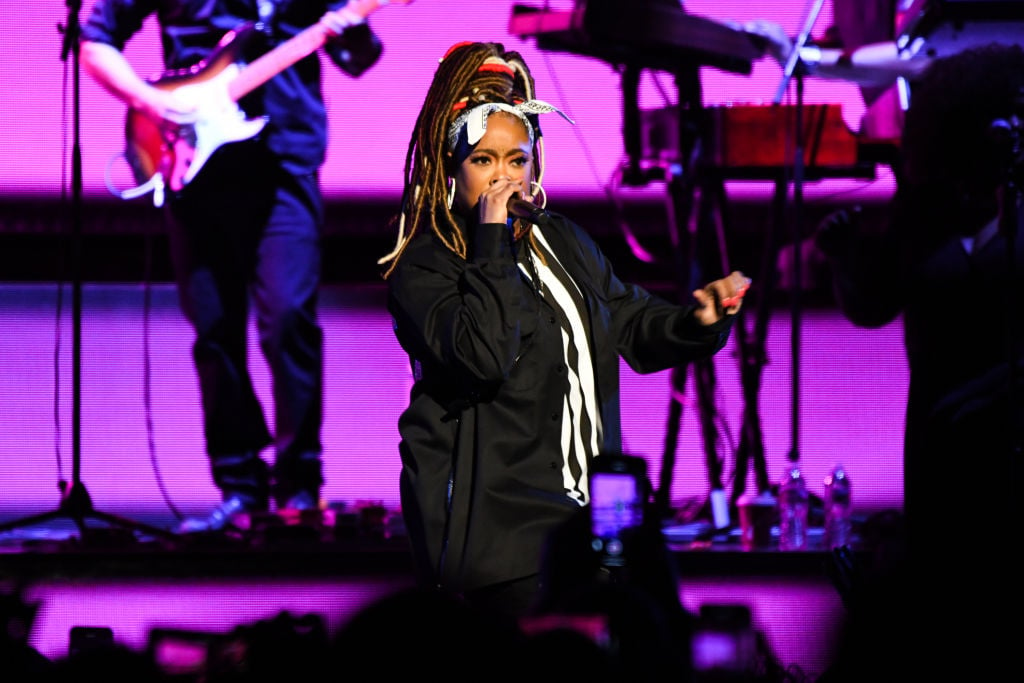 Her first album was released in the early 90s and she went on to become a Grammy-nominated artist. She set the bar high after making history in becoming the first female rapper to sell a certain number of units.
Da Brat debuts her first studio album
Da Brat's first studio album, Funkdafied, was released in 1994. It was released under So So Def Records, a subsidiary of Columbia Records and Sony Music. The label was headed by Atlanta native, megaproducer and mogul Jermaine Dupri. She was the first female rapper signed who would release a full album.
Getting signed to a major label and releasing a record was a journey for the Chicago native. She won a local rap contest that was sponsored by Yo! MTV Raps in 1992. The grand prize included a meeting with the young rap duo, Kris Kross, who were signed to So So Def. The chance meeting snowballed into Da Brat also getting a deal with the label. Dupri later admitted in an interview with Complex Magazine that he was not impressed, saying,  "I didn't want no female rapper but I thought…what does she do that made them want me to look at her? So I at least decided to give it a listen."
Dupri took his time with Da Brat's image. He styled her and wanted her look to replicate West Coast rapper, Snoop Dogg. He made it his mission to coin her as a "female Snoop Doggy Dog" with baggy clothes and her signature braids. In terms of her moniker, she told the Atlanta Journal-Constitution that her stage name was inspired by being "a spoiled only child." 
Da Brat makes history as the first female rapper to go platinum
Funkdafield peaked at number 11 on the Billboard 200. The album topped both the Rap Charts and the Top R&B/Hip-Hop Albums chart. The album sold over one million copies, reaching platinum status. Da Brat was the first female solo rap act to receive a platinum certification and only the second overall female act to do so after the group, Salt-N-Pepa.
The success of the album came as a surprise to many, including Dupri. Da Brat later recalled an earlier conversation she had with Dupri upon him signing the rapper about what her expectations may be. She spoke to comedian and Oscar winning-actress, Mo'Nique, on her late-night talk show in 2011, saying:
"When I did Funkdafied with JD, he was like, 'Okay, look Brat. I'ma tell you now — female rappers pretty much only go gold. So if it doesn't do whatever, don't be disappointed. And I was like, 'Okay…I just want to do music.'"

The Mo'Nique Show
After Funkdafield, Da Brat released her sophomore album, Anuthatantrum. It went gold and received mixed reviews. She returned to platinum status with her  2001 album, Unrestricted.
Da Brat hiatus from music and 'Dish Nation'
Da Brat ran into legal troubles in the early 2000s that would take her away from music for a number of years. She was allegedly involved in two serious physical altercations. One involved her pleading guilty to misdemeanor reckless conduct after she battered a woman with a rum bottle during a dispute over VIP seating in an Atlanta nightclub. The second took place in 2007 when she was arrested for another nightclub brawl that left a woman being struck by a glass bottle several times. Da Brat served jail time for the latter and was released in 2011. She eventually was ordered to pay over $6 million to the victim, as reported by The Blast.
Da Brat was able to bounce back but not in the way that was expected. In 2016, it was announced that the rapper would be joining as co-host of the radio show, Dish Nation. Headkrack, Gary With Da Tea, Rock T and Real Housewives of Atlanta star, Porsha Williams, were also hosts of the show when she joined. Dish Nation includes radio teams in Atlanta, Dallas, and Los Angeles who offer their perspectives on breaking celebrity and pop culture news. The daily entertainment news show also includes appearances by celebrity guests. Da Brat joined the ATL squad.
Da Brat returned to music in her own way when she toured as part of the cast for the stage play, Set It Off. It was recently announced by the play's director, Je'Caryous Johnson, that she was taped for the play's reboot. 
It looks like Da Brat continues to make history-making moves!