Shenae Grimes-Beech's Motherhood Stories May Be the Reality Show Every New Mom Needs
From celebrating her daughter Bowie's "big poop" to sharing a video of her curled up asleep in a crib, Degrassi: The Next Generation actress Shenae Grimes-Beech has endless, not to mention hilarious, stories of motherhood. And her daughter isn't even two years old.
Her YouTube channel has new moms across the country nodding and laughing along as she shares the lighter (and funnier) side of motherhood.
"You definitely gotta laugh because if you don't you'll cry," she told Showbiz Cheat Sheet. Grimes-Beech revealed that she was pleasantly surprised by the reaction she's received from her YouTube channel. "Social media was such a great outlet and a great career, really," she says.
She found an "beautiful community" of people on social media who are laughing along with her journey as a new mom. Grimes-Beech observes that often people find social media to be a breeding ground for negativity. But that wasn't the case for her. "I found this amazing supportive community that I think feels support from me, but it really was just an incredible source of support for me."
Would she consider a reality show?
Grimes-Beech admits that like many, she's a sucker for reality television. But would she ever consider doing a show about her trials and tribulations as a new mom? "[A reality show] is something my husband and I have been approached about doing for years," she says. "But we've always been strongly opposed to it. However, now I've gotten more comfortable just kind of seeing ourselves and putting that out there."
While she's quick to say "no" to a reality show, she's still curious about what that would look like. "So long as you are able to have a sense of control over it [I might consider doing one]," she continues. She appreciates Kristin Cavallari's reality show, Very Cavallari because it focuses on business and relationships. "And it's funny but it's very controlled and the environment is controlled," she says. "It's just so charming and really funny and engaging. And I would definitely be curious to explore an avenue like that for sure."
Grimes-Beech adds that a talk show is something she'd be open to exploring too. "As you can see I talk a mile a minute, so it would be a great outlet," she jokes.
The messy reality of mom life
Grimes-Beech shared a funny story that just occurred earlier that day. After breakfast, her daughter Bowie was "covered in peanut butter and cream cheese" and needed a shower. Like immediately. So into the shower Grimes-Beech went, with her daughter in tow.
Bowie is at the age where she's still not quite potty trained but Grimes-Beech thought, "How bad can it be?" She considered that maybe Bowie might pee in the shower, but no. "Showers are so quick that nothing bad can happen, right?" she says. "We were in the shower and I had shampoo in my hair and my eyes were closed for half of a second. My daughter has an obsession with rocks and we find them all over the house all the time. So I look down and think, 'How the hell did she get rocks into the shower?' But sure enough, she had taken a man-sized poop right beside my foot!"
She has endless content
Stories about pooping in the shower just scratch the surface of what every mom can relate to while laughing along. Even finding time to shower and feel human is hard when you are a new mom. Grimes-Beech recently partnered with Secret deodorant and jokes about how the "deodorant shower" was her best friend, especially during Bowie's early months. "I literally did not see daylight for like three months," she laughs. "And I'm pretty sure everyone on social media thought that my leopard fleece robe permanently was adhered to my skin."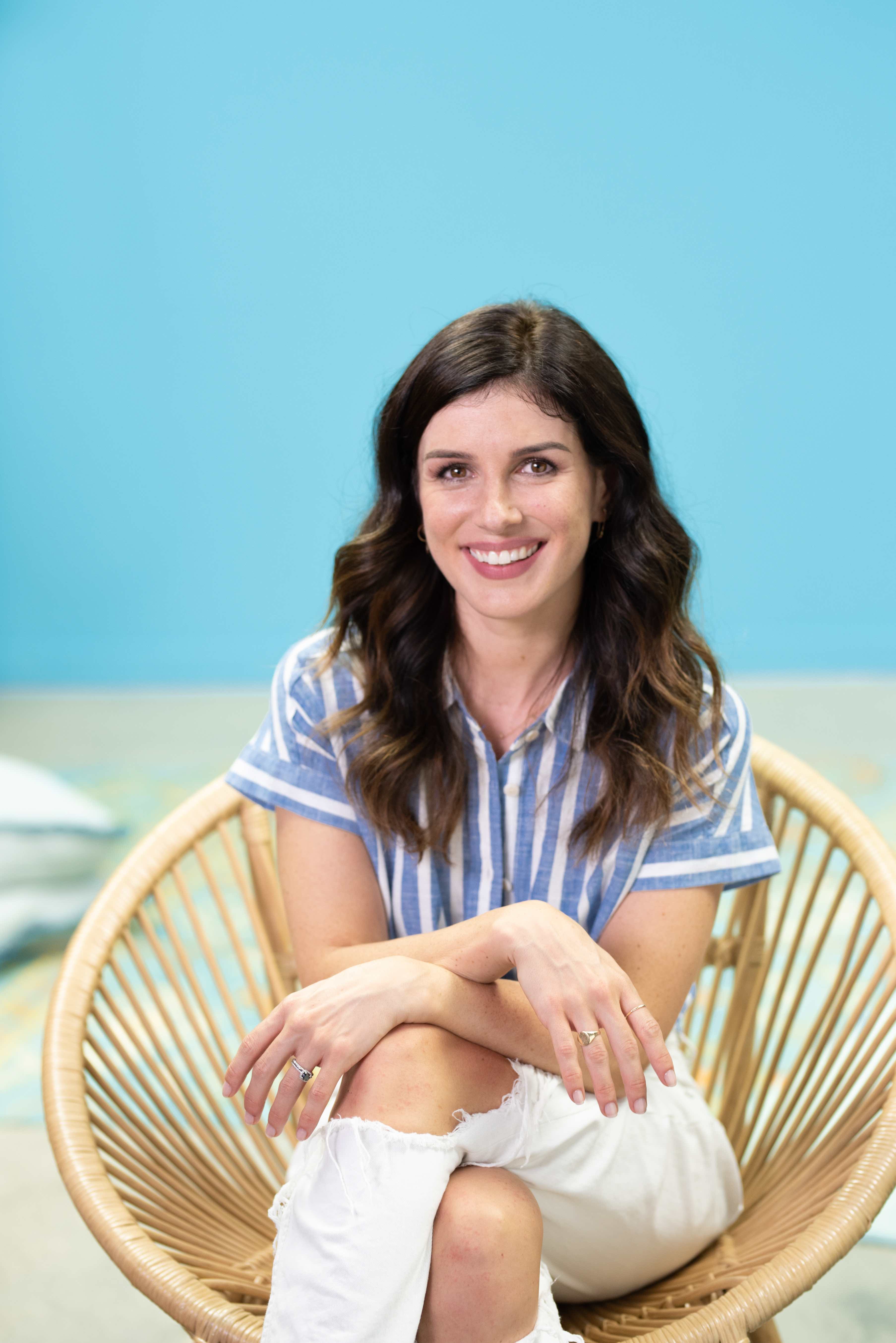 All kidding aside, Grimes-Beech adds that she is honored to be part of the Secret campaign. "But to have moms be recognized in this group of like super successful, like killing it in the game of life, boss women … absolutely, as it should be."