Sheree Zampino Recalls Giving Jada Pinkett Smith a Regift After First Meet With Son
Will Smith and Jada Pinkett Smith have been married for more than 20 years and at various points in that timeline, were deemed "couples' goals" by many. Neither have been shy about the challenges they've faced in their marriage or in past relationships, including getting their blended family on one accord.
Pinkett Smith and Smith's ex-wife Sheree Zampino famously get along well and treat each other as family. In fact, a recent Red Table Talk episode features Zampino helping out with the holiday cooking.
As the mother of Will Smith's firstborn, Trey, she admitted things weren't always so peachy with Pinkett Smith, but noted they both made efforts to start things off on the right foot.
Zampino discussed her bond with the Smith family while appearing on a reunion show for Hollywood Exes and shared a hilarious anecdote about her son's first meeting with Pinkett Smith.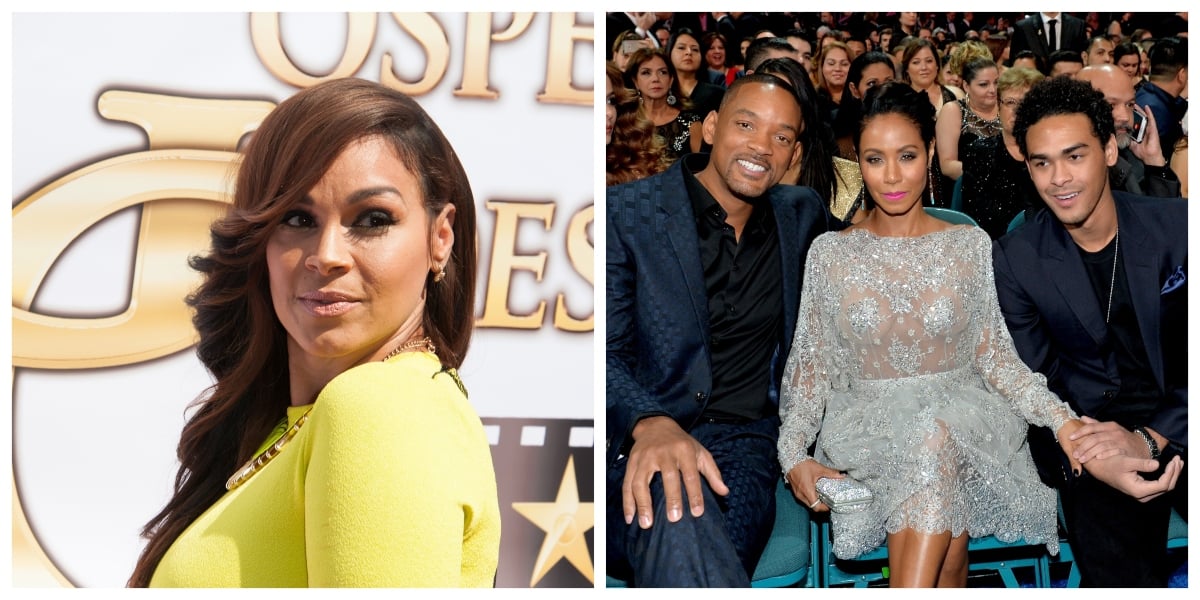 The women of 'Hollywood Exes' reunited
Remember Hollywood Exes on VH1? The show only aired for three seasons but featured the ex-wives of A-list celebrities.
Zampino appeared on the series alongside Nicole Murphy (Eddie Murphy), Shamicka Lawrence (Martin Lawrence), Mayte Garcia (Prince), Shanna Moakler (Travis Barker), Andrea Kelly (R. Kelly), and Jessica Canseco. The latter only stayed on for one season.
Considered a positive representation of women on reality TV, Hollywood Exes gave viewers a peek inside their friendships and former unions with their famous exes. On Nov. 24, VH1 aired a reunion special that brought all the ladies—with the exception of Canseco—back together six years after the series ended.
Zampino gave an update about her life but also came clean with a couple stories about Will Smith and wife Jada.
Sheree Zampino regifted an item to Jada Pinkett Smith
Zampino praised both Will and Jada Pinkett Smith as co-parents and said she considered all of them to be poster children for a loving, blended family. When asked how things went when her ex first started dating Pinkett Smith, she admitted she didn't like her.
However, Zampino explained that they established a level of trust and "allyship" when her then-3-year-old son Trey was set to meet Jada for the first time one weekend.
"Will told me and I wasn't happy. I wasn't happy because I didn't like his choice. But I wouldn't have liked anybody at that point," she said.
Zampino shared that after her son returned home from spending time with his dad and Pinkett Smith, he told her he really liked her. When host Jeannie Mai asked Zampino how that felt, she replied it felt good because it proved Jada treated him well.
"Now the part that didn't feel good was when he wanted to buy her a present," she admitted. "Now, I confess this—I could not bring myself to buy her anything so I regifted something that was brand new. It was a candle or something. I put it in a bag, and I got a card," a laughing Zampino said.
She bought the card and wrote a note to Pinkett Smith that read, "Thank you for making such a great impression on my son." From there, Zampino helped set the tone for their amicable relationship.