'Shining Girls' Season 1 Episode 2 Recap: 'Evergreen'
The Apple TV+ original series, Shining Girls, is back with another installment following the premiere episode. In  Shining Girls Season 1 Episode 2: "Evergreen," Kirby Mazrachi (Elisabeth Moss) learns more about Julia Madrigal (Karen Rodriguez). Along the way, she makes a discovery.
[Spoiler alert: This article contains spoilers from Shining Girls Season 1 Episode 2: "Evergreen"]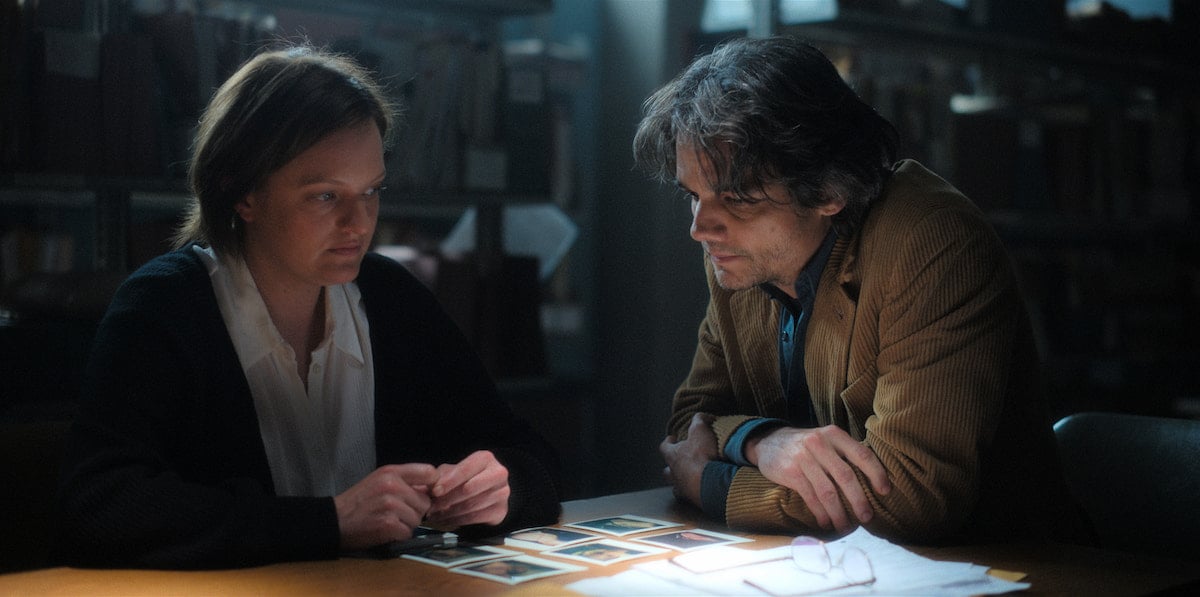 'Shining Girls' Season 1 Episode 2 recap: Kirby realizes she's married to Marcus
"Evergreen," which began streaming on April 29, 2022, according to Apple TV+, along with two other episodes, picks up where "Cutline" left off. Kirby's in apartment 3b, not 2b as she'd previously believed. 
Her roommate isn't her mother, Rachel (Amy Brenneman), but Marcus (Chris Chalk), a photographer from the newspaper. As Kirby quickly realizes, they're more than roommates. 
While people stream into the apartment to celebrate Marcus' birthday, Kirby sees a photo of her and Marcus on their wedding day. They're married. So she's forgotten major details about her life. Unsettled by the turn of events, Kirby consults her journal, realizing things aren't as they seem.
Details about Julia Madrigal's final days are revealed
As Dan (Wagner Moura) and Kirby try to learn more about Julia, details of the days leading up to her 1990 death are revealed in flashbacks. An unidentified man, played by Jamie Bell, had stalked her. He went to Julia's work and offered her a cup of coffee. The interaction ended abruptly when the man touched her hair. "Don't touch me," she told him before walking away. 
Later, the man threw rocks at Julia's window. She woke up to discover photos of her strewn around her home. Scared, she went to the phone, and before she picked it up, it began to ring. The voice on the other end? The man who touched her hair. 
In between the flashbacks, Dan and Kirby review the evidence. They learn something was left inside Julia's body. Not a matchbook for a mysterious, nonexistent bar like Kirby but a small, glow-in-the-dark box. The pair also learn Julia's body had been moved to the location where it was discovered.
'Shining Girls' Season 2 Episode 2: Kirby discovers a tape recording at Julia's house 
The book-to-TV adaptation, based on the novel by Lauren Beukes, continues with a visit to Julia's house. Dan's supposed to talk to her father but he turns the reporter away. While Dan talks to people outside, Kirby heads to the backyard. She goes inside, claiming to be a friend of Julia's there to return a pair of earrings. 
Kirby searches Julia's room and finds a tape recording. Upon listening to it, she realizes Julia recorded a phone call with her stalker. She recognizes the voice as the man also who attacked her. 
Unbeknownst to Kirby, Dan's outside talking to her attacker. He'd been standing around in front of Julia's house with family and reporters. The man even helped a local news crew pack up their equipment. Finally, a glow-in-the-dark outline of a body is revealed on the man's bed. 
A new episode of Shining Girls begins streaming on Apple TV+ every Friday.