Simon Huck is Still a Fan-Favorite 'Supporting Cast Member' on 'KUWTK'
The Kardashian-Jenner family is so large that sometimes it's difficult to remember them all. But when you add all their friends that regularly appear on Keeping Up With the Kardashians, it becomes almost impossible to remember everyone. However, there are some people that stick out more than others. 
Simon Huck, a longtime friend of Kim Kardashian, has a good-humored, dependable, and sometimes outrageous (in a good way!) personality. He a regular guest on her reality show and fans can't seem to get enough.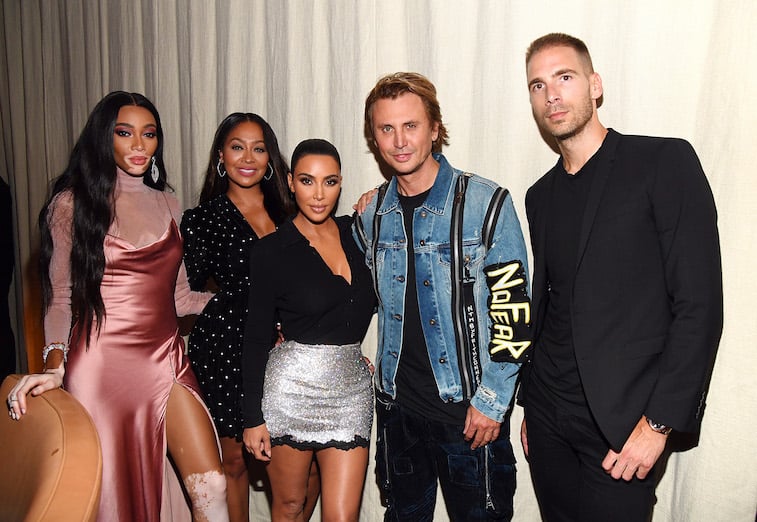 Simon Huck is a Kardashian fan-favorite
A recent discussion on Reddit proved just how enamored fans are with Huck. When asked who they thought was the best "supporting cast member," several names were mentioned, but none more so than the creative entrepreneur, Huck.
"Mine would definitely have to be Simon," wrote the fan who originally started the discussion. "He is super funny, adorable and genuinely seems to care about all the girls. I really began to like him during the episode when Scott has the girl in the bathroom."
Another wrote, "Didn't Simon also stand up for Jonathan when Kris H was pressuring him to "come out"? Or I might be remembering the characters/storyline incorrectly. Either way that was good of him."
The sentiment was echoed by several people who simply wrote, "Love Simon."
Other Kardashian friends that were mentioned in the discussion include MJ (the Kardashian grandmother), Todd Crane, Gabbana (Khloe's dog), and Cici Bussey.
Who is Simon Huck?
Huck has been friends with Kim and the rest of the Kardashian crew for some time. He's often referred to as Kim's "bestie," although there are probably several people who claim that title – she has a lot of friends. Kim and Huck met when she was still running her eBay closet and the retail store, Dash.
"He's always been there at times when I've needed him," Kim told the New York Times in 2018. "He's the definition of loyal. I feel like you need to surround yourself with people who make you laugh and keep your spirit alive as you grow and evolve."
Huck made his fortune as the CEO of a celebrity acquisition agency, Command Entertainment Group. The company helps connect brands to celebrities and influencers. He started the business after quitting college for an unpaid internship with the high-profile publicist, Lizzie Grubman, and then doing everything he could to learn about the entertainment industry.
Simon Huck redefines fashion with 'A. Human'
The newest trend in fashion is body modification and Huck has gone headfirst into that game with his new company, A. Human. His business has moved beyond lip fillers and breast enhancements to create temporary body modifications that turn skin into a work of art.
In 2018, Kim shocked the world when she debuted an under-the-skin necklace which lit with her heartbeat. Then, another one of Kim's pals, Chrissy Teigen showed off her new modification, a ruffle of feathers on her collarbone. It's no surprise, Huck and his company, A. Human, were responsible for both these amazing transformations.
"We didn't want to root any of our modifications on the idea of existing insecurities or discomforts," Huck told Vogue. "A. Human is about the freedom to explore this world and live in this world in any way you choose."
According to an interview with ET, Huck's body modifications could be anything you can imagine, including, "an elongated spine, to a biological heel where it grows from your leg, to a bejeweled barnacle coming out of your shoulder, to the emperor's hands that has hand webbing."
A. Human is truly going to turn the world of fashion onto its head. Sounds like we're going to be seeing a lot more of Huck, although he'll soon be famous in his own right, and not just because of the Kardashians.