Simone Biles Just Dropped Nike for Athleta in a Huge Statement About Female Athletes and Activism
Tiny but mighty, Simone Biles' trophy room is packed to the rafters. She is one of the most decorated gymnasts of all time, earning 30 total medals between Worlds and Olympics. The most decorated World Championship gymnast of all time has already won five Olympic medals, including four golds. The kicker is that she won all of them …
Tiny but mighty, Simone Biles' trophy room is packed to the rafters. She is one of the most decorated gymnasts of all time, earning 30 total medals between Worlds and Olympics. The most decorated World Championship gymnast of all time has already won five Olympic medals, including four golds.
The kicker is that she won all of them in one Olympic Games, an American record. The International Gymnastics Federation has named four moves after her, including two that she performed during the 2016 Olympics, a rare feat. So what's next for the 2019 Female Athlete of the Year? 
Simone Biles is leaving Nike for smaller brand Athleta
According to CNBC TV, Simone Biles has left powerhouse sponsor Nike for Gap Brand-owned Athleta. Biles joins four-time Olympic sprinter Allyson Felix as the most recent addition to the brand.
Athleta advertises itself as a female-focused B Corporation, with its slogan being "Power of She." B Corps, a relatively new concept, are businesses that focus on societal and environmental agendas. According to Biles, their mission more closely aligns with her future goals:
I felt like [the move] wasn't just about my achievements, it's what I stood for and how they were going to help me use my voice and also be a voice for females and kids. I feel like they also support me, not just as an athlete, but just as an individual outside the gym and the change that I want to create, which is so refreshing.
Athleta has a predominantly female design team. According to Biles, the brand "is committed to diversity and inclusion, of all women, backgrounds, ages, sizes, abilities and races." 
Nike has been losing key female players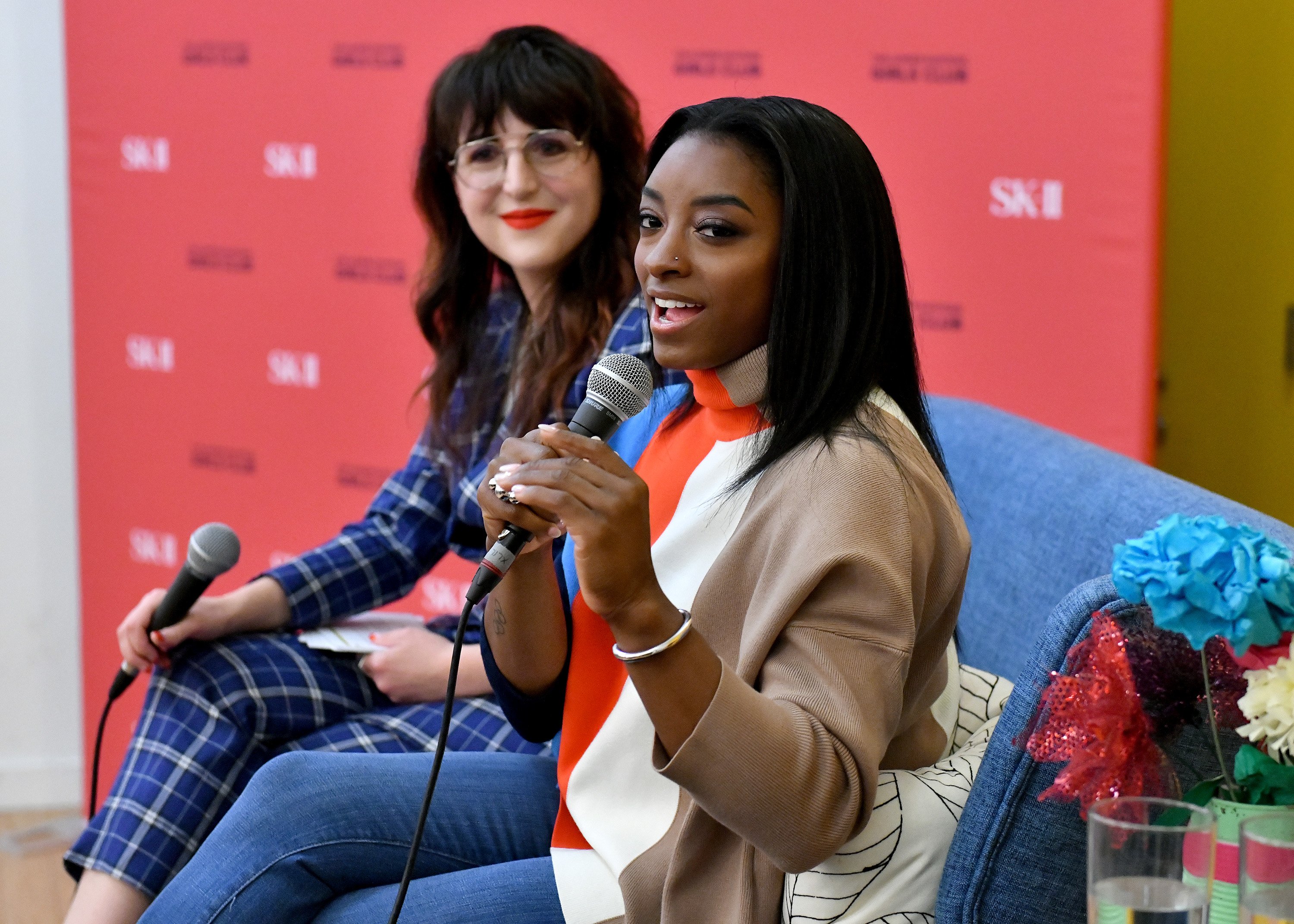 Biles has focused on her new brand rather than making any statements about Nike. The apparel giant has experienced negative press over the last two years. Female employees have protested inappropriate behavior and pointed to pay disparity.
Additional internal strife leads to the replacement of multiple long-time executives and Nike promising to improve workplace culture. Four-time Olympian Allyson Felix had previously left Nike for Athleta after stating that it did not support its pregnant athletes, as Forbes reports.
Biles appears to have moved on from this, showing a lot of excitement about the move. Nike made an official statement on Biles's decision, saying she is an incredible athlete, and we wish her the very best," and that "we will continue to champion, celebrate and evolve to support our female athletes."
There's no doubt that rising brands like Athleta are making a play for Nike's top athletes. Simone Biles switching is a major step.
Biles has other key sponsors
Athleta isn't Biles' only sponsor. She works with key players in major industries and has plenty of interests outside of gymnastics. Some of her sponsors include wireless headphone giant Beats by Dre, Visa, yoga chain CorePower, Choice of Champions gymnastics apparel, Mattress Firm, gymnastics equipment manufacturer Spieth America, Houston-based World Champions Centre gymnastics facility, and Uber Eats. 
Biles was the subject of some minor controversy in October 2020. Her co-star in an Uber Eats commercial attracted the attention of a watchdog group who demanded the ad be removed. The watchdog group's campaign was unsuccessful, and the ad stayed up. Both Uber Eats and Biles won a Twitter war of sorts. 
The 24-year-old also gave a MasterClass on gymnastics fundamentals in 2019 that was extremely popular. 
With the Tokyo Summer Olympics postponed a full year, Biles is focusing on being an Athleta-sponsored athlete. We'll likely be seeing "Power of She" emblazoned on her outfits where the old slogan used to be. With an athlete as great as Biles, chances are when it comes to winning medals; she'll "just do it" regardless of who her sponsors are.