'The Simpsons' Created Milhouse From a Leftover Butterfinger Commercial Drawing
The Simpsons are well-known for their hilarious main cast of characters, but also adding to the show's legend is its deep bench of funny side characters. Whether it's Principal Skinner's uptightness, Mr. Burns' evil ways, or Sideshow Bob's murderous tendencies, the supporting roster always manages to get plenty of laughs from the show's fan base. One of the funniest characters on the show is Bart's trusty sidekick and best friend, Milhouse Van Houten. You'll never believe how he came to be on the show.
Who is Milhouse Van Houten?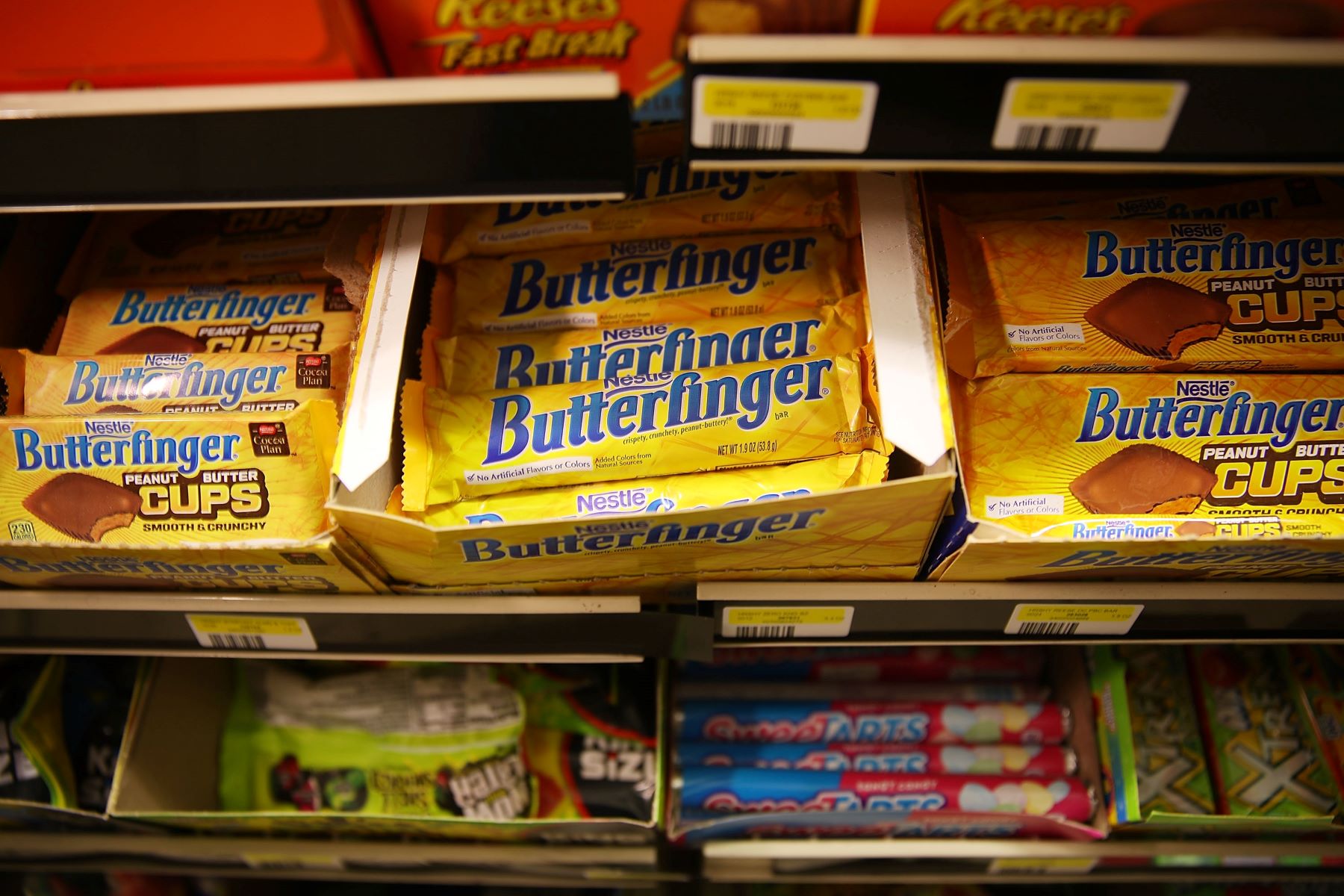 Milhouse is the blue-haired best friend to Bart Simpson and one of his fourth-grade classmates. His mom and dad resemble carbon copies of him. In the show, the pair separated and eventually divorced. She ended up marrying a bodybuilder/member of the American Gladiators cast while he was reduced to sleeping in a pathetic bachelor pad with a racecar bed.
Tagging along with Bart, Milhouse is often seen as something of a loser. He often pines for Lisa, though his love is unrequited. He's also a frequent target of the schoolyard bully, Nelson Muntz.
Milhouse has had many hilarious moments on the show. He's become well known for one phrase he uttered after he experienced some good fortune, saying, "Everything's coming up Milhouse!"
Though he's not a member of the Simpsons' family, Milhouse has become a memorable part of the show's DNA. What some Simpsons fans may not realize, however, is that the character wasn't even supposed to be on the show initially.
'The Simpsons' created Milhouse from a leftover Butterfinger commercial drawing
Now, Milhouse seems like an irreplaceable resident of Springfield, but he had to be rescued from the scrap heap twice before finding a permanent home there.
According to Ranker, Milhouse was initially intended to be part of another show and then a commercial. The Simpsons' creator Matt Groening created Milhouse for another cartoon pilot he was developing for NBC. The channel opted not to move forward with the project, making Milhouse a free agent of sorts.
Groening revisited the character when it came time to draw a Butterfinger cartoon featuring Bart in 1988. Using a "new" character he'd already devised, Groening inserted Milhouse into the commercial.
At the time, The Simpsons were featured in shorts for The Tracey Ullman Show on Fox. When they were picked up for their own series, the show's creative team opted to include Milhouse as part of the first episode.
There's also a weird story behind Milhouse's name
If there was any doubt behind Milhouse's status as a sad-sack character, his name should be a dead giveaway to how snakebitten he is. According to Screen Rant, the inspiration for his first name comes from the middle name of former U.S. President Richard M. Nixon, as his middle name was Milhouse. Nixon, of course, resigned in disgrace due to the Watergate scandal. Naming Milhouse after an unpopular figure in American history was only the tip of the iceberg for the writers to embarrass the character.
In a Season 17 episode, it's revealed that Milhouse's middle name is actually Mussolini – the same name as the reviled Italian dictator. It's also his mother's maiden name, meaning Milhouse might be related to the despot. Additionally, his last name of Van Houten is shared in real life by one of the members of the evil and treacherous Manson family.
Giving nefarious backstories for each of Milhouse's names – ones that get worse as you move through the name itself – is just another hilarious flourish for this character can never seem to catch a break.
RELATED: 'The Simpsons': Why Are the Cartoon Characters Yellow?