Singers Who've Released Successful Christmas Albums
Christmas calls for holiday tunes to deck the halls! Some of our favorite artists have released successful Christmas albums to enjoy throughout the season, including Mariah Carey, Nat King Cole and Motown artists.
The Christmas season is in full swing! With Hallmark, Lifetime, Freeform and the Oprah Winfrey Network announcing their original holiday films premiering within the next few weeks, Christmas fanatics are excited to start celebrating. Mariah Carey's Christmas tour will be starting soon and she's launched a new website for fans to purchase customized holiday gear and trinkets. With films and concerts on the way, it's only right for people to start listening to their favorite Christmas tunes. Here's a look at some of our favorite singers who have released great Christmas albums to add to your playlists.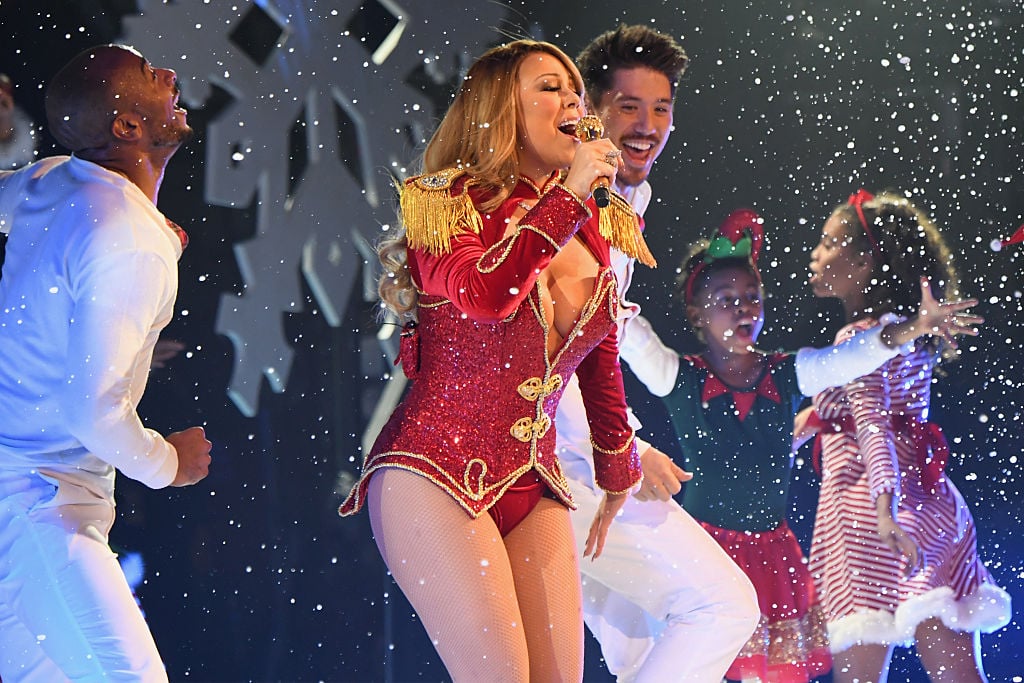 Nat King Cole – The Magic of Christmas/The Christmas Song (1963)
Nat King Cole first recorded "The Christmas Song" in 1946 but it was the 1961 recording that was later added to a holiday album of the same name that he is most known for. It was the best-selling Christmas album released in the 1960s and was certified by the RIAA for six million copies in the U.S. The 1963 version reached number 1 on Billboard's Christmas Albums chart and stayed for two weeks.
Mariah Carey – Merry Christmas (1994)
Carey was crowned the "queen of Christmas" after her smash hit album, Merry Christmas. Prior to the release, she had already had three successful multi-platinum full-length studio albums. She worked with a variety of producers and the album peaked at number three during its first week. The album produced "All I Want for Christmas Is You," her signature holiday song. To date, Merry Christmas has been certified quintuple platinum by the Recording Industry Association of America(RIAA) and has sold 15 million copies worldwide, making it the best-selling Christmas album of all time. Ironically, Carey was initially not on board with recording a Christmas album but she caved it and it paid off.
Cee Lo Green – Cee Lo's Magic Moment (2012)
While completing his successful run as a judge on The Voice, Cee Lo Green released Cee Lo's Magic Moment in 2012. The album had a jazz feel mixed with hip-hop and soul sounds. His remake of "Baby, It's Cold Outside" featured Christina Aguilera. He also included a smooth take on the classic "Merry Christmas Baby" that featured Rod Stewart. Green's versions of "Mary, Did You Know?" and "What Christmas Means to Me" peaked at numbers 22 and 23 on the R&B charts. The album sold over 180,000 copies in 2012 and was critically acclaimed with positive reviews.
Jackson 5 Christmas Album (1970)
The Jackson 5 Christmas Album is the first Christmas studio album and fourth overall by the group. It was released in 1970 and included their successful remake of "Santa Claus Is Coming to Town". That, along with "I Saw Mommy Kissing Santa Claus" and "Santa Claus Is Coming to Town" remains popular today and played on rotation during the Christmas season. The album spent four weeks at the number one position on Billboard magazine's special Christmas Albums chart that the magazine published in December 1970, which made it the best-selling Christmas album of that year and also in 1972.
The Temptations Christmas Card (1970)
The Temptations Christmas Card is the group's first holiday release, debuting in 1970 on Motown. The album includes their most renowned holiday classics, including "Rudolph the Red-Nosed Reindeer," and "Silent Night," and "Little Drummer Boy." The album is loved for its swanky and unconventional spin on classics. The group's deep bass ad-libs mix with the seasonal lyrics and combining traditional R&B styles makes it a forever favorite.
A Legendary Christmas – John Legend (2018)
A Legendary Christmas is the sixth full-length studio album and first Christmas album by Legend. The album features duets with artists including Esperanza Spalding and Stevie Wonder. Wonder is featured on "What Christmas Means to Me", in which he plays the harmonica. Spalding sings on "Have Yourself a Merry Little Christmas". The album was promoted by a tour of the same name during the holiday season in 2018. 
Hopefully, you'll incorporate some of these songs on your list of holiday cheer!