'Sister Wives': A Breakdown of the Browns' Tangled Family Tree
The massive Brown family—with one patriarch (Kody Brown), four wives (Meri, Janelle, Christine, and Robyn Brown), and 18 children, has graced our screens on TLC's Sister Wives for around a decade now. But, despite their openness about their practice of polygamy, the Browns stay relatively quiet about their rare religion, a sect of fundamentalist Mormonism known as the Apostolic United Brethren (AUB).
Members of the AUB sometimes have somewhat tangled family trees, given the rarity of their religion, their practice of polygamy, and the number of children they tend to have.
The Sister Wives family tree is no exception. Although Kody is not related to any of his wives, there are various odd connections within the family—and to other well-known polygamous families from reality shows like TLC's Seeking Sister Wife.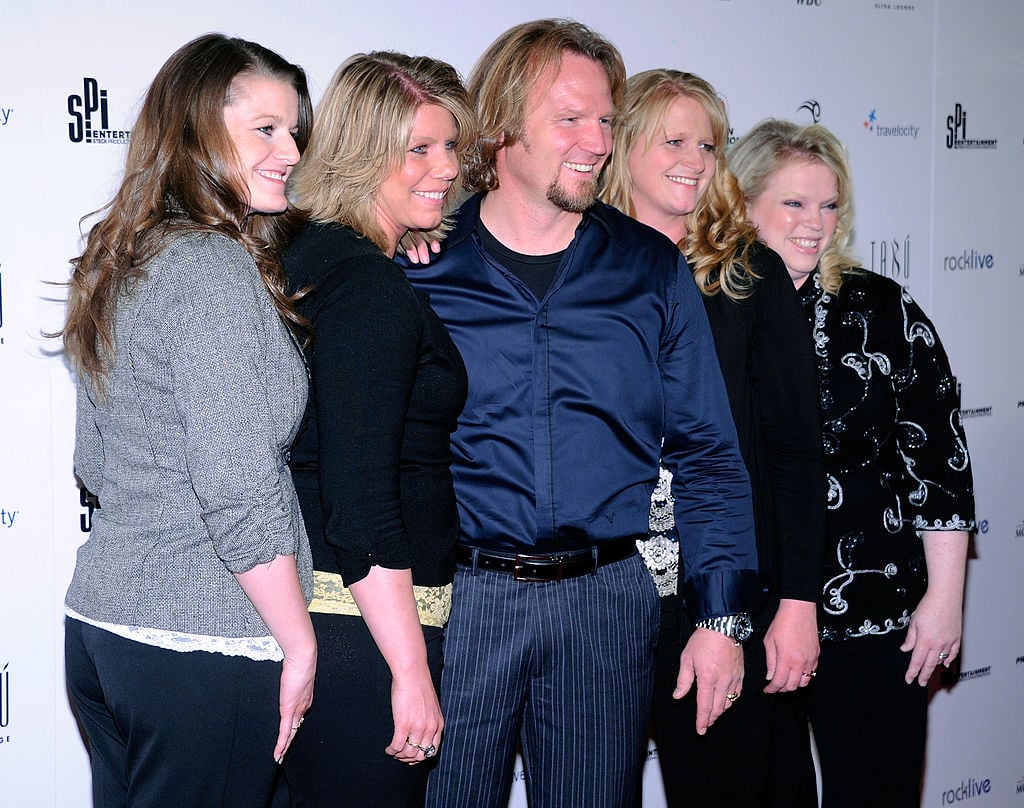 Janelle was once married to Meri's brother
Janelle, Kody's second wife, was once married to Meri's brother Adam Barber. The union lasted less than two years, from 1988 to 1990. The young couple had no children and divorced fairly amicably, dividing up their assets simply without any back-and-forth in the courts.
Because Janelle divorced Meri's brother and went on to marry her husband, some Sister Wives fans have speculated that this strange connection—and the transition from being a sister-in-law to a sister wife—led to the breakdown in Meri and Janelle's relationship in their early years.
According to Soap Dirt, Janelle allegedly even fell in love with Kody and got to know Meri while she was still with Adam. The Browns have never confirmed this, however.
Janelle's mom and Kody's dad were married
Kody's father, William Winn Brown, sadly passed away in 2013 at the age of 78 in Wyoming. Around the time Kody joined the AUB, his father also became a fundamentalist Mormon and subsequently practiced polygamy himself. And when he died, one of his three widows was Sheryl Brown, Janelle's mother, according to Starcasm.
Janelle and her mom Sheryl became interested in joining the Browns' new faith at around the same time in their lives. As Janelle grew close to Kody, Sheryl grew close to Kody's father. The two married even before the Sister Wives star married his second wife.
Maddie's husband Caleb is the brother of Kody's sister-in-law
Maddie Brown Brush, one of Janelle and Kody's adult daughters, is happily married to Caleb Brush, with whom she has two young children.
Maddie and Caleb also have an interesting family connection of their own. (They aren't blood-related, like all the other couples we're discussing.)
Kody's beloved brother, Curtis Brown, tragically passed away in 2013 at the young age of 34 in a motorcycle accident. According to Radar Online, the late Curtis' wife, Erica Brush Brown, was Caleb's sister, making her Kody's sister-in-law. That means that Maddie technically married her aunt's brother—although, again, there was no blood relation.
Aspyn's husband Mitch is related to another TV sister wife
Aspyn Brown Thompson, one of Kody's daughters with his third wife, Christine, married Mitch Thompson, a childhood friend and a member of the Browns' church, in 2018. Aspyn's husband, Mitch, has a connection to another TLC polygamist family—the Alldredges from Seeking Sister Wife.
Vanessa Alldredge, the first wife of Jeff Alldredge, is Mitch's sister. Jeff's second wife, Sharis Alldredge, even spoke up on social media to reveal that they were good friends with the Browns and frequently spent time with them back in Utah.
Robyn's ex-husband David Preston Jessop is Christine's first cousin and Kody's third cousin
Christine Brown was originally Christine Allred before marrying Kody. Like Allred, the name "Jessop" is well-known in the fundamentalist Mormon community, as many well-known AUB families who practice polygamy share that name.
Another Jessop, David Preston Jessop, was actually married to Kody's fourth wife, Robyn, for a number of years. David and Robyn had three children—Dayton, Aurora, and Breanna—whom Kody eventually adopted after legally divorcing Meri and marrying Robyn.
According to The Ashley's Reality Roundup, Robyn's ex (a former member of the AUB) is connected to the Sister Wives family in several ways. He is allegedly related to Meri through more than one of her polygamous father's wives. He's also allegedly Christine's first cousin and Kody's third cousin.