'Sister Wives': Christine Brown Wonders If Moving to Flagstaff Was a Mistake In Sneak Peek
Kody Brown and his large polygamist family moved from Las Vegas, Nevada, to Flagstaff, Arizona, in 2018. But although they'd already purchased a large plot of land—known as Coyote Pass—for the whole family, Kody's four wives were stuck in rental homes scattered across the city for quite some time after the move.
In a preview clip of the upcoming Mar. 22 episode of TLC's Sister Wives, "Robyn vs. Kody," Kody's third wife, Christine Brown, reflects on the strain of the move to Flagstaff. Christine sits down with her now-married daughter, Aspyn Brown Thompson, and wonders whether or not the decision to uproot the kids and settle down in Arizona was a good one after all.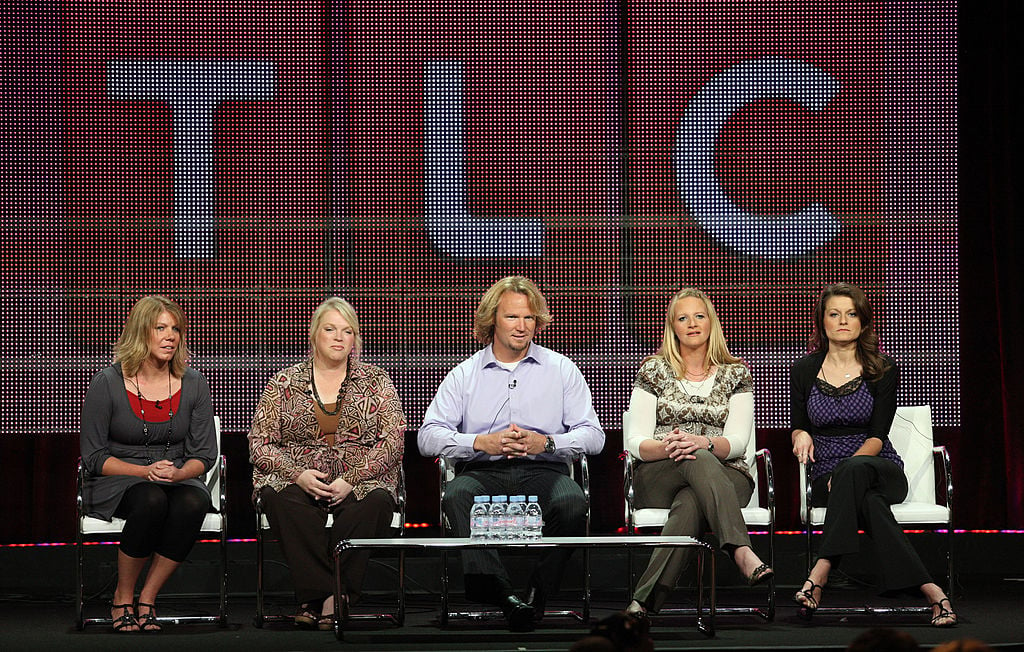 The Brown family thinks it will take years to move out to Coyote Pass
In TLC's sneak peek of the upcoming Sister Wives episode, Christine reveals to Aspyn, "I don't know when we're gonna move out to the property."
Christine's daughter Aspyn, who had initially warned her parents against moving so suddenly from their beloved cul-de-sac in Las Vegas, gives her mom a knowing look. "It's getting further and further pushed off?" she wonders. Christine tells Aspyn that she has no idea when she and her sister wives will really end up on Coyote Pass.
Next, TLC producers ask Kody and his wives what their game plan is for getting the whole family out to their communal property. "So, when do you think you guys will move to the property?" a Sister Wives producer asks.
"Never," Kody's second wife, Janelle Brown, replies immediately.
"Are you kidding?" Kody shoots back, as Christine lets out a dismayed gasp.
Kody isn't quite so pessimistic. "I think we're on a two-year plan for moving on," the Sister Wives patriarch says.
"Right now, I feel like it's never gonna happen," Janelle explains. "Like, it's this thing we talk about, and I don't know."
Kody's first wife, Meri Brown, agrees that moving to Coyote Pass and building new homes there isn't happening anytime soon. "I don't see it happening in the very near future," Meri admits.
Christine tells her daughter the move to Flagstaff has been 'so hard'
As the sneak peek continues, Christine admits that some of what Aspyn predicted turned out to be true. "I mean, you told us what we had in Vegas was perfect," she says as tears fill her eyes.
"It's true," Aspyn agrees sympathetically.
Kody's third wife tells Sister Wives producers that all the promises she made Aspyn when the family decided to move didn't end up coming true.
"So I told her that it was gonna be cheaper, and we were gonna save money when we sell our houses. That hasn't happened," Christine laments. "'We're gonna get back together again on Coyote Pass!' That hasn't happened. It's just so hard, this conversation sucks. It completely sucks."
Aspyn's mom continues to cry as she confesses just how much strain she's been under since the hasty move to Flagstaff.
"It's been so hard, I can't even tell you how hard it's been," the Sister Wives star complains. "I want to build, I want to get out there. I'm tired of wasting money everywhere. I just want to build and get out there all together and not move again. I'm done. I want to stay there forever and ever and ever."
Kody's third wife insists this is where her family is 'supposed to be'
Still, Christine insists, she believes that she, Kody, and her sister wives are all meant to be in Flagstaff.
"It wasn't a mistake to move to Flagstaff, even though it's been a hit, even though it's not what we wanted, even though it's been a year and we're not where we wanted," the Sister Wives star and mom of six tells TLC producers, looking wistful. "It wasn't a mistake."
Christine continues, "Flagstaff is still where we're supposed to be. It still feels right."
Even so, Christine admits that she's not always optimistic about the Brown family's future in Arizona. "It's hard to see it as a reality sometimes," she says emotionally. "It is. So I have to stay as positive as I can that we're going to get out there, we're going to get out there, we're going to get out there."