'Sister Wives': Christine Brown's Daughter Says She's 'Too Selfish' for Polygamy
The Brown family of TLC's Sister Wives has always appeared to be open to different religions and ways of life. Kody Brown, as well as his four wives—Meri, Janelle, Christine, and Robyn Brown—are part of the Apostolic United Brethren (AUB), a fundamentalist Mormon sect that practices polygamy, or "plural marriage."
While Kody and Janelle were raised in the mainstream Mormon church, also called the Church of Jesus Christ of Latter-Day Saints, and later converted to the AUB, Kody's other three wives were raised in polygamous households.
Still, Kody and his wives have always said they don't push their specific religious beliefs on their adult kids and don't mind if their children do not choose to practice polygamy themselves. According to The Sun, Sister Wives star 18-year-old Gwendlyn Brown—the fourth child of Kody and Christine, his third wife—took to Instagram to share her own relationship to the practice of plural marriage.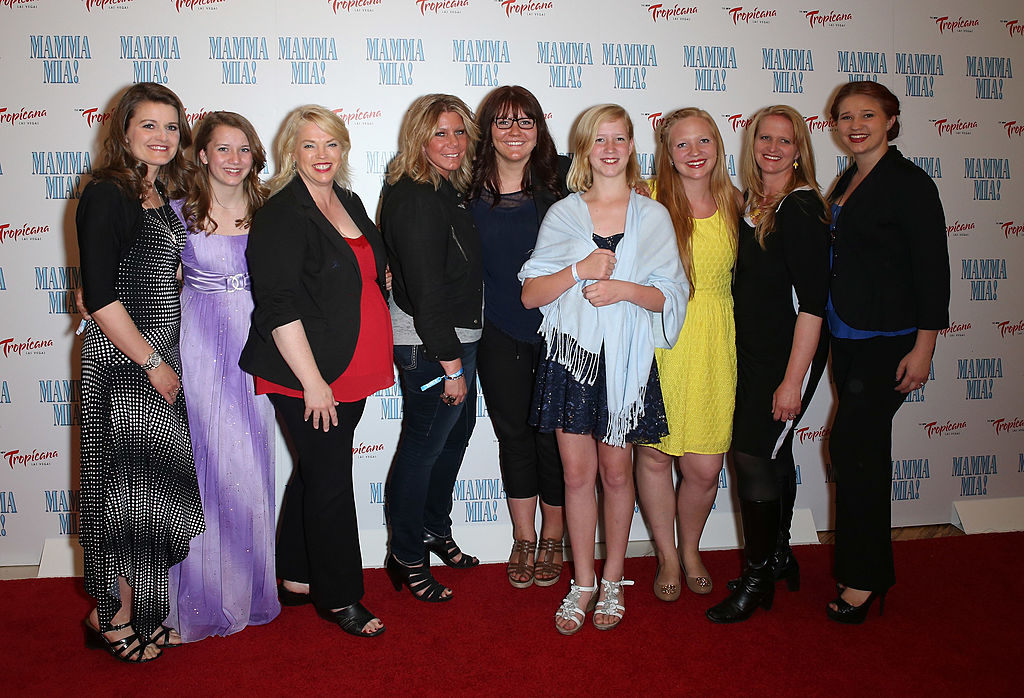 Gwendlyn said she wasn't interested in polygamy
Gwendlyn is active on Instagram and has sometimes answered fan questions about the show, her family, and her own life. She frequently says she enjoys being on Sister Wives and says the show's fans are almost universally friendly and kind, at least in person.
One curious Sister Wives fan wondered, as many do, whether Gwendlyn will practice polygamy. "Will you be choosing polygamy for yourself?" the viewer asked.
Christine's daughter said she wasn't interested in becoming a sister wife. "No, I'm selfish and would get jealous too easily," she explained. Still, she expressed her support for her family, writing: "But [I] 100% support all the women and men who pursue this lifestyle for themselves."
Kody recently said he didn't think any of his children would follow the practice
Kody and Christine's daughter certainly isn't the only one of the 18 Brown children who has chosen monogamy.
In fact, all of the engaged and married Brown kids—Maddie Brown Brush (married to Caleb Brush), Aspyn Brown Thompson (married to Mitch Thompson), Logan Brown (engaged to Michelle Petty), Mykelti Brown Padron (married to Tony Padron), and Mariah Brown (engaged to Audrey Kriss)—have chosen to have only one partner.
While Aspyn's husband, Mitch, grew up in the family's church and said he would be open to polygamy, Aspyn said she didn't want to practice plural marriage. Before their wedding, Mitch explained that he would honor that decision.
On the latest season of Sister Wives, Kody said he didn't believe any of his children would practice fundamentalist Mormonism or become polygamists.
"I don't think any of my children are going to be polygamists," Kody explained. "I wanted to advocate faith for my children, but I've really set it in their place to make their choices about God and religion."
The Sister Wives star said he sometimes wondered if he should have been stricter about asking his children to adopt his religion. "Sometimes I wish, maybe I should have been really hard-line, get my kids into religion," Kody admitted. "Because there are so many things distracting them from that."
The 'Sister Wives' star also opened up about her large family, moving to Flagstaff, and her love life
In addition to the question about polygamy, Gwendlyn answered Sister Wives fans' questions about what it was like to have so many siblings and four moms, as well as the family's 2018 move from Las Vegas to Flagstaff.
"How do you like Flagstaff?" a fan wanted to know.
"I LOVE it here!" the teen gushed. "People are friendly and very environmentally aware and it was so much easier to make friends than I assumed it would be."
Another Instagram user wondered what Gwendlyn liked and didn't like about having such a large family.
"Benefits: Christmas gets wild, we have a TV show, more than one dinner if I get picky, infinite socializing, more to love (!!)," Gwendlyn replied.
But she added that it had been difficult to live in separate homes, away from her siblings and other moms, since they moved to Arizona. She wrote, "Hardships: It gets harder and harder when we live apart [because] I'm so used to being surrounded by so many people."
As for her love life, Gwen—who answered these questions when she hadn't yet turned 18—had nothing major to report. "Do you have a boyfriend yet?" a fan asked her.
"No ma'am I'm not allowed to date till 18 and nobody seems interested," she responded with a shrug emoji.
The Sister Wives star also said she got along well with her dad's other three wives. "Not to brag but I'm def the favorite between the moms," she told one fan.