'Sister Wives': Fans Sound Off On Kody Brown's Admission That He Stays With Meri Brown Out of Obligation
Fans of TLC's Sister Wives have been watching Kody Brown's relationship with his first wife, Meri Brown, deteriorate for several seasons. Meri's catfishing scandal and the couple's legal divorce in 2014—ostensibly so Kody could marry his fourth wife, Robyn Brown, and adopt her three children from her previous marriage—seemed to create even more tension for the troubled polygamist pair.
On the Apr. 5 episode of Sister Wives, "Baby Steps," Kody and Meri hit the road to meet with their marriage therapist, Nancy.
During the intense counseling session, Kody admitted that he felt like he stayed with his first wife purely out of moral obligation and commitment. He also suggested that Meri had deceived him before they got married. Fans took to Twitter immediately to sound off on Kody's harsh words.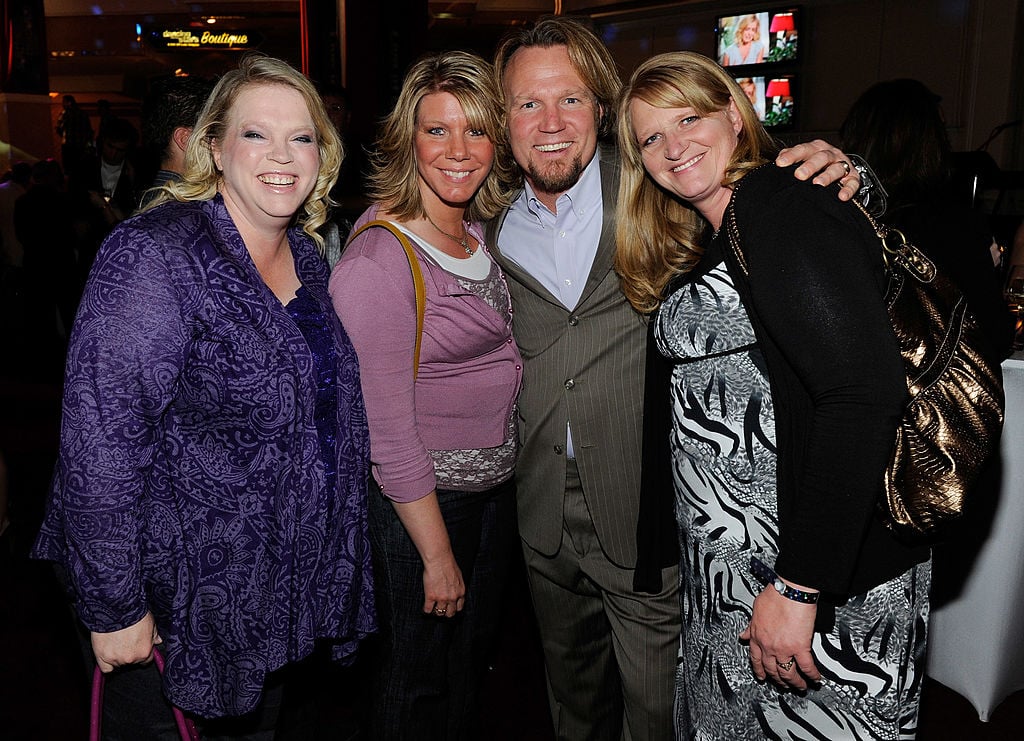 Kody hinted that Meri wasn't honest about who she was before marriage
As Kody opened up about his ongoing issues with his first wife, he revealed that he sometimes felt like Meri wasn't honest with him about who she truly was before they married at a very young age.
"I feel like I was deceived into those covenants," the Sister Wives star told TLC producers of the eternal promises he made to Meri in the fundamentalist Mormon temple when they married.
He explained further, "Meri and I had a very fast courtship with a lot of expectations, a lot of not communicating, and I didn't really know the person I was marrying."
Kody added that he no longer felt like he wanted to be with Meri after he found out who she truly was (or at least who she was in his mind). He said, "As things unfolded, I started to become very troubled, even bitter by the situation I was in."
"I had gotten to a point where I was ready to wash my hands [of my relationship with Meri]," Kody told Nancy as Meri looked on, clearly horrified. He explained that he stayed "out of moral obligations that I made covenants to in deception."
Still, the Sister Wives star said he didn't want to leave his first wife. "I think Meri and I aren't interested in a breakup…I don't think it's about religion. I think it's about commitment," Kody revealed.
In the counseling session, Kody also shared why he didn't feel he could ever be completely honest with Meri about the problems between them. "She goes completely into victim mode," he claimed.
The polygamist dad of 18 even claimed that he had tried to "save" Meri for years. Eventually, Kody said, he burned out and could no longer feel guilty for her unhappiness. "I cannot be her Jesus. I tried doing that for years," he declared. "I got a rescue complex. All I'm trying to point out here It's just exhausting sometimes."
Kody and Meri agreed on one thing: that they would never get back what they had, and that they would have to essentially start over if they continued in their marriage. Perhaps most shockingly, Kody said he didn't grieve anything he had in their relationship. "Meri mourns the loss of what we had," the Sister Wives star said. "But I regret what we had."
Some 'Sister Wives' fans took Kody's side in the clash
While most Sister Wives fans took Meri's side, some viewers took to Twitter during the episode to agree with Kody about Meri's "victim mode." A few viewers also pointed out the fact that Meri has had conflicts with several of the adult Brown children as well as with her three sister wives—not just with Kody.
"I can't be the only one who thinks Kody isn't in the wrong in the Meri situation," one Twitter user wrote. "She doesn't get along with anyone in the family. Pretty telling."
Another agreed, arguing that Meri was manipulative and controlling. "Meri is highly manipulative and she knows. I think she would leave if it wasn't for #SisterWives," the fan wrote on Twitter.
One fan backed up Kody's comments about Meri playing the victim in every conflict. "If everyone who (for whatever reason) loves you says you act like a victim, then LISTEN!" they wrote.
Others thought Kody's comments were completely uncalled for
By and large, however, Sister Wives viewers thought Kody's comments were unnecessarily cruel. Some thought Kody's anger stemmed from Meri's online emotional affair with a catfish. Others thought that Meri and Kody clashed because she wasn't a submissive woman, while Kody likes to call the shots.
"Kody is just making sh** up now and blaming Meri for imaginary things that he won't even explain, just say you hate her already and get it over with," one Twitter user declared during the couple's counseling session.
Another viewer pointed out that Kody didn't have to be as invested in his relationship with Meri, due to the inherent inequality of polygamous marriage. "It's not fair that Kody doesn't act like a husband to Meri. He has 3 other wives to have sex with. She doesn't," they wrote on Twitter. "That's a horrible thing to do to a marriage, where she has no other options."
One critic couldn't believe that Kody would say he regretted his marriage to Meri after they had a child (Mariah Brown) together. "How dare you say you regret your relationship with Meri- she gave you a child… and you regret your marriage and relationship with her?" the Sister Wives viewer exclaimed. "You're a pathetic excuse for a man. Disgusting. How all these women follow you I don't understand or know why."
Several viewers argued that Kody was "gaslighting" Meri and being hypocritical by refusing to hear any criticism about his behavior, while he felt free to criticize Meri harshly. "Kody tells a whole story about his first marriage that blames every problem in their marriage on Meri," one Sister Wives fan pointed out. "Refuses to hear any criticism and then hilariously analyzes Meri as being a constant victim."