'Sister Wives': Janelle Brown Answers a Question About 'Brother Husbands'
The Brown family is often asked what they think about other nontraditional family and relationship structures. Janelle Brown, Kody Brown's first wife, recently told fans of TLC's 'Sister Wives' what she thought about polyandry, or 'brother husbands.'
The polygamous Brown family of TLC's Sister Wives has always been forthcoming about their belief system. Kody Brown and his four wives, Meri, Janelle, Christine, and Robyn Brown, are all affiliated with the Apostolic United Brethren (AUB), a fundamentalist Mormon sect based primarily in Utah and other areas of the Western U.S.
The AUB promotes polygyny, a form of polygamy in which one man has multiple wives, as part of its religious practice. Meanwhile, the Browns have been open about their support for gay marriage, polyamory, and other nontraditional relationship structures between consenting adults.
In particular, the Browns have been asked on various occasions about "brother husbands," or polyandry, a form of polygamy in which one woman has multiple husbands. Polyandry is rarer than polygyny, the form of polygamy practiced by the Browns, but it's not unheard of around the world.
During the Feb. 23 episode of Sister Wives, "Doubting Polygamy," Kody's second wife Janelle took to Twitter to answer fan questions about the family. She even answered one fan question about her opinions on "brother husbands" and polyandry.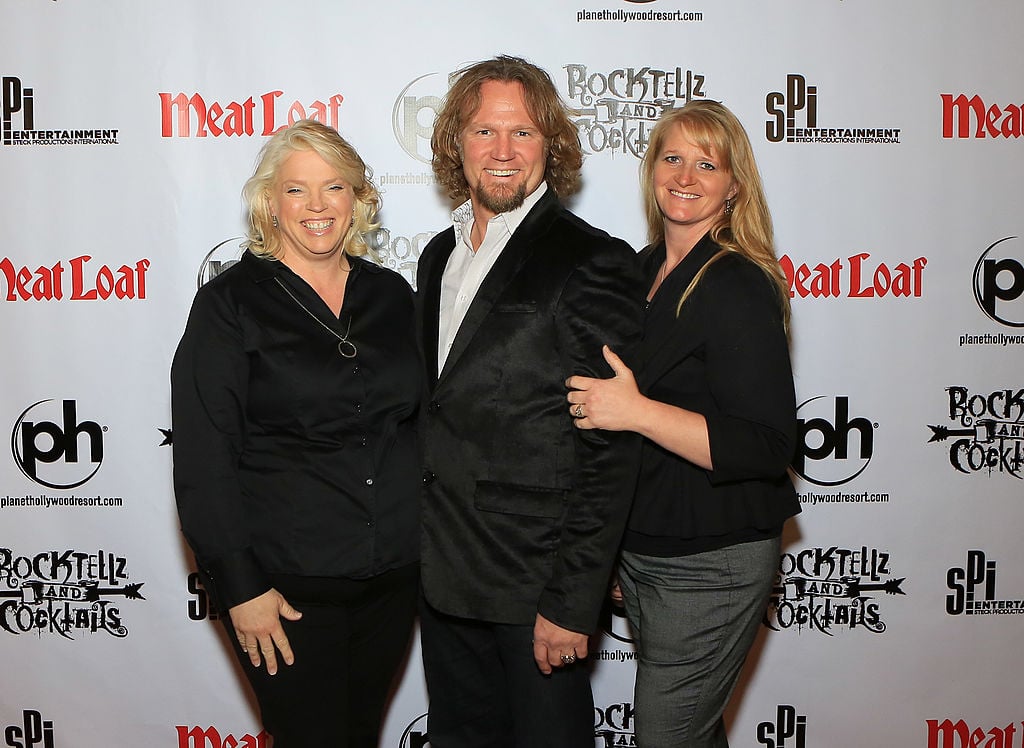 Janelle said she thought multiple husband was fine as long as it was 'consensual'
While Janelle live tweeted the latest Sister Wives episode, a fan asked her on Twitter, "Why can't a woman have multiple husbands and be in a plural marriage?"
The mom of six quote tweeted the question and replied that she had no problem with polyandry as long as it didn't involve any coercion or manipulation. "I've met families that are structured that way," the Sister Wives star wrote on Twitter. "It's not our paradigm but consenting adults should be able to choose. As long as there is not abuse or fraud."
Sister Wives fans appreciated Janelle's transparency about the issue. One viewer replied, "Fair is fair! I love your attitude Janelle!"
Another fan agreed, writing, "This is how I feel. Well said Janelle. If it is consensual leave people alone!"
Yet another added, "100% let adults make their own choices!"
The Browns have been open over the years about their support for any relationship paradigms that allow for individual freedom between consenting adults.
It isn't surprising that Janelle would openly state her support for other nontraditional relationship structures, either, considering that she converted to Kody's faith as a young adult. She was the only one of Kody's wives who was not raised in polygamy or the AUB herself. Meri, Robyn, and Christine were all raised by plural wives.
Kody, meanwhile, was a convert like Janelle. Both of them chose an unconventional approach to marriage entirely on their own.
The 'Sister Wives' family opened up in the past about 'brother husbands'
This isn't the first time the Browns have addressed the idea of brother husbands, as many fans are curious about their fundamentalist Mormon beliefs, which seem at once highly progressive and very traditional.
In 2011, Kody and his wives discussed the idea on an episode of Sister Wives. The family appeared on a panel about polygamy at a local university. Kody told TLC producers that, at the panel, they were asked to address polyandry. "Somebody asked us about, 'What do you think about the idea of brother husbands?'" he said.
"You know, that's not a tenet of our faith," Kody's first wife Meri told the audience member.
Janelle jumped in to joke, "Who really wants that? Guys are lots of work, right?"
To Sister Wives producers, the Brown family further elaborated on their belief in religious freedom as it pertains to polygamy.
"When religions have rules and beliefs, it could even be as simple as conduct in a marriage or food that you can and can't eat, every religion has rules that they think bring them closer to God," Janelle said. "That is how it is for us. We feel like living plural marriage is a commandment designed for our happiness."
Meri agreed, adding, "And the way plural marriage is designed for us, and what we believe, what we've accepted, is one man and multiple wives. We just don't do it the other way around."
Kody's first wife continued, saying that polygyny was both a religious and personal preference for her. "I would not ever choose to have more than one husband," the Sister Wives star said. "From a religious standpoint, because I don't believe that that's right, and also from a personal standpoint, I need my me time and I wouldn't get it if I had many guys around. I'm not going there."
Kody once told one of his wives that the idea of her with another husband was 'vulgar'
The Browns appear to support all relationship structures between consenting adults politically, but personally, it's a different matter. During a romantic dinner date with Meri on Sister Wives Season 1, Kody even suggested that the idea of one of his wives having brother husbands repulsed him.
In a discussion about jealousy, Meri asked Kody to imagine how he would feel if she was with another man in addition to him.
"That's just not something I'm comfortable with imagining," Kody replied. He continued, "The vulgarity of the idea of you with two husbands or another lover sickens me. It seems wrong to God and nature. I understand this seems somewhat hypocritical, and I don't know how to get around it."