'Sister Wives': Janelle Brown Says Meri Made an 'Exceptionally Brutal' Comment to Her About Her Looks Early in Her Marriage to Kody
With 18 kids, two grandkids, four wives, plenty of in-laws, and just one husband and dad—Kody Brown—it's no secret that the polygamist Brown family of TLC's Sister Wives has had some conflicts over the years.
The relationships between Kody and each of his wives (Meri, Janelle, Christine, and Robyn Brown) have always been complex. The relationships between the sister wives have, of course, had their own struggles as well.
But one major conflict—the tumultuous relationship between Kody's first wife, Meri, and his second wife, Janelle—began early on in the Browns' polygamous, or plural, marriage, and persisted for many years.
In their 2012 memoir, Becoming Sister Wives: The Story of an Unconventional Marriage, Meri and Janelle opened up about the roots of their long-lasting difficulties with each other. One incident stuck out in Janelle's mind as a particularly devastating blow.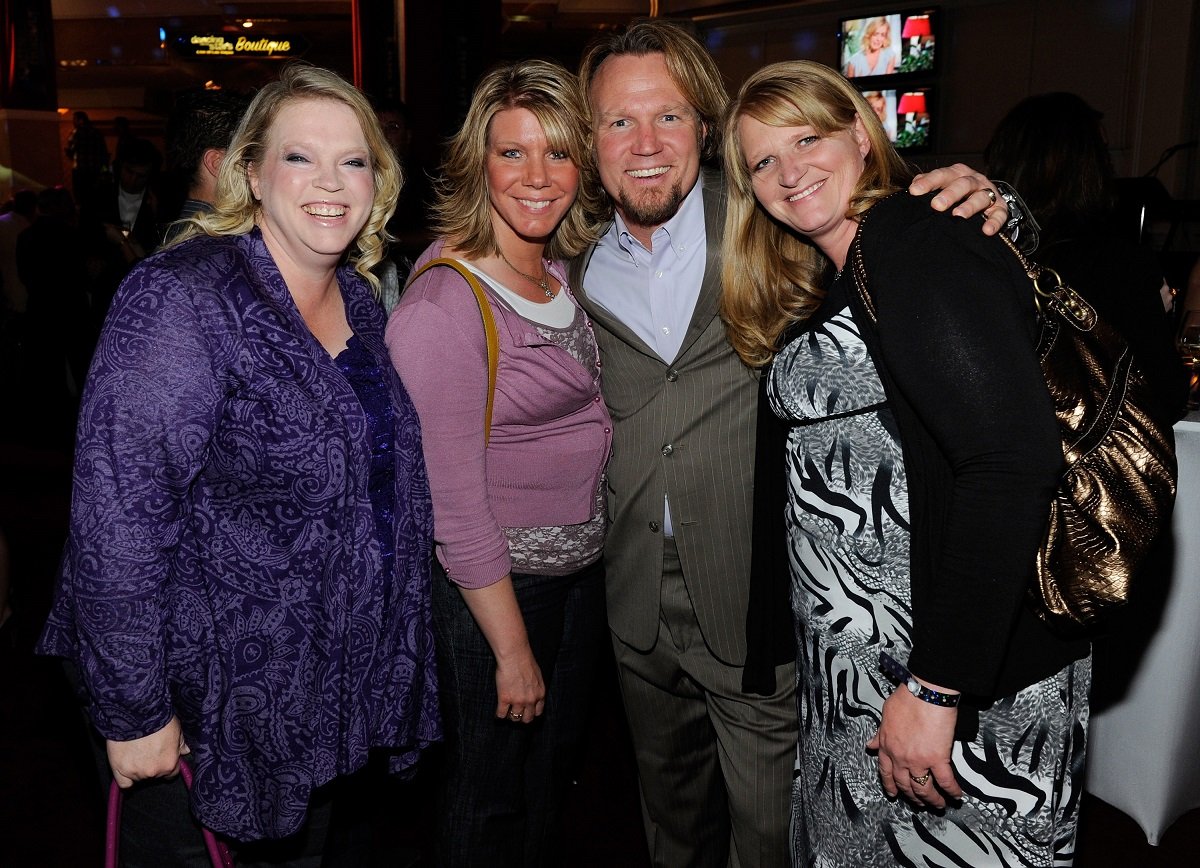 Meri and Janelle immediately clashed after Janelle joined the family
Janelle was actually married to Meri's brother, Adam Barber, for a brief time before she joined the Brown family. Janelle, Kody, and Meri became close friends after Janelle's divorce. What started off as a friendship eventually turned romantic, and Janelle became Kody's second wife in 1993 (three years after Kody married Meri).
Being friends with Meri and Kody was one thing. But, Janelle admitted, the transition to becoming Kody's wife and Meri's sister wife was rough from the start.
In Becoming Sister Wives, Janelle explained that she moved into the guest bedroom of Kody and Meri's home in Wyoming after marrying Kody. She and Meri immediately found that they didn't get along too well—and Janelle often felt left out of the family.
"Immediately after moving in with Meri and Kody, I began to lose my sense of self," Janelle wrote, adding: "In no time, I came to feel like a guest who had overstayed her welcome."
Meri and Janelle "went from cordial to frosty overnight," according to the latter. The Sister Wives star felt like she couldn't do anything right in Meri's eyes, even household chores like laundry and cooking.
Janelle revealed that she often felt excluded by Kody's first wife
In Becoming Sister Wives, Janelle revealed that Kody and Meri didn't exactly know how to navigate the shift in their relationship at first. Kody and his first wife had an affectionate marriage, and Janelle wasn't sure what to do after she was added to the equation.
"Kody didn't know how to behave as my husband in Meri's house," Janelle lamented in the Brown family's memoir. "When we watched a movie together at night, Kody and Meri would sit together on the couch while I felt left out in the cold. So I learned to separate myself."
Kody's second wife revealed that her husband would even take Meri on his business trips to other states—while leaving Janelle home alone.
Meri experienced 'separation anxiety' after Janelle was added to the family
As for Meri, she also felt the sting of the major differences in her marriage when she was no longer Kody's only wife.
Explaining that she had "separation anxiety" after Janelle married Kody, Meri wrote in Becoming Sister Wives, "I missed the privacy of our old situation—the luxury of making a romantic dinner for just Kody and myself whenever I wanted, or renting a good movie and curling up on the couch together. These are things you simply can't do when another wife enters the picture and is living in the same house."
Kody's first wife also admitted that she and Janelle were often at odds because of their differences in personality. Meri argued that Janelle could be passive aggressive and sometimes had a "hard time being honest with herself, or others, about her feelings."
Meanwhile, Meri confessed, she could sometimes be "aggressive" in how she spoke to others.
"I didn't know how to hold back or temper my opinions," the Sister Wives star wrote of those early days with Janelle. "I am a very direct person, and when I have a strong opinion about something, I can be a little bit harsh."
Kody's second wife claimed Meri insulted her makeup one fateful day
When she was pregnant with the Brown family's first child, Logan Brown, Janelle explained that her relationship with Meri reached an "all-time low." Pregnancy hormones and the physical exhaustion of carrying a child left her feeling "vulnerable" and less able to deal with Meri's "snide remarks."
Once, when Kody headed off yet again with his first wife and left Janelle behind, she and Meri had a harsh interaction that left her feeling raw and more alone than ever.
"Kody had taken a new job logging on a mountain, and I was upset to learn that he was again taking Meri with him," Janelle wrote in Becoming Sister Wives. "Meri took advantage of the situation to be exceptionally brutal."
The Sister Wives star claimed that Meri mocked her makeup while she was pregnant and in tears over her husband leaving her behind for yet another trip.
"One of my friends and I had experimented with my makeup," Janelle wrote. "As I was crying that I was being left behind, Meri began to ridicule the makeup I was wearing. This was the final straw after all the passive-aggressive behavior and snide remarks I had been dealing with for so many months."
Kody's second wife admitted that she "completely lost it" and "felt as if [she] was on the verge of a complete nervous breakdown" after Meri's taunts. With tears running down her face, Janelle reached out to Kody for reassurance in a desperate moment.
"'I just need to know that you love me,'" she told her husband.
Janelle said Kody responded that "of course" he loved her—and looked relieved that such a simple, straightforward profession of his love could cure Janelle's ills, at least for a moment.
Meri and Janelle took many years to sort out their problems and learn to appreciate each other as sister wives. Eventually, they headed to counseling together to try to achieve a reconciliation.