'Sister Wives': Kody Brown Says Polygamy 'Kills Romance' As His Wives Debate No-PDA Rule
Many fans of TLC's Sister Wives wonder how Kody Brown and his wives celebrate romantic holidays and special occasions.
As the ultimate couple's holiday, Valentine's Day seems like it might be a minefield for a polygamist family. On the Feb. 9 episode, "An Awkward Valentine's Day," Kody and his wives, Meri, Janelle, Christine, and Robyn Brown, discussed how they approach public displays of affection on romantic occasions.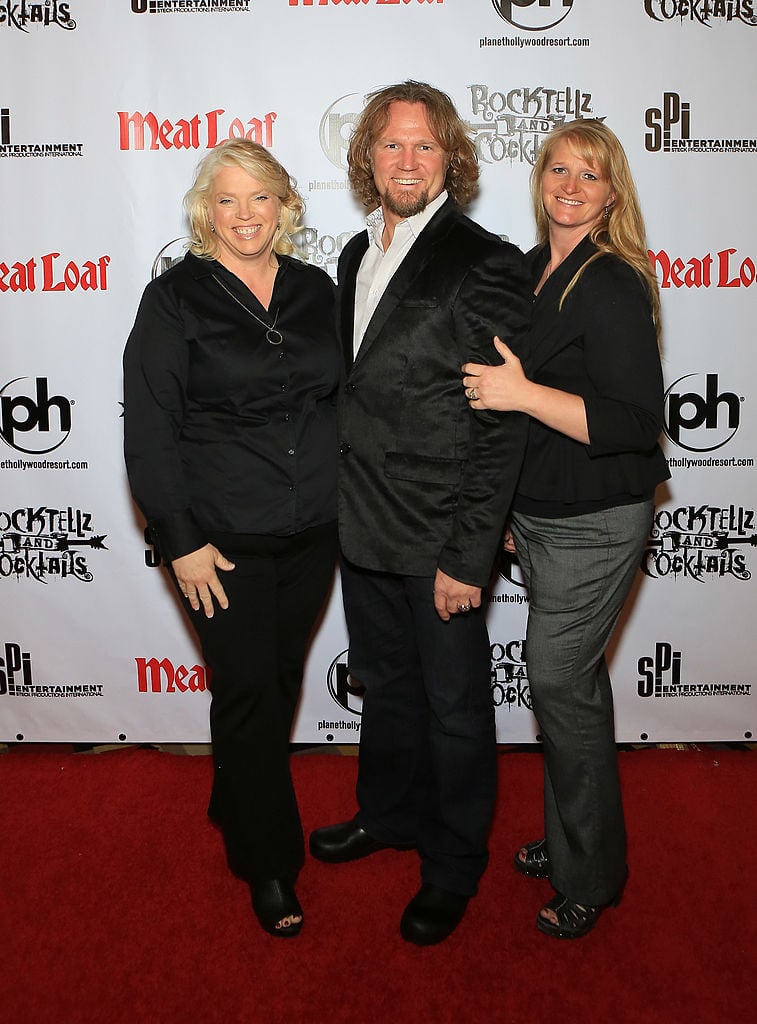 The polygamist patriarch called Valentine's Day a 'monogamous holiday'
Kody's second wife, Janelle, explained that the Brown family didn't always know what to do on Valentine's Day.
They usually celebrated it "all together," the Sister Wives star revealed, "because Valentine's Day is a very awkward holiday for a plural family. Because what is Kody supposed to do? Who does he go out with?"
When Kody's fourth and youngest wife, Robyn, came into the family, she said she insisted they all celebrate the holiday. But before that, Janelle explained, they "sort of ignored it."
Why? Because, as Kody said, "It's sort of monogamous day."
But Robyn disagreed, arguing that the Browns could enjoy Valentine's Day as long as they all just decided to accept that it would be a little strange at first. "That's horsecrap, sorry," she told Kody. "We just need to have fun with it."
That's why Kody now brings gift bags for all of his kids and flowers for each of his wives to honor them each Feb. 14.
Kody's wives have an unspoken rule of not showing affection
The Browns' discomfort with romantic occasions like Valentine's Day probably stems in part from their unspoken rule about not showing PDA in front of other wives.
That's why, when Kody brought Christine her flowers, the couple didn't share any affection. "He gave me my bouquet at arm's distance, and we didn't even touch," the Sister Wives star joked.
According to Kody, this was par for the course in plural marriage. "I think polygamy kills romance. I'll be honest with you," he admitted.
"It can if you let it," Robyn shot back. Christine, meanwhile, took a jab at Kody's one-house idea for the family, which she thinks will kill the affection between spouses. "It can if you're all in one house," she said sarcastically.
Robyn explained that, when she entered the family many years after the other wives had established their "family culture," there was already an understanding that "there was to be no affection" between Kody and his wives in front of the others.
And Kody's youngest wife was never personally a fan. "I think that it's changed," she said, adding: "I know that Kody wants to be more affectionate but feels like he can't."
When Kody gave Robyn her flowers, she "broke" the unspoken rule by giving him a hug and kiss. "My husband gave me flowers," she explained of her reasoning. "I'd like to give him a hug and a little kiss, and I think everybody should."
Robyn and Janelle hope the no-PDA rule changes
Not all the Sister Wives spouses are in favor of changing the Brown family's no-PDA rule.
Robyn asked her sister wives if they hoped to have more affection with their husband in the future. "Raise your hand if you wish that [rule] would change," she said.
Only Meri didn't raise her hand in response, which is interesting given Kody's insistence that they no longer have a romantic relationship. Janelle, meanwhile, seemed to be happy about the idea. "We could try to evolve," she said.
And while Christine raised her hand in favor, she wasn't completely convinced. "I'm putting a disclaimer out there. On a good day," she told TLC producers.
"On a day where she's loved up," Kody joked. On days when Christine and Kody were arguing, he thought she might "rant and rave."
Kody's third wife said that when a sister wife felt "secure" in her relationship, seeing his affection for his other wives wouldn't matter much. "But if you're insecure in your relationship, the physical affection you have with the other wives would hurt," Christine explained. "It's really complicated."