'Sister Wives': Kody's Wives Call Him a 'Baby' and a 'Little Brother,' Say He's 'Whining'
Kody Brown converted to his fundamentalist Mormon faith, the Apostolic United Brethren (AUB), as a young man. He has often stated that he felt called to practice polygamy, which is why he married his four wives: Meri, Janelle, Christine, and Robyn Brown.
But on the Feb. 23 episode of TLC's Sister Wives, "Doubting Polygamy," Kody admitted that he sometimes didn't feel the same fervor for his faith anymore. In fact, he sometimes doubted whether polygamy was really meant for him or his wives.
The Sister Wives husband and father confessed to feeling so "jaded" and "cynical" sometimes that his view of polygamy, or "plural marriage," has shifted over the years. He didn't even enjoy seeing his wives have fun and joke with one another on the latest episode because it reminded him more of what was lacking in their relationships.
After the episode aired, Robyn and Christine took to Twitter to call Kody out on his negative comments.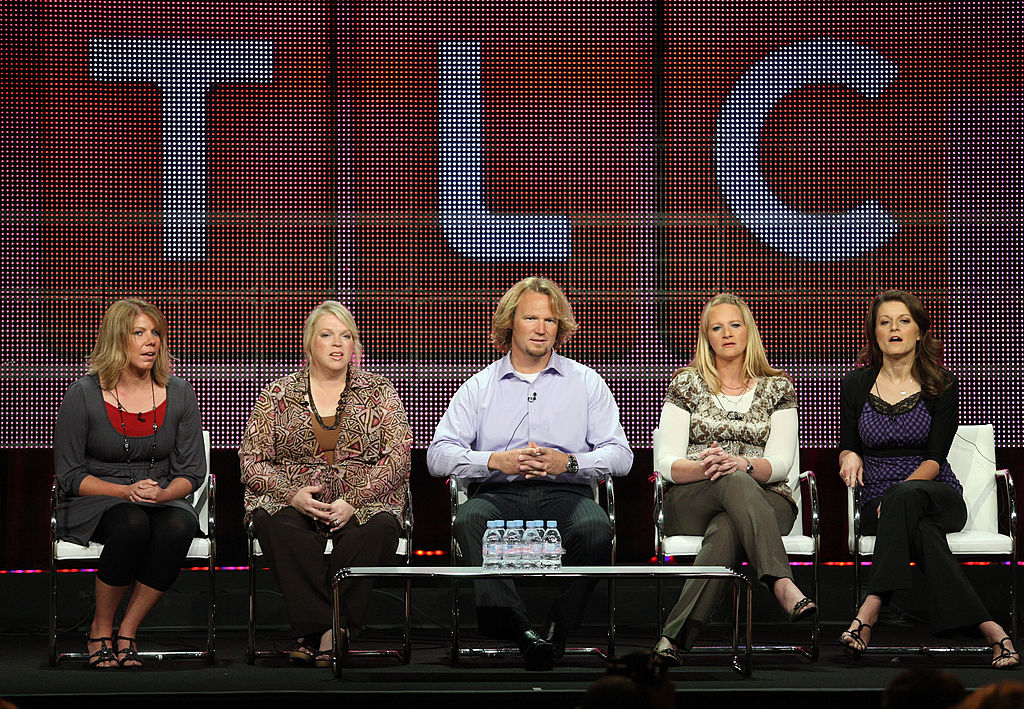 Kody admitted he no longer enjoys seeing his wives have fun with each other
Kody's wives, except second wife Janelle, turned down his offer to build a single, large home for them to share on their new land (Coyote Pass) in Flagstaff, Arizona. On the latest episode of Sister Wives, Kody confessed that their rejection of his idea had affected him so much that he didn't even enjoy seeing them form alliances with one another.
While exploring Coyote Pass and thinking about where to build each of his wives' four separate homes, Kody and his friend Kyle Henderson saw the four women having snowball fights and making snow angels.
"They always get silly when they're together," Kody told TLC producers.
When a Sister Wives director asked Kody if he found a lot of joy in watching his wives get along, Kody replied sadly, "I used to. I'm cynical now."
He continued, "When I was younger, it used to be a lot of pleasure to me when I would see my wives goofing off, having fun, playing together."
But things had changed, he explained: "I'm jaded, I guess. I just don't see plural marriage in the same light that I used to."
The Sister Wives star confessed, "I'm struggling with plural marriage, and I'm struggling with my wives, and I'm struggling with their conflict."
The 'Sister Wives' star even said he feels like his wives' 'brother' sometimes
Kody's feelings of rejection and exclusion from his wives, especially when it comes to major family decisions like the one-home idea, might have been related to the family dynamic.
Fourth wife Robyn explained that the Brown wives sometimes acted like sisters around each other rather than women who shared a husband. "When we're all together, we turn more into siblings in our relationships. It's weird," she said. "Like, we aren't married."
The Sister Wives star continued, "We turn into four obnoxious sisters, and he's the brother that we all want to tease and give crap to. It really does change the dynamic when we're all together."
Kody agreed with that sentiment, saying he often felt like the odd man out or the teased younger brother around his wives. "And I'm the little brother," he said. "If it wasn't just for sheer stark masculine confidence, I would just wither."
This dynamic, he explained, sometimes stopped him from being the leader of the family. The "loyalty bond" his wives had with one another, he believed, made them side with each other on major decisions instead of with him.
Kody's fourth wife Robyn called him out on Twitter about his remarks
Robyn took to Twitter while the Sister Wives episode aired to mock Kody for his remarks about their family dynamic. "So let me get this straight," she wrote. "Kody used to like seeing us getting along but now because not all of us agreed on the one house idea he doesn't like it? Hmmm… little baby brother much?" She added baby and bottle emojis to drive the joke home.
Some viewers thought Robyn's joke was hilarious, especially given Kody's tendency to push to get his own way. Others empathized with him, wondering if he felt left out for legitimate reasons. "I wonder if the underlying feeling to that is he feels teamed up against? Compromise can be hard and I feel for you all," one Sister Wives fan wrote in response.
Kody's third wife Christine joined Robyn in making fun of Kody for his dislike of their sister wife bond, seeming to call him immature. "Polygamist Show Angels. You're fine @realkodybrown!! Goodness. Whiny Baby Poopy Pants!" she wrote on Twitter during the episode.
Another Twitter user thought Robyn and Christine shouldn't be making fun of their husband on social media. "I'm sure dragging him on Twitter isn't helping," they argued. "We would have words… loud words… if I tried to embarrass my husband on SM."