'Sister Wives': Maddie Brown Brush Explains the Difficult Medical Decision She Made For Her Daughter
Maddie Brown Brush, a mom of two and the daughter of Sister Wives star Kody Brown and his second wife, Janelle Brown, recently took to social media to reveal that her young daughter, Evie Brush (with husband Caleb Brush), had had her foot amputated in a planned surgery.
Some Sister Wives fans made negative comments and asked probing questions about the procedure. In response, Maddie shared a poignant Instagram post in an attempt to educate her followers about her daughter's condition—as well as to explain why some of their questions might be misguided.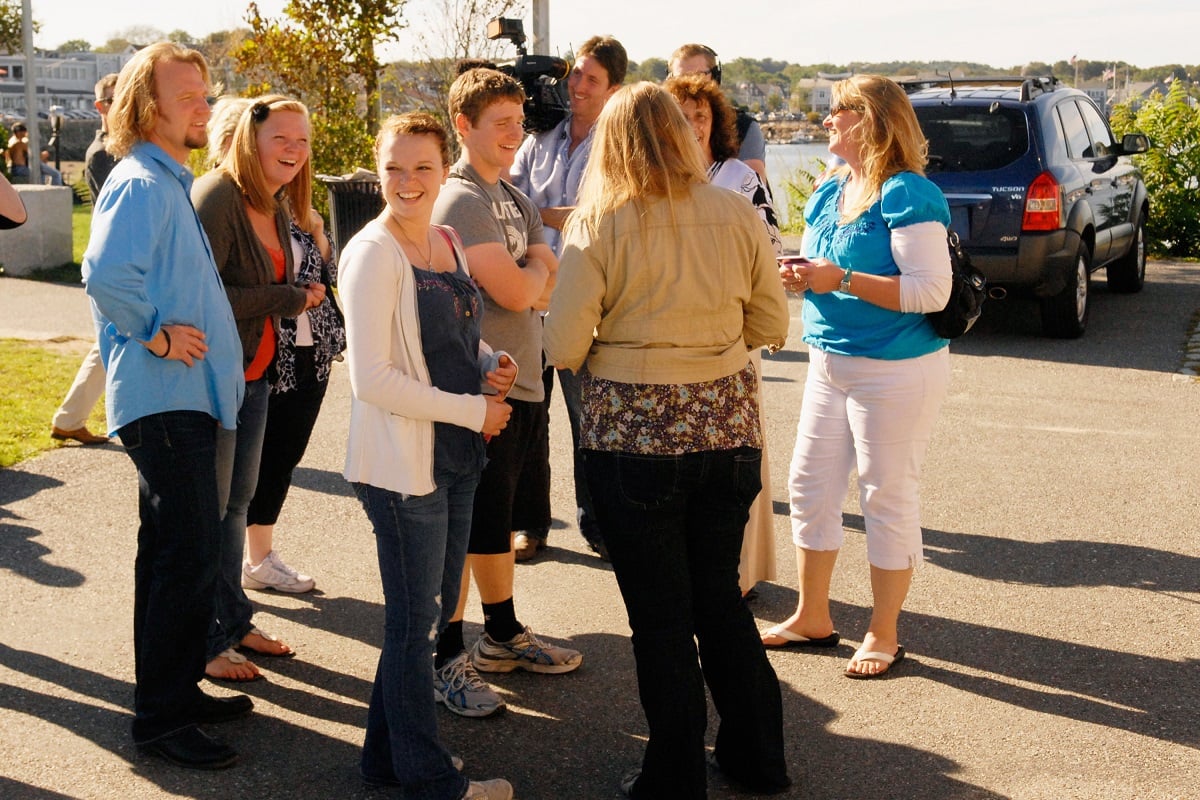 Maddie said Evie had surgery close to her first birthday
Around the time of her first birthday, Maddie explained, little Evie underwent a Boyd amputation (an amputation at the ankle) and surgery on her hand due to her diagnosis of FATCO syndrome, a rare genetic disorder that involves congenital limb malformation. Maddie, who lives with her husband Caleb in North Carolina, shared that her daughter's surgery would give her increased mobility for the time being and "prepare her for a new foot" in the future.
In an adorable photo of herself with her one-year-old daughter at the hospital, Maddie referred to the procedure as a "gift" that would help her for years to come.
"Evie received some major gifts for her 1st birthday," the Sister Wives star wrote under the photo, which showed Maddie smiling behind her face mask and holding little Evie (with casts on her leg and arm) proudly.
"Her surgeon laid the groundwork for her new foot and [the] mobility it will bring, by way of a Boyd amputation," Maddie explained. "Another gave her some extra mobility in her hand, by clipping her webbing she had in her right hand."
Janelle's daughter added that her daughter was now at home with her parents and older brother, Axel, and "recovering beautifully."
The 'Sister Wives' star shared another Instagram post in response to fans' questions and comments
While Maddie received mostly supportive comments in response to her announcement about Evie's procedure, the mom of two also had to navigate some criticism and negativity. The 24-year-old recently responded to Sister Wives fans' questions about the surgery on Instagram. The young mom took the time to educate her followers about limb difference and Evie's diagnosis.
Quoting some of the many questions she'd received since Evie's surgery, Maddie wrote under a smiling photo of her daughter, "'You cut her foot off?' 'If she was functional, why did you amputate?' 'Wait, where is her foot?' 'Was it really necessary to cut her foot off?'"
While Maddie might not have appreciated the questions, she also said that, as a mom, she understood people's confusion. The Sister Wives star explained that her daughter's left tibia was about one-third shorter than her right one. As Evie grew, the difference would become even more "dramatic."

While Maddie and Caleb considered a "lengthening surgery," Evie's difference was "in the grey area," the Sister Wives star continued. "With at least four major surgeries and the possibility of having to amputate in the end, we chose a Boyd amputation," Maddie explained about the conclusion they ultimately reached.
Maddie explained that 'limb difference education' had made a big difference in her perspective
Of the choice to undergo a Boyd amputation, Maddie added that "this was not a light-hearted decision."
"We spent the better part of the last year educating ourselves, talking to doctors, prosthetists, other families, and other amputees as we came to the decision we did," Maddie wrote, explaining that education had gone a long way to change her view of what her daughter might need and benefit from in terms of her diagnosis.
"Before Evie, I classified amputees as one category," Maddie continued. "You amputated because there was no way of saving the limb."
But now, Kody and Janelle's daughter wrote, she had learned that amputation could also improve someone's quality of life in some cases. Maddie concluded her post by asking others to look into resources about limb difference in order to educate themselves.  
"I think that goes along with #limbdifference education," she asserted. "Sometimes it's about quality of life. Due to this, I wanted to give a more in-depth explanation and answer all at once. I hope it will all bring awareness to a part of the #limbdifference world."
Fortunately, Evie seemed to thrive after her procedure. Maddie posted several photos of her daughter in recovery, playing and smiling happily in her casts. Under one adorable picture of Evie crawling in the grass and beaming widely, her proud mom wrote, "Evie's poor cast has taken quite the beating. She's not letting anything stop her!"