'Sister Wives': Maddie Brown Brush Just Revealed This Heartbreaking Truth About Her Baby
Fans of TLC's Sister Wives saw 23-year-old Maddie Brown Brush wed longtime family friend 32-year-old Caleb Brush on the show in 2016. The newlyweds were always open about their desire to be monogamous, unlike Maddie's polygamous family, headed by parents Kody, Meri, Janelle, Christine, and Robyn Brown.
Since then, the couple has moved to North Carolina for Caleb's job and welcomed two beautiful children, two-year-old Axel James and two-month-old Evangalynn Kodi. The Brushes seem thrilled with their kids and appear to love being parents.
But on Oct. 23, Maddie told People that their parenting journey has also had its bittersweet moments. During a routine ultrasound at 28 weeks, Maddie and Caleb discovered that their daughter had a rare genetic disorder.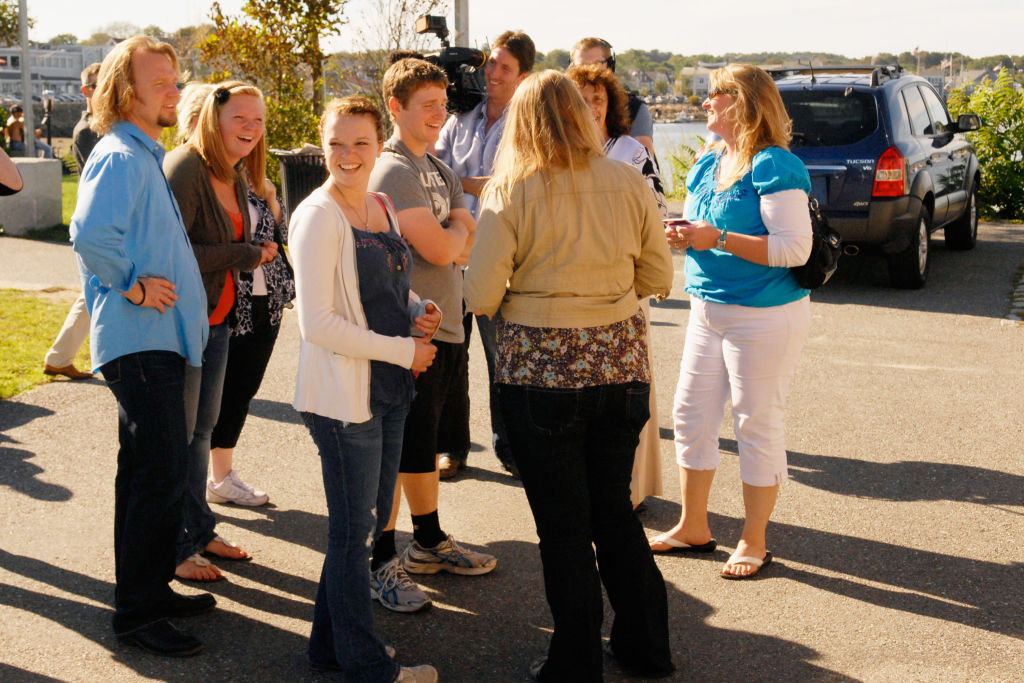 The Brushes welcomed their baby girl on Aug. 20
Little Evangalynn Kodi Brush, named in part for the couple's evangelical Christian beliefs and in part for Maddie's father Kody Brown, was born on her due date of Aug. 20, 2019.
The 8 lb., 12-oz., 21-in. baby girl was welcomed by her parents Maddie and Caleb, as well as brother Axel James, who was born in May 2017. The Brushes announced Maddie's pregnancy to People in January and did an exclusive gender reveal with the same outlet a few months later.
Maddie posted a series of adorable snapshots of her baby girl on Instagram in the days and weeks after her birth, writing that her daughter was born "right on time and just right." In another photo, in which husband Caleb cuddled both of the Brushes' kids in bed, Maddie wrote sweetly, "My whole heart in a photo."
Maddie revealed that Evangalynn has FATCO syndrome
The Brushes' joy during Maddie's pregnancy was tempered with a certain degree of concern over their daughter's health. On Oct. 23, Maddie told People that Evie had been diagnosed with a genetic condition that causes limb malformation.
While ultrasounds that check for genetic abnormalities usually take slightly less than an hour, Maddie told the outlet that hers lasted over two hours.
Ultimately, the Brushes' little one was diagnosed with fibular aplasia, tibial campomelia and oligosyndactyly (FATCO) syndrome, which alters the course of babies' bone development. "There were lots of emotions," the Sister Wives star told People of the discovery, "but I was also relieved because there could have been a whole lot more wrong."
Maddie and Caleb's daughter is missing a toe, a thumb, another finger, and a shinbone and calf bone on the same leg.
The 'Sister Wives' couple said they wanted to be open about their daughter's condition
Maddie Brown Brush told People that she initially wanted to protect her daughter's privacy, but ultimately felt that she wanted to instill a sense of pride in her about her condition and her differences.
This approach seems similar to the Browns' attitude about their religious and cultural differences on Sister Wives, which has been to shout them from the rooftops and develop pride in being "out and proud." In fact, a few weeks after Evie's birth, Maddie shared on Instagram that she wanted to raise her daughter to "feel like she breathe[d] fire."
To that end, Maddie shared with the magazine, "It's abnormal, and it catches people off guard, but I want her to grow up and feel proud about who she is." She added that she thought to herself of sharing her daughter's diagnosis," If I'm hiding this to protect her, is it really helpful?"
Decisions about any potential surgeries or other procedures and treatments for little Evangalynn won't be made until she's a bit older. It's unclear how much the rest of the Sister Wives family will be involved in a hands-on way, since they now live in Flagstaff, Arizona.
For now, Maddie Brush said that she was simply "grateful" to have her daughter in her life and wanted to share her story to raise awareness about the condition.