'Sister Wives': Robyn Brown Said She Didn't Feel Like She Was in a Polygamist Family
The Browns' move to Flagstaff from Las Vegas shocked many fans of TLC's Sister Wives, as it seemed more than a little sudden. And with four mortgages back in Nevada, the family didn't seem financially prepared for the move.
On the Jan. 12 episode of Sister Wives, "Lonely in Flagstaff," it seemed like the Browns also weren't entirely emotionally prepared for the big change. 
Kody Brown's four wives, Meri, Janelle, Christine, and Robyn Brown, met for lunch and revealed just how isolated they felt living in separate homes clear across town from one another. Fourth wife Robyn even let it slip that she sometimes didn't feel like she was part of a plural family at all.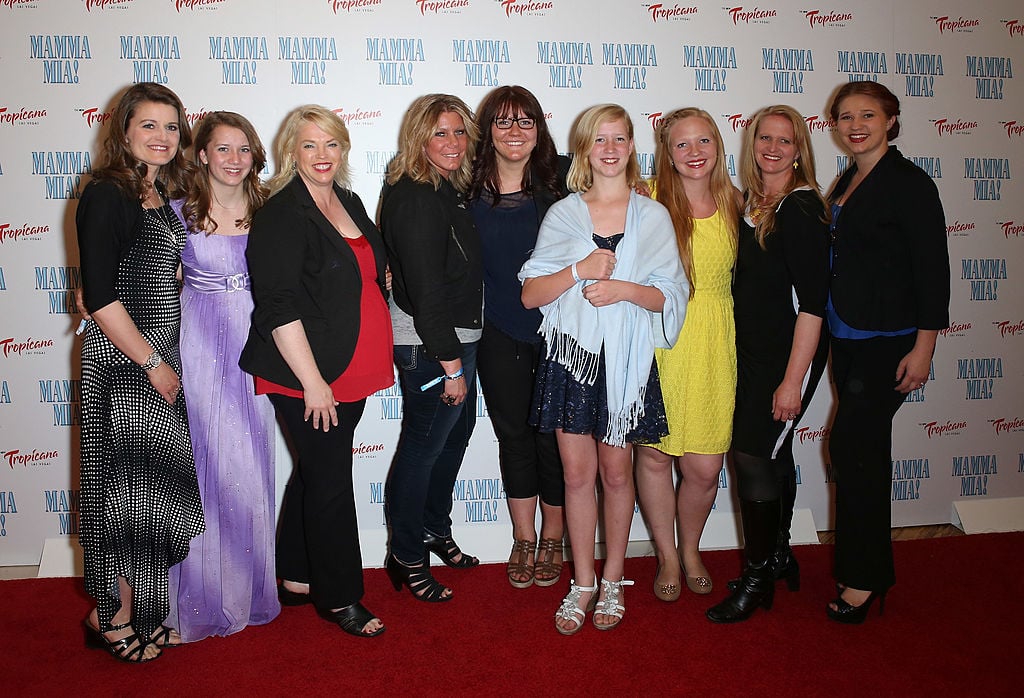 The Brown wives met for lunch to discuss their difficult move to Flagstaff
Sister Wives fans have noticed that, despite their desire to be close as a family, the Brown wives often don't seem to spend much time together. 
As soon as Kody's four wives met for lunch, that ongoing problem became clearer than ever. Meri, who had recently returned from six weeks alone in Las Vegas after being kicked out of her first Flagstaff home by angry neighbors, was frustrated that her sister wives hadn't helped her move her furniture. 
"I'm completely alone over there," Meri said of her new rental. "I'm still sleeping on a mattress on the floor." 
While Meri's sister wives suggested she hire someone to carry her furniture up the stairs on the side of her house (which is built alongside a mountain), Kody's first wife said she was hurt they weren't volunteering to do it themselves. "I mean, to me, that's kind of what family does," she told them. 
Meri even said their refusal to help her move the large furniture made her feel isolated from the family. "I'm feeling like their love and caring for me is conditional," she said of her sister wives.
Robyn Brown said she doesn't even feel like she's 'in a plural family'
Meanwhile, fourth wife Robyn, who said she always felt alone in her first marriage and longed to be part of a plural family in her second one, also admitted she was struggling with isolation in Flagstaff.
"We're starting to feel The pinch of being apart," the mom of five said. "We are separated into the rentals, so it feels like we've seen each other even less."
The Sister Wives star even confessed that she didn't feel like she was part of a polygamist marriage at all. "I feel like I'm not a part of a plural family right now. It's been really, really weird," she told TLC producers.
Still, Robyn hinted that both Meri's isolation and her isolation were sometimes just part of being a plural wife (polygamist's wife). "Kody's a very busy person," Robyn said. "He has a lot of demands on him. It's nothing personal that Kody's not right there whenever [Meri] needs him. Because he's not for any of us. And that's just what it means to be a plural wife."
The other wives agreed that they felt left out of the larger family
Third wife Christine and second wife Janelle shared their sister wives' feelings of loneliness in Flagstaff.
Janelle even said she felt so alone that she was starting to experience symptoms of depression. "I'm kinda going crazy," the Sister Wives star said. "The car doesn't leave my garage for a day or two, and all of a sudden I start wondering why I just wanna lay on the couch and life is so hard, and it's too hard to get dressed." She concluded, "It's the isolation." 
Kody's second wife confessed that she often wondered whether Flagstaff was the right decision for the Brown family in the end. "I start to question, like, why are we living here? Why am I doing this?" she told producers. "I have got to see people, and I have got to see people that I know and care about, because I can't keep doing this."
Christine, too, admitted she wasn't feeling close to her sister wives since the move.
"I feel like they were fine in my life without me and they really didn't even need me in their life," Kody's third wife told Sister Wives producers. "I would just let myself get into this funk of thinking they were mad at me and they really didn't want to have anything to do with me."