Which 'The Sisterhood of the Traveling Pants' Star Has the Highest Net Worth?
The teen drama film The Sisterhood of the Traveling Pants debuted 15 years ago in theaters. The film starred Blake Lively, Alexis Bledel, America Ferrera, and Amber Tamblyn (below) as four best friends who stay in touch over one summer via letters and a pair of seemingly magical jeans.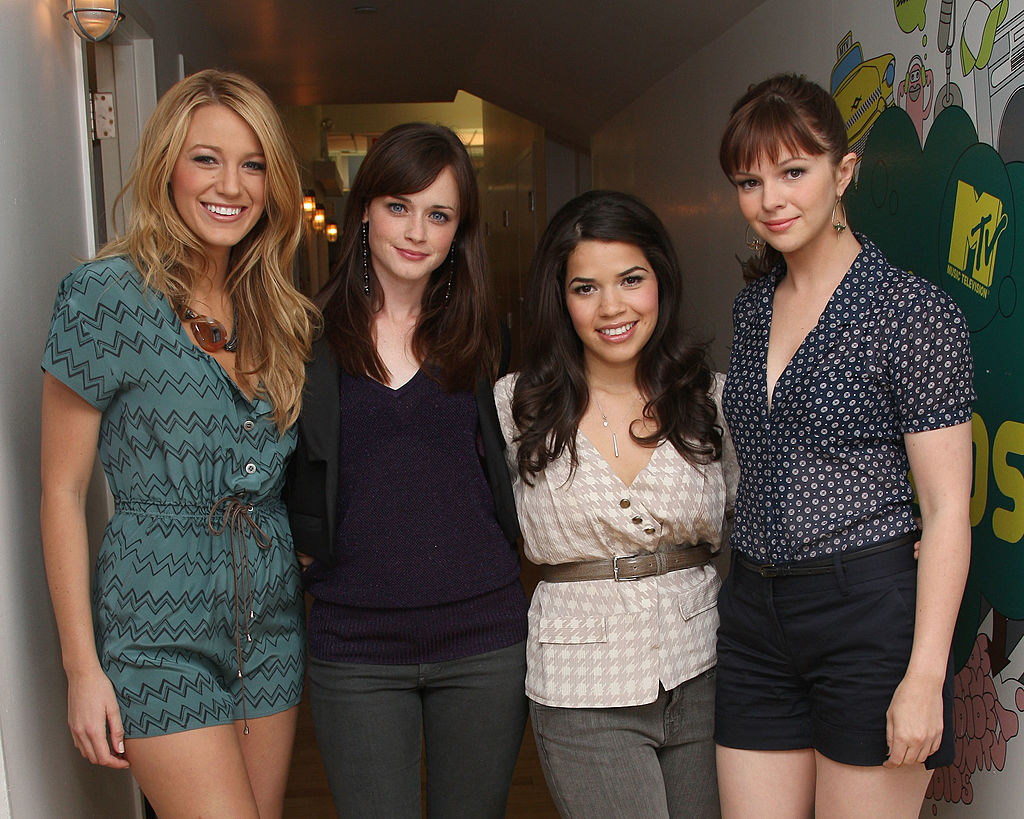 While they reprised their roles in a sequel (and a third film is reportedly on the way), the actors have gone off in many directions over the years. Still, they've remained close friends. Here's a look at what they've done in the decade and a half since, and who has the highest net worth.
Amber Tamblyn
Tamblyn portrayed Tibby Rollins, the aspiring filmmaker of the group. Tamblyn grew up in Los Angeles, the daughter of actor Russ Tamblyn. She began acting as a child. In addition to small roles in films like The Ring and TV shows like Buffy the Vampire Slayer, Tamblyn starred in the fantasy series Joan of Arcadia before landing the role of Tibby.
Today, Tamblyn acts less. She has turned her focus to writing books and poetry, following her roles in popular shows like House and Two and a Half Men. Tamblyn has made waves for her activism, and, in 2017, called out actor James Woods for harassing her as a teenager. According to Celebrity Net Worth, she is worth $3 million.
Alexis Bledel
Bledel portrayed Lena Kaligaris, the shy artist of the group. The actor is best known for her starring role in the TV series Gilmore Girls, which originally aired from 2000-2007. Before Sisterhood, she also starred in such films as Tuck Everlasting and Sin City.
Today, Bledel is still thought of as Rory Gilmore, having reprised the role in Gilmore Girls: A Year in the Life. She also garnered attention for her Emmy winning role in The Handmaid's Tale. According to Celebrity Net Worth, she is worth approximately $6 million. However, other estimates put this number closer to $9 million.
America Ferrera
Ferrera portrayed Carmen Lowell, the passionate "glue" of the group. Like Tamblyn, Ferrera grew up in LA and pursued a career in acting from a young age. Her debut films, Real Women Have Curves and the Disney Channel Original Movie Gotta Kick It Up!, helped launch her into the public eye.
Today, Ferrera is best known for her two starring TV roles in the ABC dramedy Ugly Betty and the NBC sitcom Superstore. For the latter, she also served as a co-producer and directed several episodes before exiting in 2020. She is also actively involved in several causes. Ferrera is thought to be worth around $16 million.
Blake Lively
Lively portrayed Bridget "Bee" Vreeland, the impulsive athlete of the group. Like Tamblyn and Ferrera, Lively grew up in LA. Though she hails from a show business family, Lively was an unknown when she was cast in Sisterhood, and she was still in high school when she landed the part.
From there, Lively was cast in the role she's best known for, as Serena van der Woodsen in Gossip Girl. In the years since, she has starred in such films as Green Lantern, The Shallows, and A Simple Favor. Though she may a more high-profile celebrity given her marriage to Deadpool actor Ryan Reynolds, Lively is tied with Ferrera in terms of her $16 million net worth.