Skylar Astin and Anna Camp Dated Longer Than They Were Married
'Pitch Perfect' actors Anna Camp and Skylar Astin didn't make it the distance. The couple split up after a short marriage -- even shorter than their courtship.
Anna Camp and Skylar Astin finalized their divorce in August 2019 after more than two and a half years of marriage. The celebrity couple started dating back in June 2013 following Camp's divorce from Michael Mosley. Surprisingly, Camp and Astin spent more time dating than they spent married. Below is a breakdown of their relationship timeline.
How did Anna Camp and Skylar Astin meet?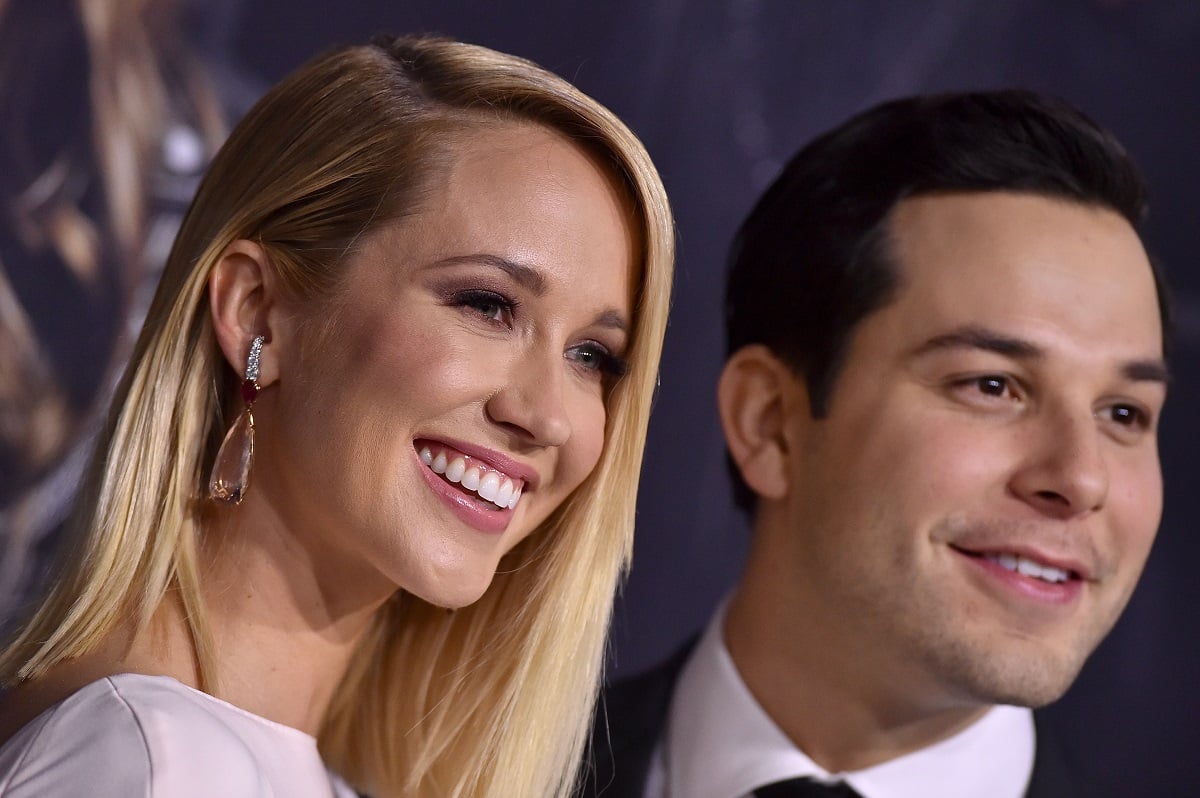 The divorced Hollywood couple met in 2012 while filming the 2012 musical comedy Pitch Perfect. But they "were just friends first," Camp told Glamour in 2014. "We didn't really have a scene together, but he's just such a fun guy," she added.
Camp also shared she wasn't ready to date immediately following her divorce. She also had reservations about their age difference, given that he was 26 and she was 31 at the time. However, the age difference did not deter them once they got together.
In Astin's opinion, it was love at first sight. He revealed to PopSugar he knew from the onset that he wanted Camp in his life, and he was sure he wanted to spend the rest of his life with her. He added that he could not imagine life without her.
The two made their first-ever public appearance as a couple in 2013, shortly after news of Pitch Perfect 2 made the rounds. Both actors returned to their roles.
Astin and Camp married in 2016 after three years together
In Jan. 2016, the two love birds shared their engagement news. They posted on their respective Instagram accounts during the New Year's holiday weekend while on vacation in Hawaii.
Camp and Astin got married in September 2016, about three years after their romantic relationship began. Shortly after their first anniversary,  Anna Camp shared how the two kept things musical at home, telling Stephen Colbert about a jingle they wrote together while installing an air conditioning unit. 
"We're just that cheesy!" she laughed.
After they tied the knot, Camp and Astin didn't work on any more live-action projects together. Camp appeared in Pitch Perfect 3 and took on a starring role in the short-lived Amazon Prime Video series Good Girls Revolt. Astin, meanwhile, joined the cast of Crazy Ex-Girlfriend. However, the pair did provide the voices for Frankenstein and the Bride of Frankenstein in an episode of the animated series Vampirina.
They announced their divorce after less than 3 years
Skylar Astin and Anna Camp were last spotted together in October 2018. However, the relationship went downhill shortly after. At the premiere of Isn't It Romantic in February 2019, Camp walked the red carpet by herself, possibly indicating their separation.
After two and a half years of marriage, the actors announced their divorce in April 2019. "We can confirm that we decided to separate, and this decision was made mutually and amicably," Camp and Astin jointly told E! News (via Clevver TV). Just hours after announcing their decision to split, Camp filed for divorce, citing irreconcilable differences.
Even though the stars were open about their love for each other during their marriage, there were signs resulting in divorce indicating that things weren't always pitch-perfect.