'SNL': Darrell Hammond's Sean Connery on 'Jeopardy!' Started as a 'Last-Ditch Effort'
Some Saturday Night Live cast members are remembered for their impressions. Darrell Hammond did many, but one of his most popular is Sean Connery in the Celebrity Jeopardy! sketches. He claimed the joke started as a last-ditch effort.
Darrell Hammond played Sean Connery on 'Saturday Night Live'
RELATED: Why Some 'Saturday Night Live' Cast Members Use Cue Cards
Hammond was a cast member of SNL from 1999 to 2009. He impersonated many real people including Bill Clinton. But one of his more popular sketches was Celebrity Jeopardy!
This sketch started in 1997 and it showed celebrities playing the game show for charity. However, they were very bad at it and this annoyed Alex Trebek.
Trebek was played by Will Ferrell. Other cast members also were in the sketch like Norm Macdonald who played Burt Reynolds, and Jimmy Fallon, who played multiple celebrities including Hilary Swank. The third celebrity contestant would be played by the host.
A long-running joke was Connery oddly being combative with Trebek. This sketch came to an end in 2002 when Ferrell left the show. But it ended on a high note.
The real Trebek made an appearance in their last sketch. Connery had the pleasure of insulting both of them, of course.
Darrell Hammond's Sean Connery started as a last-ditch effort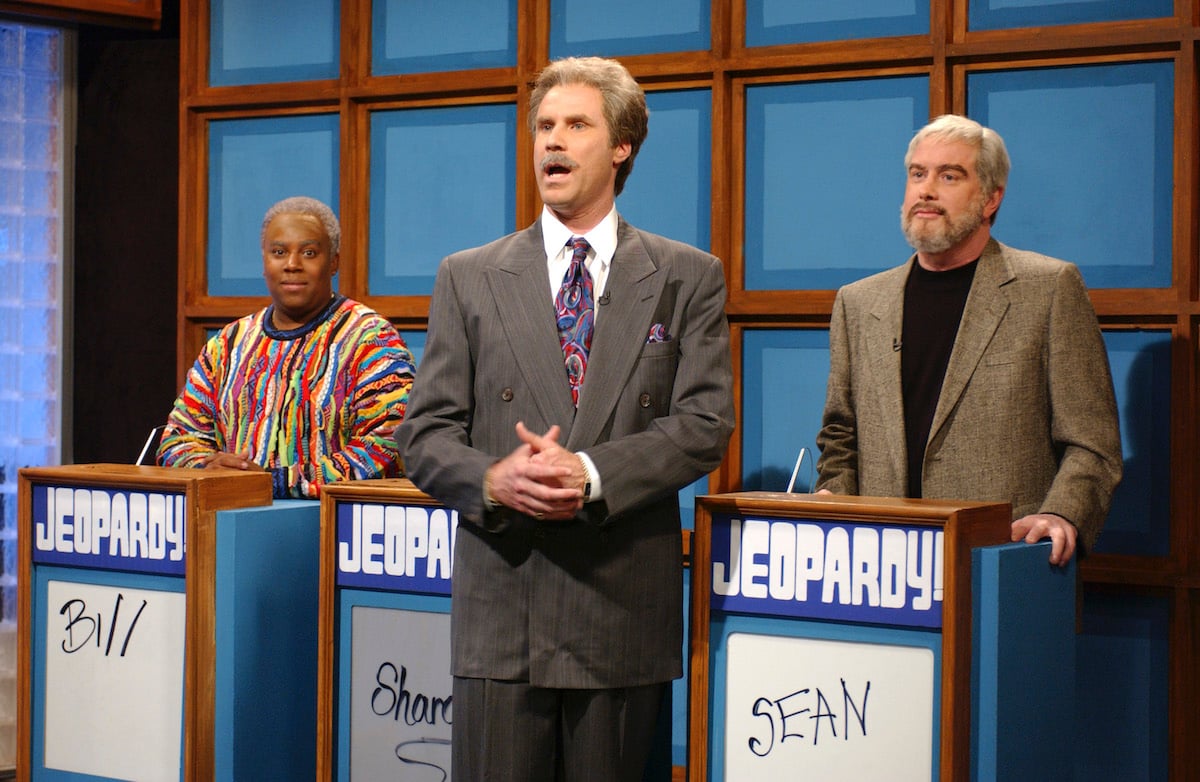 RELATED: 'Saturday Night Live': Is Tenacious D Still Together?
Many cast members of SNL start with celebrity impressions. But Hammond said his Connery didn't start until later.
"It was like a last-ditch effort on a Tuesday night around four o'clock in the morning because I had nothing to turn in or sell to any of the writers," he told The Hollywood Reporter. He explained there was a risk with the premise of the joke, but it worked out.
He later said, "So I thought, nobody's going to believe Sean Connery doesn't know things, or nobody's going to believe that he hates Alex Trebek. The premise doesn't make any sense. And yet it's one of these instances where the stars were in alignment."
Hammond revealed which line helped him get the right voice for the Scottish actor. "It was 'Mr. Ness. I am just a poor beat cop.' That enabled me to find the voice quickly," he said.
Of course, comedy doesn't usually rely on getting things right. So Hammond was told to push his impression further.
"But I remember when I started doing it, especially in rehearsal Lorne [Michaels] was like, and 'Now you've duplicated him. Let's exaggerate him. Let's italicize him. Let's do a Hirschfeld painting of him,'" he explained.
Why Hammond wasn't brought back to play Donald Trump
RELATED: 'Saturday Night Live' First Episode: Watch George Carlin's Monologue
Hammond also used to impersonate Trump on the show. He returned to SNL to play him in 2015. So he was very surprised when Alec Baldwin was chosen to play the president in season 42 instead.
"I just started crying," he told The Washington Post. "In front of everyone. I couldn't believe it. I was in shock, and I stayed in shock for a long time."
Michaels explained that they wanted a new take on Trump. "The Darrell Trump … it wasn't the Trump that had gotten darker," he said. "It was the Trump from The Apprentice."
Hammond is still connected to the show by taking over the announcer role in season 40. He sometimes makes cameos in episodes.