'SNL': 'Hot Ones' Host Sean Evans Reacts to Beyoncé Skit
Saturday Night Live featured the return of Maya Rudolph for its March 27 episode following a one-month hiatus. While some music fans may have tuned in to see Jack Harlow's performance, other special guests included Tina Fey, Martin Short, and Rachel Dratch.
But it is Rudolph's Beyoncé impression during a Hot Ones skit that had social media on fire. And host Sean Evans and the First We Feast team had some thoughts about the show.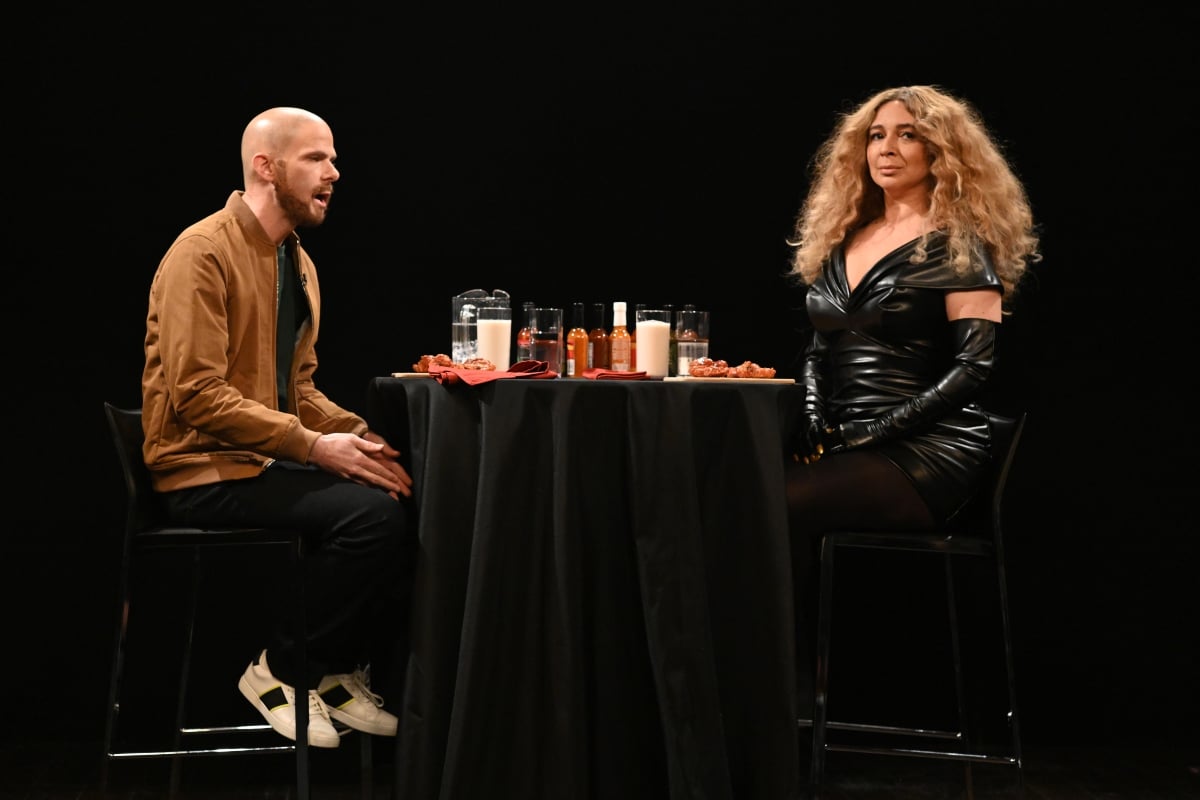 'SNL' drew laughs with Beyoncé 'Hot Ones' sketch
In classic SNL style, Mikey Day dressed up as Sean Evans to interview his next celebrity on the latest edition of Hot Ones. He welcomed none other than Rudolph's Beyoncé, who donned her couture Grammys night outfit made by Schiaparelli.
Rudolph resurrected her Beyoncé persona with the Texas drawl, elegant movements, and swagger. But Day scored points for his impression of Evans with the outfit and his special delivery of pointed, highly specific questions.
This version of Beyoncé didn't have to carry any hot sauce in her bag, but she insisted she could handle the lineup of flavors. "Hitler's Anus Roasted Reaper Sauce" almost immediately threw her off her A-game, and the queen couldn't even answer the interview questions.
Water and milk soon became appetizing. It only gets better from there — until she calls faux Evans a name.
The real Sean Evans was all eyes and ears on the 'SNL' spoof
No one knew what Rudolph had up her sleeve for this episode, but Evans was tuned in along with millions of other people, and he saw himself through SNL's eyes. What did he think?
Evans sent out several tweets to promote the big TV moment, two of which highlighted Beyoncé's colorful comment toward the host: "I know that now, ya bald b*tch." Clearly, he's being a great sport.
Longtime fans of Hot Ones noted how real Day's impersonation of Evans was when he had a neutral reaction as faux Beyoncé struggled with her burning mouth. Classic.
First We Feast, the team behind the cult favorite show, took a moment to comment on SNL's YouTube page. "Never thought a YouTube chicken wing talk show hosted by a bald guy would make it this far. Thank you Maya, Mikey, and SNL. SO GOOD!!!" they wrote.
But they also extended an invitation for the real Solange to come on the show. Maybe that invite is open to Beyoncé too.
Fans are cheering for Evans and are excited the show was recognized by SNL. One fan noted how they hardly ever parody YouTube shows, so this is sort of epic.
'Hot Ones' is in its 14th season
Season 14 of Hot Ones has welcomed a slew of new celebrities to the table, including Kevin James, Jennifer Garner, Anthony Mackie, and Paris Hilton. Past guests have included Naomi Campbell, Zac Efron, Big Sean, The Undertaker, Gordon Ramsay, and Scarlett Johansson.
Is a Beyoncé pop-up on Hot Ones totally out of the question? Probably so, but fans shouldn't forget that she once surprised the world with a cameo during Lip Sync Battle.