'SNL' Star Larry David Says Bernie Sanders Winning Would 'Be Terrible For Me'
'SNL' comedian and 'Curb Your Enthusiasm' creator Larry David recently said a Bernie Sanders victory would 'be terrible' for him. Here's why.
Curb Your Enthusiasm and SNL star Larry David recently appeared on both the Today show and The Late Show, and he had a message for Bernie Sanders both times — if you win, it would "be terrible for me." However, it's not for the reason fans might expect. Larry David won fan praise for his portrayals of Bernie Sanders in the past, and it turns out that the two have more in common than they originally expected.
Larry David once quit 'SNL'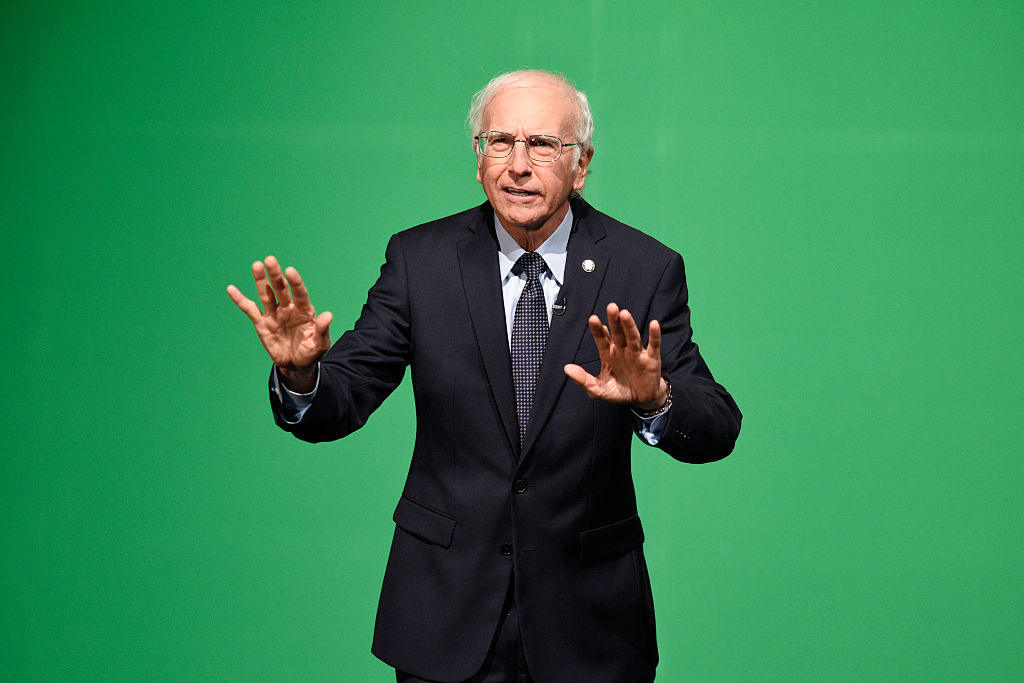 Before Larry David appeared on SNL to play out the role of Bernie Sanders, he used to be a writer for the show. He worked there for about a year, starting in 1982. However, the Curb Your Enthusiasm creator seemed to have a rough time at the writer's table. 
In an interview with Vanity Fair, David revealed that he once lost his temper at his boss after learning that yet another one of his sketches had been tossed aside. He told the publication, "I only had one sketch on the entire year."
He went on to detail how he reamed out his boss. David said, "Right before the show was going to air, about 11:25, okay? They had cut another of my sketches. This is about six weeks in. And Dick Ebersol had the headsets on, he was sitting in the director's chair in the back with the monitors. And I walked up to him, and he was sitting over there, and I went, 'This f*cking job stinks! It stinks, it's a piece of sh*t! I'm done, I quit, f*ck you!'"
However, on the way home, Larry David realized he'd just cost himself quite a good chunk of cash. His neighbor, who inspired Kramer in Seinfeld, had a suggestion. 
"I said, 'I quit. I'm so stupid, I cost myself like $60,000 or something.' He said, 'You should go back in on Monday and pretend like it never happened,'" explained David. 
"I went in for the meeting on Monday. I took a seat with all the writers. He started going around the room asking each writer what they were doing. He came to me, and I said, 'I'm thinking of doing a sketch about a trapeze artist.' And that was it," David told Vanity Fair.
Larry David and Bernie Sanders are cousins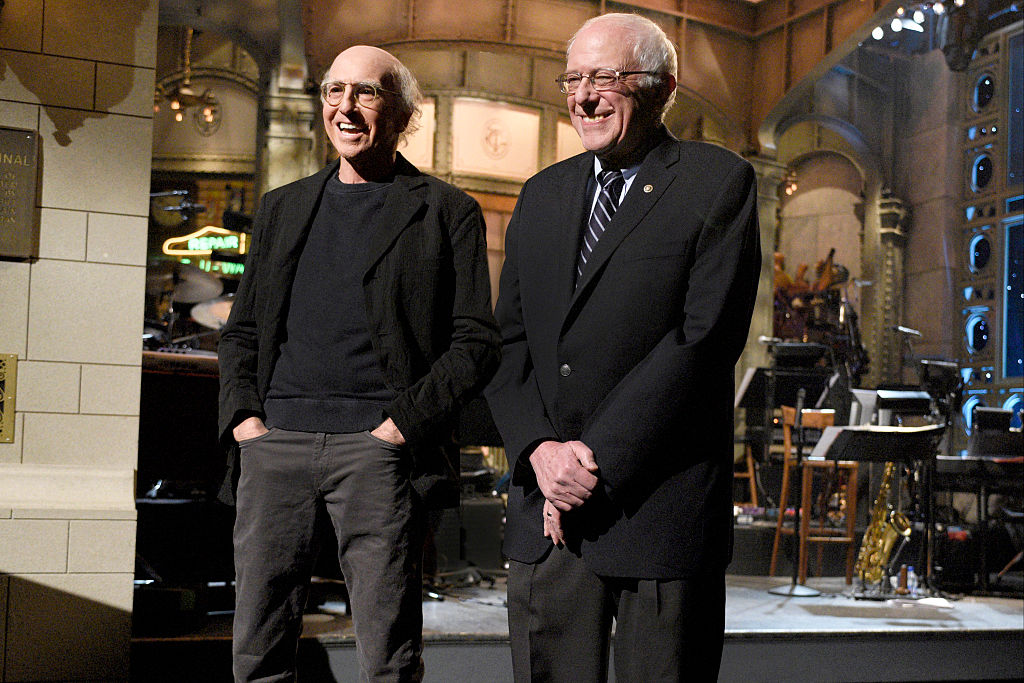 In 2017, Larry David discovered that he and Bernie Sanders are actually related — something that came as a surprise to them, but perhaps not to fans. Larry David's impression of Sanders on SNL  is so spot on, it's easy to believe. 
Bernie Sanders and Larry David both appeared on Finding Your Roots, a PBS show that traces the lineage of famous guests. When they discovered they were cousins, the two were pleasantly shocked. 
"We matched your DNA against everybody that's been on any of my series. If you have long identical stretches, that means you're cousins," revealed the host. 
The SNL star opened his book to see an image of Bernie Sanders, and yelled, "What the hell?"
Sanders opened his and proclaimed, "You're kidding! Oh my god." He had a good laugh before saying, "That is unbelievable."
Larry David decided it's time to start calling Sanders "cousin Bernie."
Why he jokingly fears a Bernie Sanders victory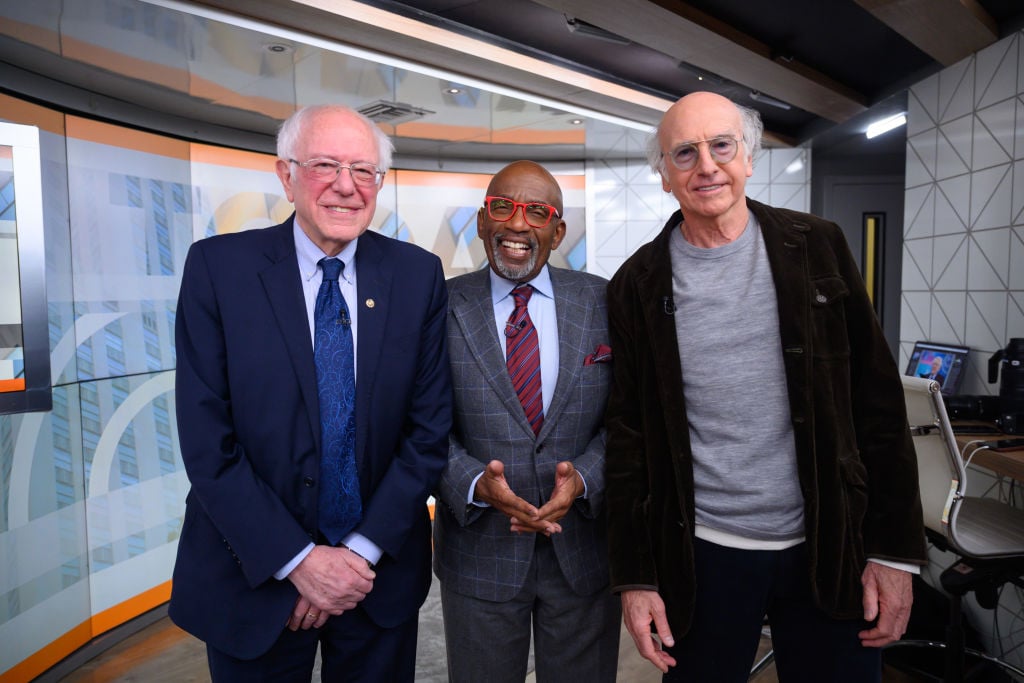 Since then, Larry David has appeared with Bernie Sanders on the Today show, and has also referenced Sanders during an appearance on The Late Show. 
During his Late Show appearance, David joked that Sanders winning the election would be terrible for him. He told Colbert, "I would beg him to drop out so I don't have to keep flying in from Los Angeles to do SNL. I thought when he had the heart attack, that was going to be it, I wouldn't have to fly in from Los Angeles. But he's indestructible. Nothing stops this man. … I met him at [SNL]. If he wins, do you know what that's going to do to my life? Do you have any idea? I mean, it'll be great for the country, terrible for me."
It sounds as if David endorses Bernie Sanders' political viewpoints, but jokingly dreads having to impersonate him for four additional years. On Today, when he said the same to Sanders, Sanders replied, "I'm getting you a good job for four years and you're complaining!"