'SNL' Star Pete Davidson Tackles J.K. Rowling's Transphobic Comments
Saturday Night Live is a long-running space for late-night comedy, but it has also been a place for up-to-date commentary on political and pop-cultural happenings. From spot-on imitations of past and current Presidents to skits that dig deep into America's touchiest subjects — including racism and sexism — SNL has never been one to shy away from controversy.
The platform has provided room for its variety of cast members to make a name for themselves when it comes to pushing the envelope, something that comedians have long been known to do. Pete Davidson continued in this tradition when he used some of his time on SNL to tackle J.K. Rowling's transphobic comments. 
J.K. Rowling's controversial comments
J.K. Rowling is one of the best known — and, until recently, most loved — writers on the planet. As the author of the beloved Harry Potter series, Rowling earned a special place in many fans' hearts. Her legacy grew with the film franchise and then exploded into a world of its own with theme parks, attire, toys, and just about every iteration of the Wizarding World one can imagine.
Rowling was certainly in a position to simply rest on her laurels and continue raking in the profits from her contribution to the literary world, but instead, she decided to use her considerable platform to make controversial comments about transgender people — particularly transgender women. Her first tweet was criticism of the use of the phrase "people who menstruate" — terminology that was used to acknowledge that not all individuals who identify as women menstruate and not all individuals who menstruate identify as women.
After she was called out, the author doubled down on her stance on gender and sexuality. She said on Twitter: "If sex isn't real, there's no same-sex attraction. If sex isn't real, the lived reality of women globally is erased. I know and love trans people, but erasing the concept of sex removes the ability of many to meaningfully discuss their lives. It isn't hate to speak the truth."
She said in her Twitter thread: "The idea that women like me, who've been empathetic to trans people for decades, feeling kinship because they're vulnerable in the same way as women—i.e., to male violence—'hate' trans people because they think sex is real and has lived consequences—is a nonsense."
She continued: "I respect every trans person's right to live any way that feels authentic and comfortable to them. I'd march with you if you were discriminated against on the basis of being trans. At the same time, my life has been shaped by being female. I do not believe it's hateful to say so."
She threw even more fuel on the fire by tweeting a picture of herself wearing a t-shirt and plugging a company that sells transphobic materials. 
By this point, Rowling's transphobic comments are no longer a one-off  occurrence or a matter of interpretation. She has a long-running history of making hurtful comments that offend the transgender community and then doubling down on those comments.
In 2019, she voiced support for Maya Forstater, a researcher who lost her job after making transphobic comments herself. Later, Rowling published a controversial essay in which she defended actions like calling trans women "men in dresses" and reaffirming her antagonistic views.  
J.K. Rowling has disappointed fans
RELATED: Eddie Redmayne Joins Daniel Radcliffe in Rejecting J.K. Rowling's Transphobic Tweets
Fans who are advocates of the LGBTQ community were extremely disappointed in J.K. Rowling's comments and lack of understanding. Writers, fans and Harry Potter cast members spoke out.
Danielle Radcliffe, who played Harry Potter in the film franchise, issued a statement via the Trevor Project: "I realize that certain press outlets will probably want to paint this as in-fighting between J.K. Rowling and myself," he said. "But that is really not what this is about, nor is it what's important right now. While Jo is unquestionably responsible for the course my life has taken, as someone who has been honored to work with and continues to contribute to The Trevor Project for the last decade, and just as a human being, I feel compelled to say something at this moment. Transgender women are women. Any statement to the contrary erases the identity and dignity of transgender people and goes against all advice given by professional health care associations who have far more expertise on this subject matter than either Jo or I. According to The Trevor Project, 78% of transgender and nonbinary youth reported being the subject of discrimination due to their gender identity. It's clear that we need to do more to support transgender and nonbinary people, not invalidate their identities, and not cause further harm."
Emma Watson, who plays Hermione Granger in the film, also issued a statement: "Trans people are who they say they are and deserve to live their lives without being constantly questioned or told they aren't who they say they are. I want my trans followers to know that I and so many other people around the world see you, respect you, and love you for who you are," she wrote in a series of tweets. "I donate to @Mermaids_Gender and @mamacash. If you can, perhaps you'll feel inclined to do the same. Happy #PRIDE2020 Sending love x."
Pete Davidson tackled J.K. Rowling's comments
In a recent episode of SNL, Davidson appeared on "Weekend Update" and tackled the growing controversy around J.K. Rowling's multiple comments. When asked about the controversy by host Colin Jost, Davidson says it's "disappointing."
He says: "I long for a few young ears ago when the worst things she did were those Fantastic Beasts movies. No discrimination there, they harmed us all equally."
The comedian says he'll "never get another tattoo" because he's "not psychic" and didn't know that his Harry Potter tattoo would become so controversial. Davidson has a Harry Potter tattoo already and said he "didn't know that J.K. Rowling was going to go all Mel Gibson."
Davidson also points out that he has a "close connection" to the movies — including poking fun at himself by drawing a visual comparison between him and Dobby the house elf.
Davidson's biggest disconnect lies in the fact that her ability to fathom a world of mystical and make-believe but not understanding gender and sexuality. "What's wrong with her? She creates a seven-book fantasy series about all types of mythical creatures living in harmony with wizards and elves and the one thing she can't wrap her head around is Laverne Cox?" he says.
When the host asks Davidson if he'll stop reading the books, Davidson admits, "I never read any of the books" to end the segment on yet another laugh.  
Who is Pete Davidson?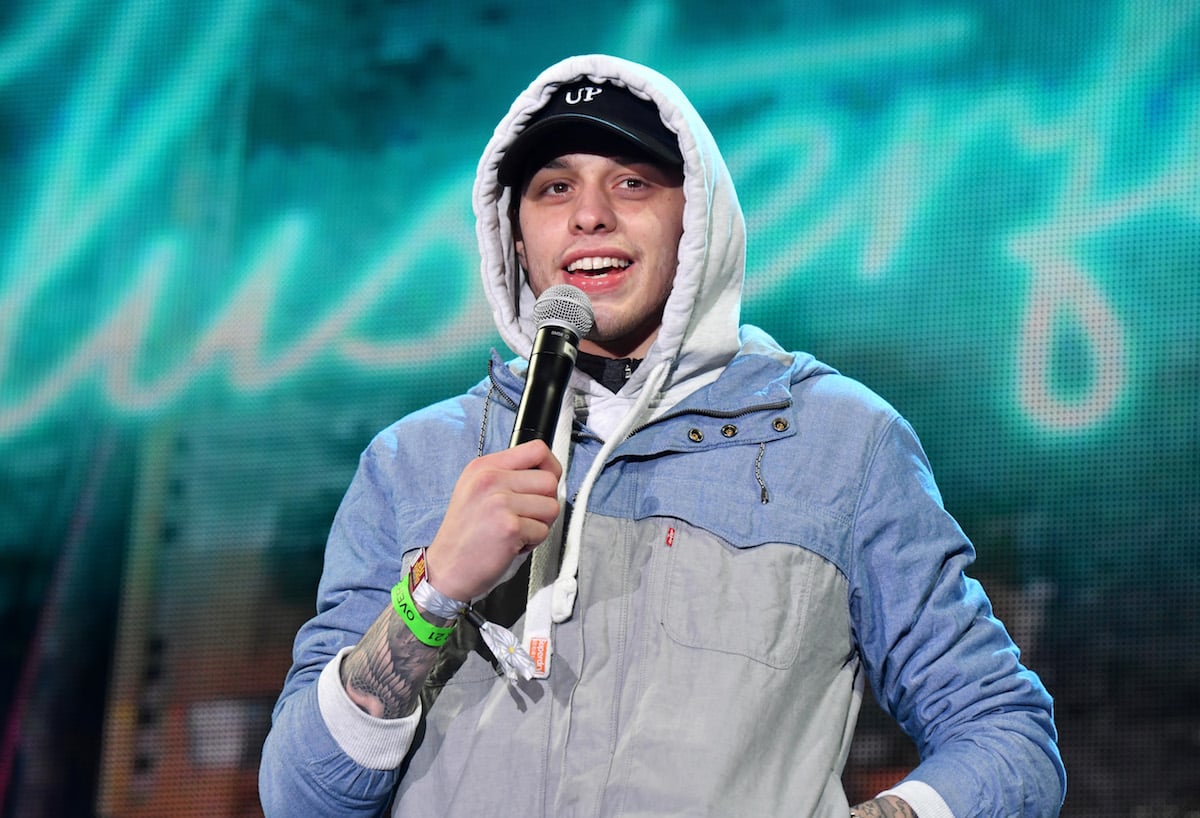 Pete Davidson made headlines for being one of the youngest cast members to join SNL. He was only 20 at the time, and since then he has gained both fame and critics.
His stand-up and comedy acts on SNL — most notably his turn as the correspondent for the "Weekend Update" segment — helped boost his recognition, but his love life has also been a source of discussion. Davidson is a serial monogamist who has bounced around multiple high-profile relationships. He nearly married Ariana Grande, which was his highest-profile relationship to date. 
Davidson has also ruffled some feathers on the set of SNL. Some believe that Davidson receives preferential treatment from the executives, and Davidson feels disconnected from his fellow cast members. While there was rampant speculation that Davidson would be leaving the show in the midst of these disputes, he seems to have weathered the storm and remains an important part of the current SNL lineup.