'SNL' Star Pete Davidson Wants His Tattoos 'Burned Off'
Find out why 'SNL' cast member Pete Davidson wants his tattoos removed.
Actor and comedian Pete Davidson is not the only star of his generation who has a large number of tattoos. His impressive collection of ink has been a way to express himself, make statements about his relationships, and even helped him cope with difficult emotions.
But recently the often-troubled star made a surprising statement about his tattoos. After having all that artwork done, he's finished with them. Apparently, he's in the process of having them removed, for a reason you might not expect.
Pete Davidson's many struggles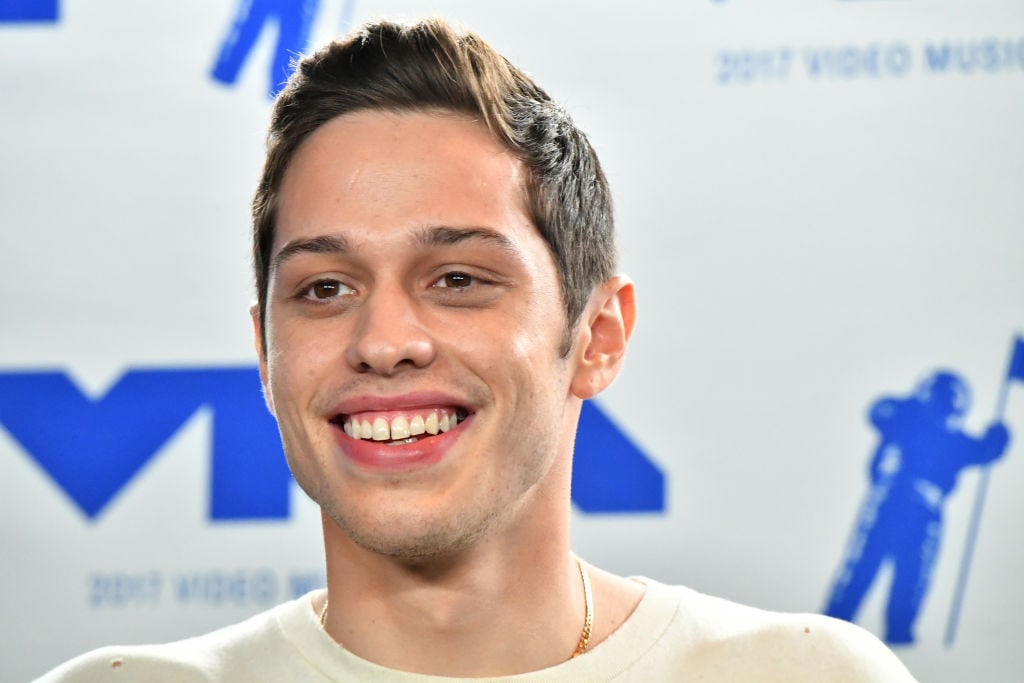 If there's anything Davidson is known for more than his work on Saturday Night Live, it's his messy personal life.
The comedian is often in the news because of his relationships, such as when he started dating Ariana Grande in 2018. The intense relationship became serious very quickly, with an engagement ring, matching tattoos, and public declarations of undying love. However, it ended almost as quickly and dramatically as it began.
According to Grunge, Davidson has also had a very public struggle with mental illness and addiction. He's been very open about the fact that he's been in treatment for drug abuse, and he's also shared that he has a borderline personality disorder. He's battled self-harm and suicidal thoughts. 
His emotional problems began in childhood, when his father died. Davidson was only seven years old when his dad, a firefighter, was killed in the World Trade Center during the terrorist attacks on 9/11.
All of this would be a lot for anyone to deal with, so it's unsurprising that Davidson has hit rough patches in his life. And one of his methods of coping is a little extreme.
How many tattoos does Pete Davidson have?
Davidson's tattoos are a big part of his persona. Not only have they played a part in his relationship drama, but they've also been a tool he's used to help him cope with his problems. He's said that he uses the ink to cover up scars he carries from self-harm, and Page Six explains they also seem to provide emotional release. 
"It's just a release," Davidson said, "When [I'm] so manic and upset, sometimes that's the only thing that will work for me."
His collection of ink has reportedly grown to over 100 tattoos, with images as diverse as a giant keyhole, Hillary Clinton's face, and an attacking shark. Considering the investment he's made in his tattoos, emotionally, financially, and with his time, his recent news is even more surprising. 
He says he wants them 'burned off'
During an interview promoting his semi-autobiographical movie The King of Staten Island, Davidson revealed that he plans to have his tattoos removed. Film critic Mike McGranaghan announced what Davidson had shared with him about the decision. 
"He even showed his hand, which is already done," McGranaghan explained. "He said it takes 3-4 hours in the makeup chair to cover them, so he figured 'it would be easier to get them burned off."
Considering how important the tattoos have been to Davidson, this decision leaves some wondering about what other methods he can use now to help deal with his emotional struggles. But according to Today, he has other tools to turn to. He's said that quitting drugs has been a big step toward living a more stable life. But most of all, he finds comfort in doing what he loves and being around people he cares about. 
"It's the only thing (that helps)," he said. "I love it. I love writing, I love hanging with my friends, they're all really funny and cool. It's the ultimate distraction."
Although many fans are sorry to see Davidson's tattoos to, they agree that his emotional wellbeing is more important. If this makes his life easier, that means more than the art.