'SNL' Star, Pete Davidson's Chest Tattoos Have a Sad Story Behind Them
On Saturday Night Live, we don't usually get to see the cast members' real tattoos. But it's not a secret that Pete Davidson has many. He once revealed the sad reason for his chest tattoos, and recently joked about getting them removed.
Pete Davidson has many tattoos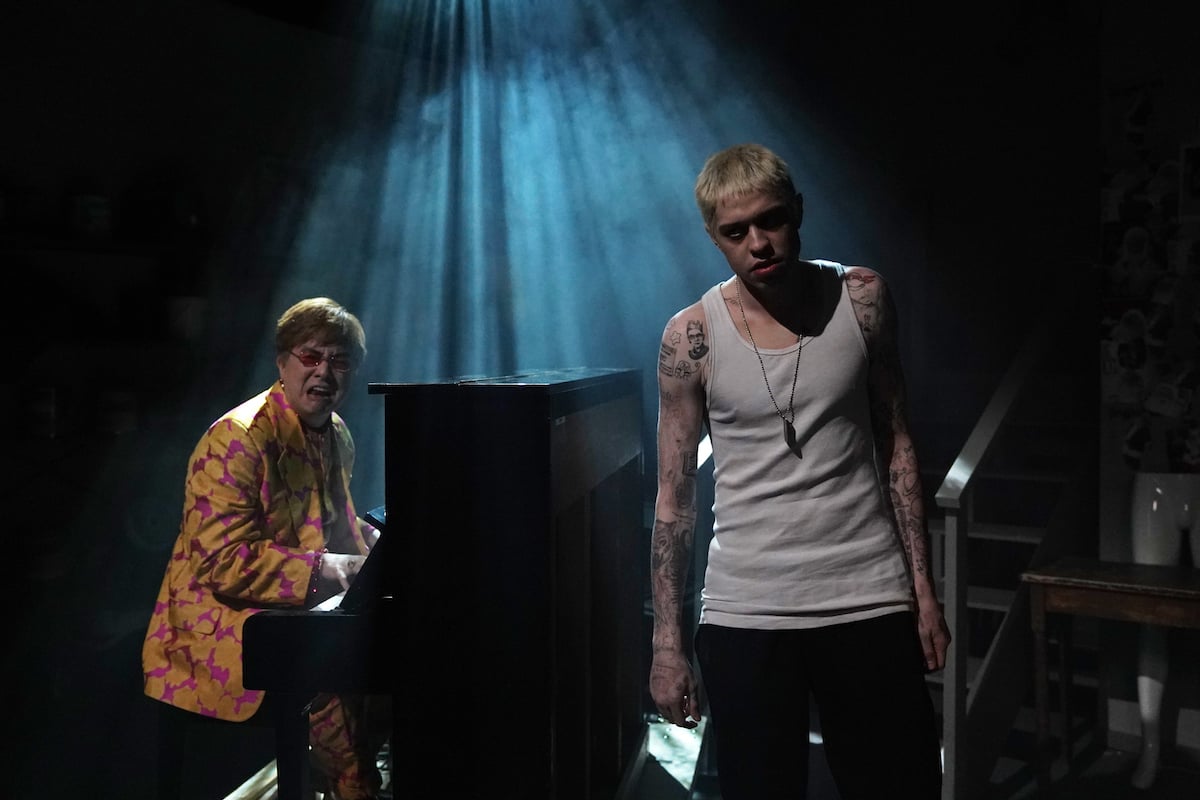 The cast member is covered in tattoos. Some of them are even connected to other celebrities.
He got the phrase "Mille Tendresse" tattooed on the same spot as Ariana Grande when they were in a relationship. He later got that covered up with the word "Cursed" after their breakup.
He has several other personal tattoos paying homage to his father, who died in service as a firefighter during the September 11th attacks. But it sounds like there are many tattoos Davidson is in the process of getting removed.
Director Judd Apatow claimed Davidson wants to remove them for his acting career. "He even showed his hand, which is already done," Apatow said, according to Page Six. "He said it takes 3-4 hours in the makeup chair to cover them, so he figured 'it would be easier to get them burned off."
Why is Pete Davidson removing all his tattoos?
Davidson appeared during the Weekend Update section of the Feb. 20 episode. He talked about spending Valentine's Day with his mom watching Framing Britney Spears. The comedian joked that he's done a lot more than Spears and hasn't been put under a conservatorship.
"All Britney did was shave her head. I got a life-sized tattoo of the Tootsie Pop Owl," Davidson said. Colin Jost mentioned hearing about him removing his tattoos.
"Yeah, yeah, I saw a picture of myself without a shirt and I look like a toddler went to prison. I look like I'm carrying a shiv, but only to poke open a Capri Sun," he said.
He also talked about making the change to move out of his mother's house. Davidson is open about removing his tattoos. He previously revealed the sad reason behind them.
The sad reason behind Pete Davidson's chest tattoos
The cast member has talked to Inked about his tattoos. He revealed that some of them are used to cover up his past of self-harm when he was struggling with his mental health.
"I cut my chest," he told Chalamagne tha God. "That's why I started getting tats on my chest, to cover them. It's just a release if you can't get a tattoo… When [I'm] so manic and upset, sometimes that's the only thing that will work for me."
Davidson has been open about his tattoos and the connection to his mental health. It sounds like he's now determined to get them removed and has a sense of humor about some of the tattoos he got in the past.
How to get help: In the U.S. and Canada, text the Crisis Text Line at 741741 to reach a crisis counselor for support.