'SNL': Do 'Weekend Update' Hosts Colin Jost and Michael Che Really Write Jokes For Each Other?
"Weekend Update" is a fan-favorite skit on Saturday Night Live. Each week, Michael Che and Colin Jost review the top news stories with a comical edge. Occasionally, the duo will swap jokes and read each other's material live on air. While many viewers love when Jost and Che do this, some fans wonder if they're honestly writing jokes for each other for the SNL skit.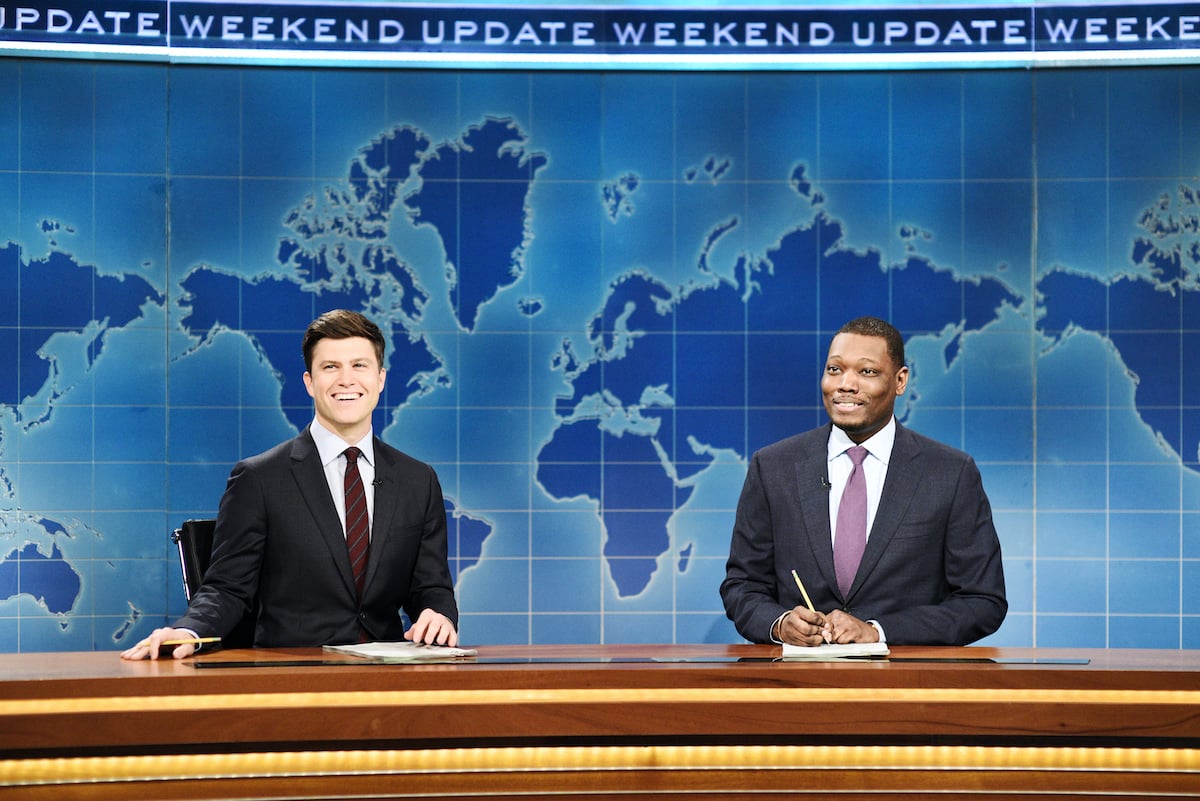 'Late Night With Seth Meyers' inspired Colin Jost and Michael Che to swap jokes on 'SNL Weekend Update'
Seth Meyers became the host of Late Night in 2014. After more than 10 years on Saturday Night Live, Meyers was known for hosting the Weekend Update segment. Two years after Meyers moved to Late Night, the segment "Jokes Seth Can't Tell" debuted.
"Here at Late Night, I deliver a monologue comprised of jokes written by a diverse team of writers," Meyers explained. "As a result, a lot of jokes come across my desk that, due to being a straight, white male, would be difficult for me to deliver." Instead of scrapping the jokes altogether, Meyers and his team turned the jokes into a skit. This Late Night bit inspired what SNL's Che and Jost started doing on "Weekend Update." 
RELATED: 'Saturday Night Live': Why McDonald's Demanded 'SNL' Change This 'Weekend Update' Joke
Many fans wish Colin Jost and Michael Che would joke swap on 'SNL' more often
Jost and Che first swapped jokes during Saturday Night Live's Christmas episode in December 2018. "Since Christmas is coming up, Che and I decided that our gifts to each other would be jokes," Jost explained. Then, each comedian blindly read the jokes written by the other, struggling not to laugh. In the first-ever joke swap, Jost delivered a punchline crafted by Che: "Last week was National Rosa Parks Day. Or as we call it in my house, Uppity Bus Passenger Day." The duo brought the segment back during the season 44 finale without losing any momentum. 
Generally, the jokes Che writes for Jost are racially insensitive. Meanwhile, Jost tends to write jokes that exaggerate Che's sexuality. Many SNL fans love this segment so much, they wish it would happen more often. As Vulture pointed out, "When Jost and Che completely torture each other for their embarrassment and our amusement, everybody wins." 
'SNL Weekend Update' hosts Michael Che and Colin Jost really do write jokes for each other
Though Che and Jost point out how they've written jokes for each other before they dive into the SNL skit, some fans are still skeptical about whether or not they're genuinely reading each other's jokes. During an interview with NPR, Jost talked about writing jokes for each other and the trust required to do so.
"Some of the jokes that we do, I have not seen the joke until air," Jost said. "I'm putting my life in Michael Che's hands a lot of times." Jost elaborated on how "scary" it can be to read jokes written by Che, especially after hearing rumblings backstage regarding how insensitive they might be. "I think you really have to trust, ultimately, that if you're coming at something from a good-hearted place and you're well-meaning at what you're doing," he concluded. Fortunately, many Saturday Night Live fans enjoy it when Che and Jost write jokes for each other.