'SNL': Which Actors Played Joe Biden Before Jim Carrey?
Actor Jim Carrey will take on the role of presidential nominee Joe Biden on Saturday Night Live this season. The announcement may have come as a surprise to some fans as Biden has been skillfully played by other actors on the series in the past.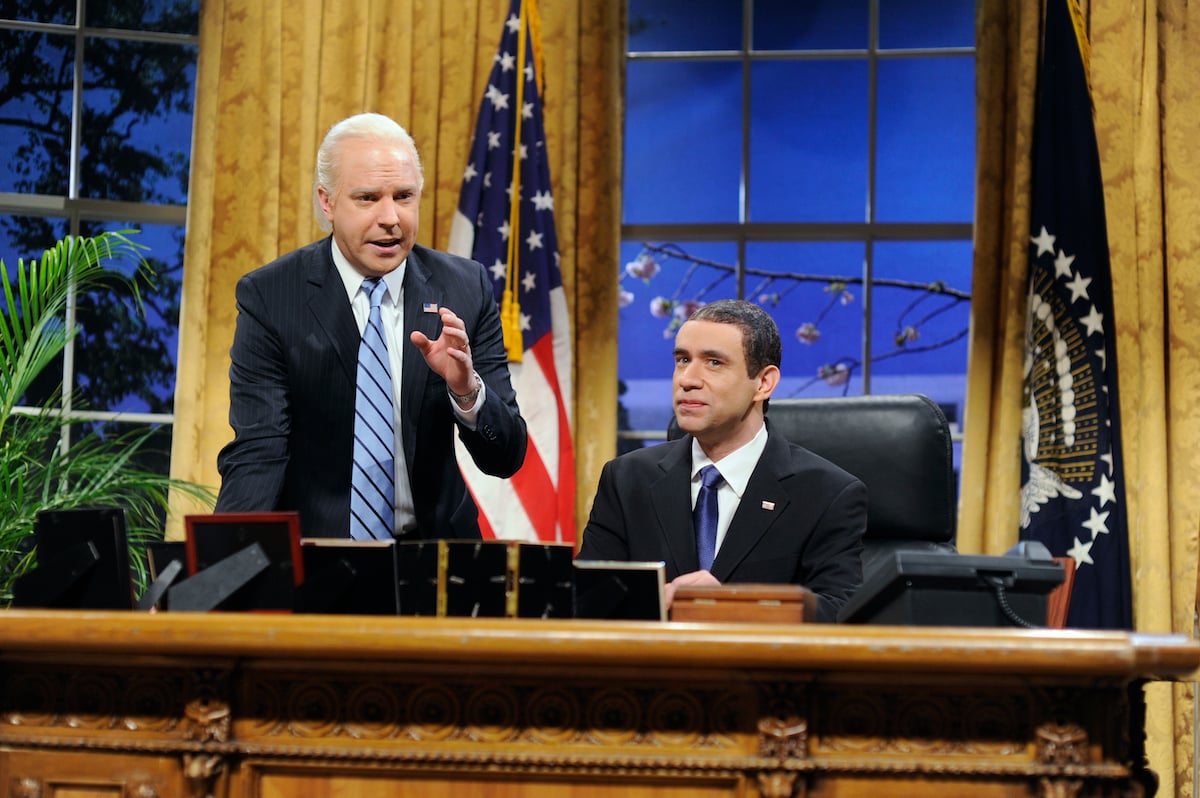 But Carrey pitched SNL for the role. "There was some interest on his part," SNL creator Lorne Michaels told Vulture. "And then we responded, obviously, positively. But it came down to discussions about what the take was. He and Colin Jost had a bunch of talks. He and I as well. He will give the part energy and strength, and … [Laughs.] Hopefully it's funny."
Michaels recounted other actors who took on the role of Biden in the past. "Obviously Woody [Harrelson] did Biden on the first show last season and did it brilliantly," Michaels shared. "Jason [Sudeikis] has done it in the past. Part of it also is whoever does it has to basically relocate to New York because of quarantine. So, there were a lot of factors involved in that. But I'm thrilled Jim's doing it."
Woody Harrelson played Joe Biden last fall
Harrelson hosted the season premiere last September so he took on the role of Biden, The Atlantic recounts. During the premiere, Harrelson played Biden before he became the Democratic nominee. The setting was the Democratic debates. At the time, Biden didn't seem like he would be the frontrunner in the race.
Harrelson was part of a panel of celebrity drop-ins and special guests like Maya Rudolph as Senator Kamala Harris. Rudolph will reprise her role as Harris this season now that Harris is the vice-presidential nominee.
When Harrelson/Biden arrived on stage he said the "vast majority of people in America are not homophobic, they're just scared of gay people." Adding, "I'm like plastic straws: I've been around forever, I've always worked, but now you're mad at me?" 
John Mulaney also took on Biden in February
Like Harrelson, comedian John Mulaney transformed into Biden when he hosted SNL, only weeks before the pandemic struck. Ironically, he took part in a coronavirus briefing skit. Halfway through the White House led press conference, Democratic presidential candidates Elizabeth Warren (played by Kate McKinnon) and Biden (played by Mulaney) joined the briefing.
"Speaking of number one, guess who just kicked butt," Mulaney as Biden said wearing a South Carolina sash. "Guess who just kicked butt in south Crackerbarrel?"
Of course, SNL made a nod to the fact that Mulaney has never played Biden with "Mike Pence" exclaiming that Joe Biden looked different. "Yeah the surgery is starting to settle," Mulaney said. "Now listen folks. If we want to fight China cough we've got to be smart. We've got to make sure we get new teeth daily."
Jason Sudeikis was known for playing Joe Biden on 'SNL'
Jason Sudeikis took on Biden during his years on SNL, especially when Biden was the Vice President. Sudeikis recently discussed the possibility of returning to SNL just to play Biden. "I'm getting there," he said during an appearance on Good Morning America. "Once I pop in those fake teeth, they have me wear, then that's when it really takes over."
However, Sudeikis was on the morning talk show to discuss his new project, Ted Lasso. So when GMA's T.J. Holmes asked for a quick Biden impression, Sudeikis declined. "No," he said. "It costs too much."
Adding, "Not for free. Lorne [Michaels] always says, 'Don't do what you do well for free,'" he shared.
Saturday Night Live Season 46 premieres on October 3 at 11:30 pm on NBC.