'Saturday Night Live': Which Celebrities Were in the Black Jeopardy! Skits?
'Saturday Night Live' has used the Black Jeopardy! skit multiple times. Find out which stars did it and how it was started.
One of the popular sketches on Saturday Night Live (SNL) is Black Jeopardy! It's a fun parody on Jeopardy! that includes the celebrity host as the third contestant. These are the six celebrities who were in the sketches and how it started.
What is Black Jeopardy! on 'Saturday Night Live'?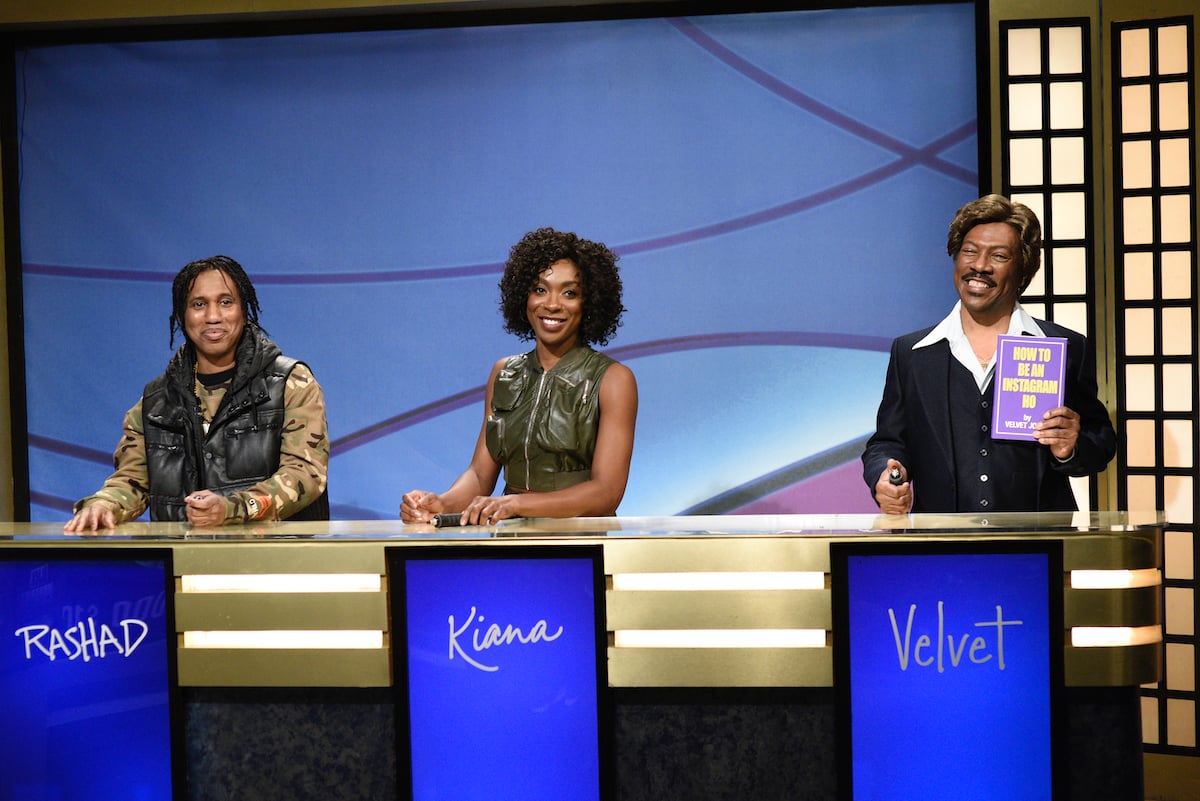 The skit started back in season 39, which took place in 2013 and 2014. Kenan Thompson plays host, Darnell Hayes and the game show has categories that only Black people know the answer to with the exception of "white people".
Co-head writer, Bryan Tucker is the one who came up with the idea for the funny sketch. "I've been writing at SNL for 13 years, but Black Jeopardy is probably the sketch I'm most proud of," Tucker told Vulture. "I am white, but during the formative times in my life, the comedians that I really enjoyed were always Black."
He revealed a moment that set off a light bulb in his mind. "I was overhearing some people on the street, and they were talking about this one person in the neighborhood that a bunch of them knew, and there was a familiarity there that I didn't have, and I thought, Oh, I wonder … It started brewing in me that there might be a sketch in this," Tucker explained.
He worked on the sketch with co-head writer Michael Che. Che was able to give him more setups and punch lines to make it work.
How many episodes of Black Jeopardy! are there?
The Saturday Night Live cast members who played characters in these sketches were Jay Pharoah, Sasheer Zamata, Leslie Jones, Chris Redd, and Ego Nwodim. The third contestant is the celebrity who is hosting the episode. There are six episodes of the sketch so far.
Louis C.K. played Mark, Elizabeth Banks played Allison, Drake played Jared, Chadwick Boseman played T'Challa, Tom Hanks played Doug, and Eddie Murphy played Velvet Jones.
Boseman doing the sketch was a big deal given it was after the huge success of Black Panther. He played his movie character and Darnell said, "This might be the Blackest Black Jeopardy yet!" Sadly, T'Challa doesn't do well at all given Wakanda's culture and the fact that he's a king makes him very different.
Tom Hanks playing Doug stands out in the 'SNL' skit
Hanks hosted the show in 2016. He played a man named Doug, who was a Trump supporter. Doug looked very out of place, but he became the first white contestant to get any of the answers right outside of the white people category.
Darnell looks completely shocked when Doug correctly says he doesn't trust using his thumbprint for his phone. But there are still some funny and uncomfortable moments with Doug's comments after other people's answers.
Doug and T'Challa might be the funniest sketches due to subverting expectations. It's unknown when or if the sketch will return again.