'SNL': Who Are Pete Davidson's Parents, Scott and Amy Davidson?
Pete Davidson is a comedian on Saturday Night Live. Many people know Davidson for his relationships with Cazzie David, Kate Beckinsale, and Ariana Grande. Most don't know much about Davidson's personal life — including his parents. Davidson's mom and dad, Amy and Scott Davidson, are celebrities in their own right.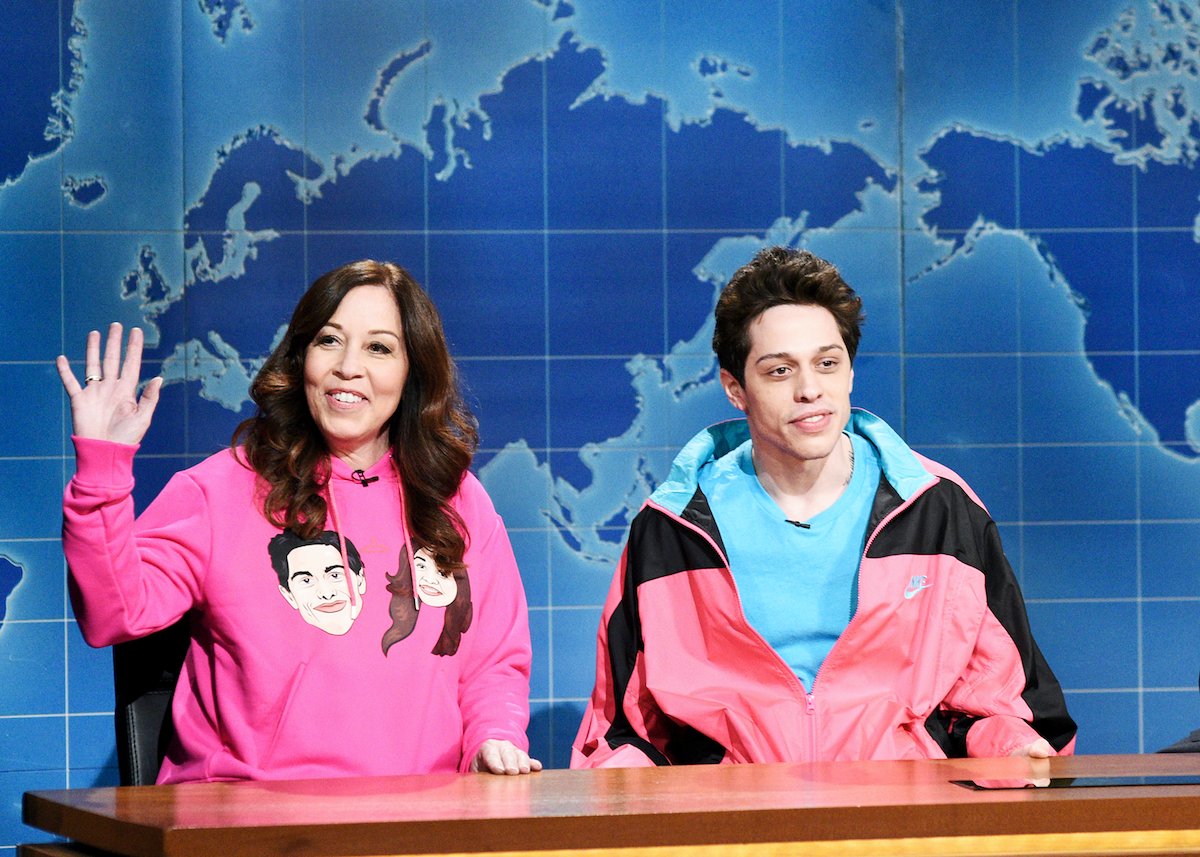 Who are Pete Davidson's parents?
The comedian was born to Scott and Amy Waters Davidson in November of 1993. Pete's mother has a career in the medical field as a nurse. Amy has appeared as a guest on Saturday Night Live a few times, most often during SNL's Mother's Day specials. In 2019, Amy and Pete were guests on the "Weekend Update" skit, explaining to Colin Jost how living together as "roommates" impacted their lives. Pete also tried to arrange for a date with Jon Hamm during their conversation. 
Pete's father, Scott Matthew Davidson, formerly worked for the fire department in New York City. Outside of fighting fires, Scott enjoyed playing basketball and raising two children. Scott died tragically in the attacks on Sept. 11, 2001. 
Scott Davidson was an on-duty firefighter during 9/11 
On Sept. 11 ' 2001' Scott was on duty and responded after the second hijacked plane struck the World Trade Center. According to the New York Times, Scott was a firefighter at Ladder 118 in Brooklyn. Scott's colleagues last saw him at the Marriott World Trade Center hotel, which was destroyed when the towers collapsed. Pete honors his father with a tattoo of his badge number, 8418, on his left arm. 
"It was sad how sad he was growing up," Amy explained to the outlet in 2015. She explained how Pete acted out in school and ripped out all of his hair at one point after his father died. Amy also said Pete became like a "lab rat" to doctors who were studying the children of Sept. 11 victims. Later, Pete decided to pursue a career in comedy because it allowed him to be himself. "I just blended in perfectly," he told the New York Times. "I feel very safe — you can say whatever you want [in comedy]." 
'The King of Staten Island' is a tribute to Pete Davidson's parents
Pete co-wrote and starred in the 2020 film The King of Staten Island. He worked with famed comedy writer Judd Apatow on the movie, which Pete said was "75% autobiographical." In the film, Pete plays a young man struggling after losing his firefighter father to a line of duty death. "I'm exactly what Staten Island is — someone living in their mom's basement," Pete laughed during an interview with CBS. 
His goal in creating The King of Staten Island was to show how a tragedy like that can impact a family. But the film is much more than that. "I made a tribute to my mom and dad and I got to face these things I've been avoiding for a really long time head-on," he concluded. "I couldn't ask for anything more." 
Does Pete Davidson have siblings? 
Pete has a younger sister, Casey Davidson. According to her Instagram posts, she is currently 23-years-old and appears to be extremely close with her mom and brother. Maude Apatow played Casey in The King of Staten Island.