Snoop Dogg and The Undertaker's Wholesome Instagram Live Chat Enchants Fans
One of the highlights of The Undertaker's pre-retirement festivities was watching him and Snoop Dogg chop it up on Instagram Live.
His farewell WWE match aired on Sunday, Nov. 22, but on Saturday night, the two legends hit the social media platform for a semi-interview that turned out to be a chill—but entertaining—conversation between bros.
While some fans were surprised to see the Doggfather and Deadman together, others loved listening to these two and discovering a few behind-the-scenes bits of information. "Legendary" is how many responded in the comments. Here are some high points.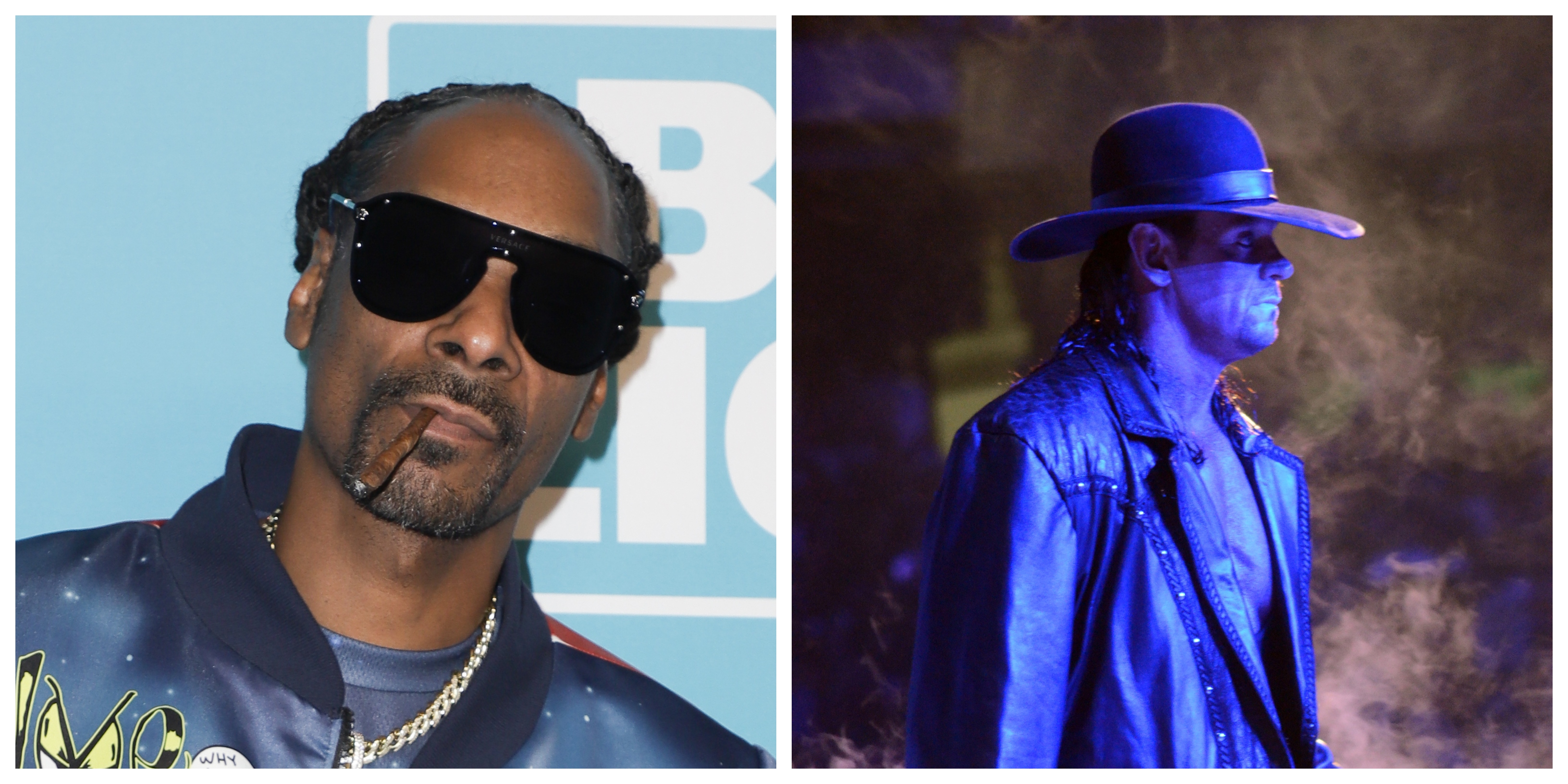 Snoop Dogg and The Undertaker chat follows merch release
For those who were unaware, Snoop and the Undertaker collaborated on a merchandise line that features tees, a hoodie, hat, and poster. The collection just dropped and is available on the WWEShop website. It won't disappoint fans of the rapper and one of the WWE's most celebrated and supernaturally cool figures.
In an interview with Complex, Undertaker (real name Mark Calaway) talked joining forces with Snoop, who's a huge wrestling fan. He said it worked out perfectly with his 30-year celebration with the WWE on Nov. 22 and the 27th anniversary of Snoop Dogg's Doggystyle album on Nov. 23.
"As crazy as it sounds, it makes a lot of sense that two figures so relevant in pop culture have these anniversaries coinciding with each other. I couldn't be more happy to be doing this with Snoop. Obviously, everybody knows, everything Snoop does turns to gold anyway, and then half of that turns platinum," he said.
"So, I think it's really cool, and just adds another layer to each of our legacies in the entertainment world."
Snoop learns fun fact about Paul Bearer
During their Instagram Live chat, Undertaker and Snoop Dogg laughed and talked about their careers while expressing their mutual respect for another. One of the things that floored Snoop was finding out Undertaker's former manager Paul Bearer was an actual mortician.
Undertaker told the story about how Rick Rude recommended the man to Vince McMahon to become Undertaker's new manager. When they interviewed Paul Bearer (real name Percy Pringle) and asked about any extra skills, he told them he was a licensed mortician.
That cracked McMahon and everyone up. "It was destiny, man. It was destiny," Undertaker said to Snoop, who was floored by the revelation.
Snoop and Undertaker linked up at WrestleMania
Undertaker mentioned that he bumped into Snoop a few times at WrestleMania events, but one memorable moment was in Orlando. He told the rapper "It was some next-level sh*t" when he saw him and his crew with a grill and smelled what Snoop was lighting up.  
As they laughed about it, Snoop said coincidentally, it was the first time his cousin Sasha Banks had been to a wrestling match. "She was a little girl—9 or 10 years old." Banks is now a WWE champion herself and the Undertaker praised her and the other women on the rise.
The Undertaker and Snoop joked about a tag team
Who wouldn't like to see this pair hit the ring for a special tag team match? A smoked-out Snoop joked that he'd love to bring Undertaker out of retirement for a dual match one day. Fans may actually be able to hope for a special appearance at a future WrestleMania.
"We'll take somebody from the music world, we'll take somebody from the wrestling world. I'll come out of retirement for that in a heartbeat," replied Undertaker.
Fans can watch the entire exchange on Snoop Dogg's Instagram account and hear the men talk about unity, their collaboration, and life.