Two Major Artists Albums Will Not Be Included in Snoop Dogg's Acquisition of Death Row Records
Snoop Dogg is happy that he is now the owner of his former record label but fans may not be happy to learn that music from their favorite artists won't be available under Snoop's leadership. Media outlets are reporting that music from Tupac Shakur and Dr. Dre won't be on the catalog under Snoop's ownership. Snoop, who recently performed during the Halftime Show at the 2022 Super Bowl, hasn't spoken out about the reports.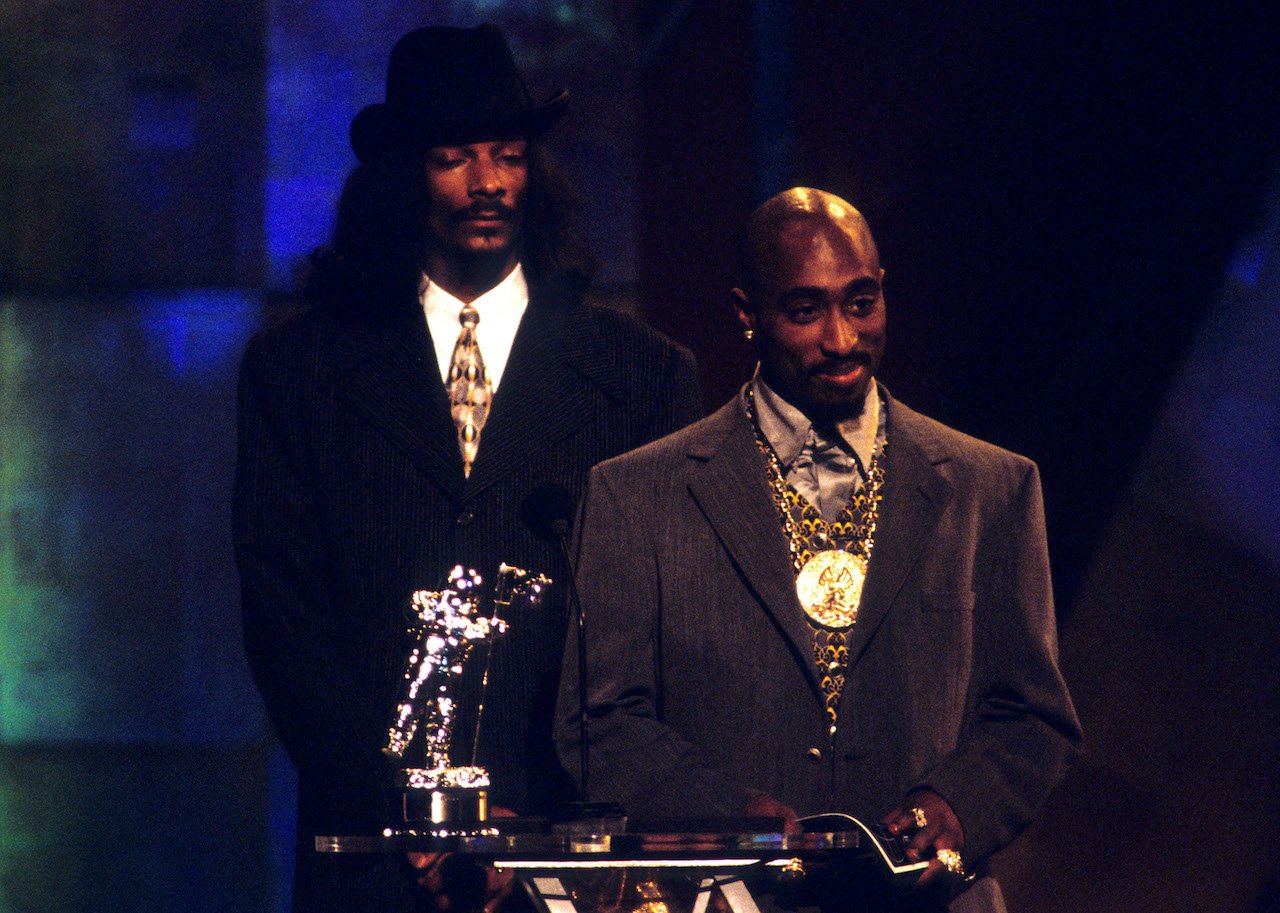 Tupac and Dr. Dre's albums ill not be featured as part of Snoop Dogg's acquisition of the label
Many applauded Snoop for his purchase of the label, especially those who are aware of his history. He started his career on Death Row and made it clear in recent years that he wanted to see the legacy continue regardless of the former record label head, Suge Knight's, incarceration. But per multiple reports, two other legendary artists once affiliated with the label will not have their projects featured in the acquisition.
Per The Jasmine Brand, some of Dre and Tupac's works won't be included in Snoop's latest business deal. Two of Tupac's Death Row albums, All Eyez On Me and The Don Killuminati: The 7 Day Theory are "no longer on the label."
RELATED: Snoop Dogg Just Made a Major Purchase
Dre's 1992 debut album The Chronic, which featured Snoop's first single, is no longer on the Death Row. But the report notes that it is scheduled to return to the label within the next year.
Some reports per the article note that the details surrounding Snoop acquisition remain under negotiation until everything is finalized in full. The labels previous owners, MNRK Music Group and investment firm Blackstone, are still the alleged owners of the catalogs affiliated with the label.
The rapper speaks of purchasing Death Row Records
Snoop's career began 30 years ago on the label. It was previouslyI reported that Knight handed over all rights to his name and the label to Ray J, who is rumored to be Snoop's cousin. Regardless, Snoop is happy about the transition.
"I am thrilled and appreciative of the opportunity to acquire the iconic and culturally significant Death Row Records brand, which has immense untapped future value. It feels good to have ownership of the label I was part of at the beginning of my career and as one of the founding members," Snoop said of him being the new owner, per TMZ.
He previously had beef with Suge Knight
Despite Snoop being on the label during its peak, he was reportedly not down with Knight, a known gang affiliate's, intimidation practices he used in business. After Snoop's 1996 murder acquittal, the "Gin & Juice" rapper reportedly wanted to distance himself from the chaos. Things reportedly intinsfied following the 1996 drive-by shooting and murder of Tupac, who was a close friend of Snoop's.
Knight was sentenced to a nearly 10-year prison sentence. Simultaneously, Snoop signed with Master P's No Limit Records. At the time, he spoke out about his negative experiences on Death Row, which Knight did not appreciate.
By 2013, Knight and Snoop reconciled. Snoop told Vlad TV the same year of how he was able to end his feud with Knight: "It wasn't never that he hated me. I just think he was disappointed that he couldn't control me. When you got a record label and you got artists…I've done this before. You really want control of that artist, but some artists deserve their own control and their own lane, and you gotta give it to them."
RELATED: Snoop Dogg Wants Death Row Records to Make a Comeback