Snoop Dogg Reflects on Being Acquitted of Murder Charges in New Instagram Post
Over 20 years ago, a [then] 21-year old rapper Snoop Dogg (aka Calvin Broadus), and his bodyguard, Malik (aka McKinley Lee), were charged with first-degree murder of a rival gang member. In memory of his acquittal, Snoop posted a throwback video to his Instagram page and fans everywhere are showing their love.
What's the real story behind Snoop Dogg's arrest?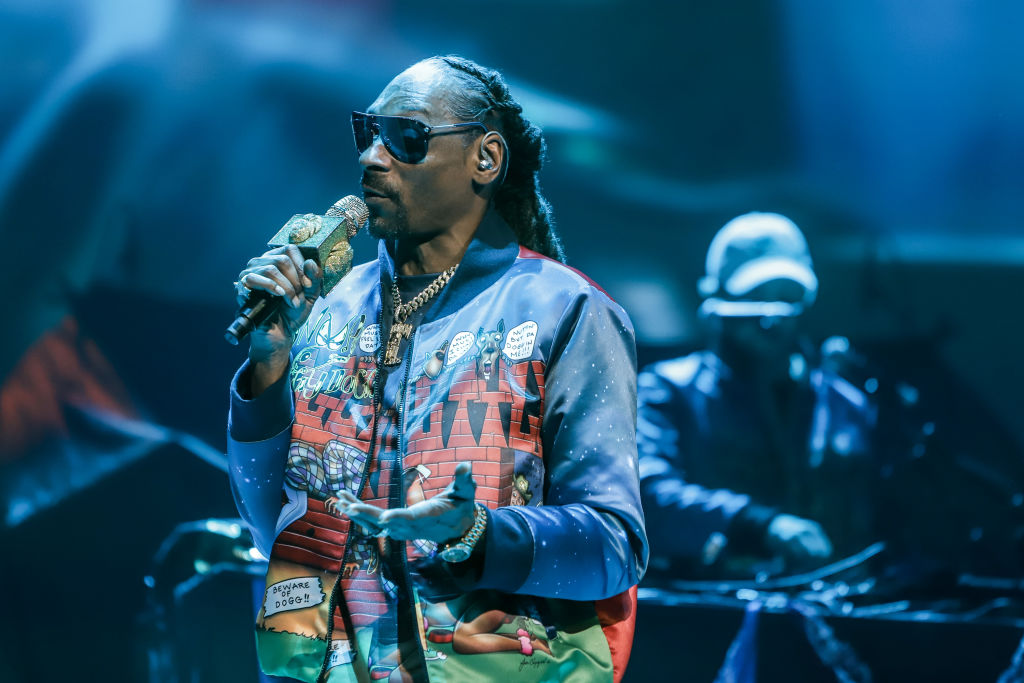 In 1993, Snoop Dogg had a run-in with rival gang members outside his apartment. Hours later, it happened again. Jake Brennan discussed Snoop's fall from grace that led to the trial in his podcast, DISGRACELAND.
"The gang-bangers from outside the apartment. Out in the open, in plain sight, sitting at the picnic table in the Palms Park. Right there by the tent," Brennan said. "Snoop didn't think, he accelerated, rolled up on them, stopped the Jeep."
Little Smooth (aka Phillip Woldermariam), Snoop, and Malik exchanged words. Jason London, who was also at the scene, later testified Little Smooth pulled out a gun.
According to Malik, when Little Smooth reached for his gun, Snoop ducked. Malik pulled his gun and fired into Little Smooth's Jeep before they fled the scene. Little Smooth — Woldermariam — died from the gunshot wounds.
Snoop Dogg released an album before the trial
That same year, Snoop released his debut rap album, Doggystyle with an appearance set for the '93 MTV Video Music Awards. Days later, he turned himself in to authorities. Snoop Dogg and Malik were charged with first-degree murder. After two years, their trial began in 1995 with the famed [late] attorney, Johnny Cochran, defending them.
"After some time at the trial, it was eventually discovered that Phillip's friend, who was also at the scene, hid the gun," Brennan said. London testified that Little Smooth's gun had been removed to protect him.
That aside, Brennan added that the Los Angeles Police Department "handled the case with incompetence." They "inadvertently destroyed Phillip's clothing, bullets, and shell casing from the scene," he said.
"When this was revealed, the jury could be seen in the courtroom, invisibly rolling their eyes and shaking their heads. Snoop and Malik were eventually acquitted and in no time, back on the streets."
Snoop Dogg's success didn't protect him from the life he knew, according to Brennan
"Ever since he was a youth, he rode with the Rollin 20 crips. The streets were his world. He was in no hurry to leave them behind, despite his success," Brennan added.
Snoop Dogg had a few other incidents around that time, including a traffic stop that led to a police search and the discovery of a firearm. In 1997, the rapper pleaded guilty to possession of a handgun.
When it comes to the charge of murder, Snoop maintains his innocence. Murder Was the Case, a short film and soundtrack, released in 1994 after charges were filed.
The Doggfather released in 1996 with the help of his mentor, producer, and friend, Dr. Dre. Since then, Snoop Dogg released many more studio and collaborative albums.
Snoop posted a throwback of the trial and fans weighed in
On the 24-year-mark of Snoop Dogg's acquittal from murder charges, the rapper posted a throwback video of his trial. The clip whos the verdict announcement. His caption read, "24 years ago today" with a blue heart and the prayer hand emoji.
"I remember being a kid in LA and seeing this unfold, praying for you, and seeing the world react. U just took me right back there," Flying Lotus commented.
"We loved this moment in history," Tyrin Turner said. Many others, including Ty Dolla Sign, DL Hughley, and DC Young Fly added a prayer hand or fist-bump emoji to show their love and support.
In another interview after the verdict, Snoop elaborated on how he felt during the trial. He explained why he appeared to have no feelings about what might happen next.
"I left it in God's hands," he said. "That's why I looked so stoned face. I just — I didn't have no expressions. It was all inner. I prayed on it. My family prayed on it."
What's up next for Snoop?
With those charges long behind him, Snoop has stayed on top of his career game in a big way. His 17th studio album, I Wanna Thank Me, released in Aug. 2019. Snoop Dogg still performs out and participates in projects with friend, Martha Stewart.
That aside, Snoop Dogg created his own video game, Esports League, and has acted in dozens of projects for film and TV. He's set to star in the upcoming SpongeBob Squarepants movie, with three other credits listed to his IMDb page for 2020.