'Snowfall' Season 3 Episode 4: Police Began Cracking Down on Drug Dealers
Snowfall Season 3 Episode 4 starts where previous episodes left off with Officer Wright (Marcus Henderson) noticing the crack epidemic spreading through his neighborhood. He had a talk with Franklin Saint (Damson Idris) in his car and warned him he would come after him and everything he loved.
The viewers then saw the officer speak to his captain, and Episode 4 revealed the outcome of the conversation. The previous episode ended with Gustavo Zapata (Sergio Peris-Mencheta) and Lucia Villanueva's mother running into the DEA Agent Soledad (Adriana DeGirolami) at the warehouse.
Viewers then see the wrestler fire off a gun; however, the episode ends before the unlucky person is shown. Who did Gustavo kill, and what does Officer Wright have planned for Franklin? Keep reading to find out!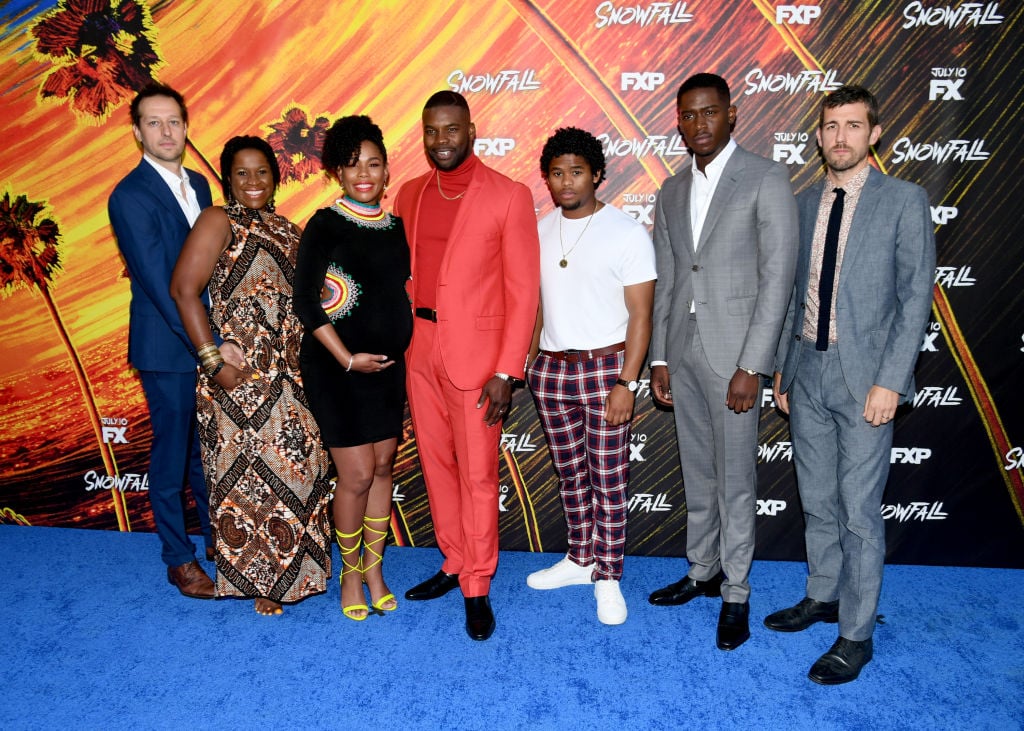 Gustavo Zapata killed DEA Agent Soledad in 'Snowfall' Season 3 Episode 4
Almost immediately after Soledad told Gustavo she's working with Teddy McDonald (Carter Hudson), he shot her in the back of the head. He and Lucia's mother continued sorting out the cocaine over her dead body until Teddy arrived. The former wrestler explained he didn't trust her, and Teddy should have warned him about her beforehand.
While the two were getting rid of her body, Gustavo told Teddy he killed her because she pretended to love them. They then poured water and lye on Soledad to quickly dissolve her body. Teddy and Gustavo also went to the DEA agent's apartment and planted cocaine in her house.
Officer Andre Wright and a task force crack down on cocaine houses
The Los Angeles Police Department began raiding several crack cocaine cooking houses. They burst into Jerome (Amin Joseph) and Louie's (Angela Lewis) home and tore everything apart looking for anything illegal. After one cop got too aggressive with Louie, Jerome started punching cops left and right until an officer restrained him from behind with a bar.
Franklin's uncle tried to get up; however, several cops jumped on top of him and began beating him relentlessly. Officer Wright walked in the house, saw what was going on, and walked out without stopping anything. They took Jerome and several of his other runners into custody, but Franklin's lawyers got everyone out swiftly without them having to make a deal.
After everyone was released, Franklin called a meeting together and told them they would have more lookouts and more runners so no one's face gets familiar. He then confronted a member of his crew about how the cops found out about where they were cooking and had Leon (Isaiah John) kill him in front of everyone to teach them a lesson.
Officer Andre Wright's actions lead to tension with Franklin Saint and Melody Wright
After his unnerving trip to the bank with Avi (Alon Aboutboul), Franklin wanted to chill with Leon and hit up the skating rink. His former flame and Officer Wright's daughter, Melody (Reign Edwards), works there and he tried to get her to skate with him. She played hard to get before approaching him after her shift and agreed to hang out.
They ended up hooking up in the back room, and it seemed like the young couple could make things work again. However, after the incident with Jerome happened, Louie doesn't want Melody anywhere near them. Franklin sided with his aunt and rudely told Melody to leave when she came by his house to check on the family.
Louie and Leon both urged Franklin to stop his business until he dealt with Officer Wright. His father and neighbor, Alton (Kevin Carroll), warned him not to kill the cop because then the police force would retaliate on all the blacks in their neighborhood.
What will Franklin do? Watch Snowfall Wednesdays at 10 P.M. EST on FX to find out!