'SOA' Creator Kurt Sutter Gets Nostalgic With Charlie Hunnam and Reveals Why the 'Mayans MC' Cast Remains Mum
'Sons of Anarchy' creator Kurt Sutter seemed nostalgic for old times with Charlie Hunnam after being fired from 'Mayans MC,' plus he also has alluded to why no on from 'Mayans' has spoken out on his behalf.
Kurt Sutter is feeling a little nostalgic following the cancellation of his Sons of Anarchy spin-off, Mayans MC. Shortly after Disney fired Sutter from the show, he took to Twitter and shared some throwback photos of SOA alum Charlie Hunnam. With the future of Mayans MC now uncertain, Sutter also alluded to the real reason why the cast has remained silent about his abrupt exit.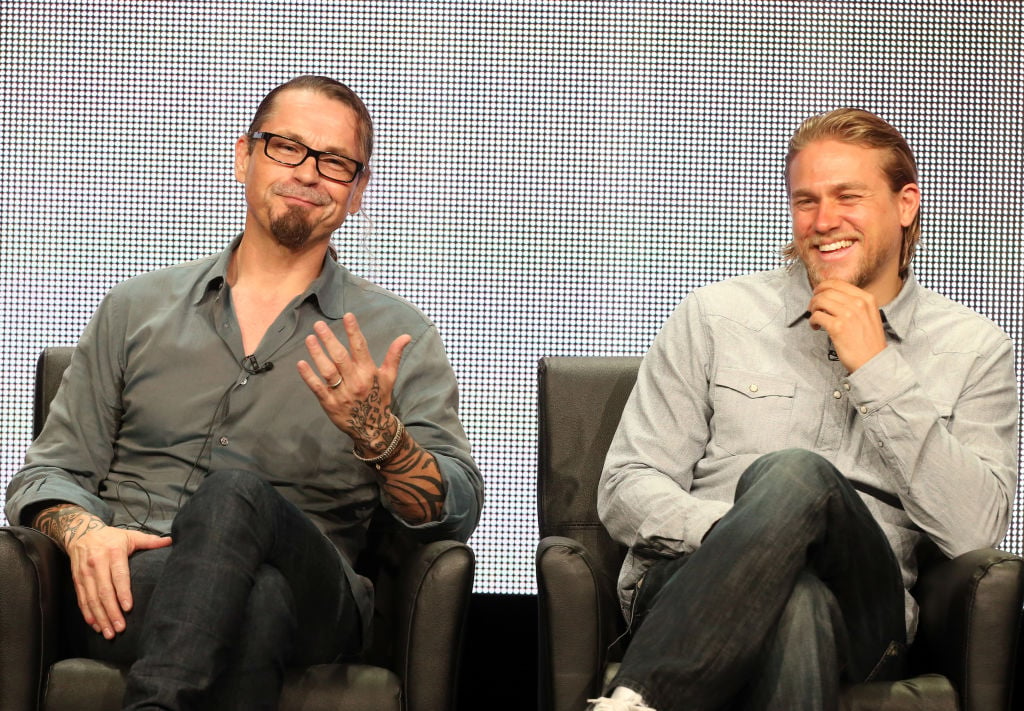 Sutter gets nostalgic with Charlie Hunnam
On Friday, the day after he was fired from Mayans MC, Kurt Sutter took to Twitter to share a throwback pic of Hunnam on the set of Sons of Anarchy. The picture shows a smiling Hunnam behind the scenes, something that brought back fond memories for the SOA creator.
"This guy. I miss," Sutter wrote alongside the pic.
Sutter added a Jackie boy hashtag, which is a reference to Hunnam's character, Jax Teller.
Over the weekend, Sutter shared another photo of Hunnam during his SOA days, only this one featured the actor alongside Theo Rossi in the pilot episode.
"The first pilot of #SOA. I believe this was Charlie patiently listening to [Rossi] extol the benefits of yet another life-changing cleanse," Sutter shared.
According to Pop Culture, Disney fired Sutter from Mayans MC over complaints they received regarding his behavior on the set. Kurt Sutter released a letter following his exit in which he claims to have been fired for being an "abrasive dick" on the show.
He later released a second letter that revealed Disney collected data from the cast and crew of Mayans MC. The studio told Sutter that the atmosphere on the set was hostile and that he was playing favorites with certain employees.
Sutter outright denied the allegations and claims that he was close with just about everyone who worked on the show. He was also confused about how he created a hostile environment when he had stepped away from the day-to-day work this season.
Kurt Sutter takes a swipe at Disney
In his letter, Sutter admitted that he probably should not have stepped away this season and transitioned out of the daily operations. But he also thought his co-creator, Elgin James, could handle the job.
At the end of the day, Sutter felt like Disney fired him because they didn't like him since day one. In fact, he published the letters so that fans would understand why he was really fired.
In particular, Sutter did not want fans to blame the cast and crew for what happened.
Shortly after the announcement, Kurt Sutter took a few digs at Disney on social media. This includes sharing a casting call for the upcoming Festival of The Lion King, which is being held at Animal Kingdom.
The SOA creator also shared a pic of an empty Disney amusement park.
After the end of SOA, Sutter released The Bastard Executioner on FX. The series only lasted one season after Sutter pulled the plug over low ratings.
He went on to develop Mayans MC, which has been going strong for two seasons on the network. There is no telling how fans will respond to Sutter's firing, though things are not looking good for the spin-off.
Sutter praises the cast and crew of 'Mayans MC'
While we wait to learn more about Sutter's exit, he did give a shout out to the cast and crew of Mayans MC in one of his letters. Kurt Sutter said that he is grateful for their continued loyalty and told fans that they should not point fingers at anyone involved in the show.
He also mentioned how the cast and crew have not said anything because of legal issues, which might be related to their contracts.
Sutter, unfortunately, did not elaborate any further in his tweet, but we are hopeful that more information will come to light in the coming weeks.
As far as the cast is concerned, there are only a few episodes of season 2 remaining. It will be interesting to see if ratings drop for the remainder of the season and whether or not Disney decides to renew the show without Sutter at the helm.
If they do bring Mayans MC back for a third season, it is hard imagining it moving forward without Kurt Sutter.
New episodes of Mayans MC air Tuesday nights on FX.