Some 'Below Deck Med' Viewers Are Angry and Convinced the Series Is Scripted
Some Below Deck Mediterranean viewers are feeling a little duped and downright angry after the latest episode.
The season started with promise, featuring three women leading the crew. But the unraveling was swift and unrelenting. An insubordinate second stew who quits after one charter. A third deckhand who turns out to be so sexist and creepy, he's demoted on the show. He was later fired by producers for sharing a racist and violent meme on Instagram.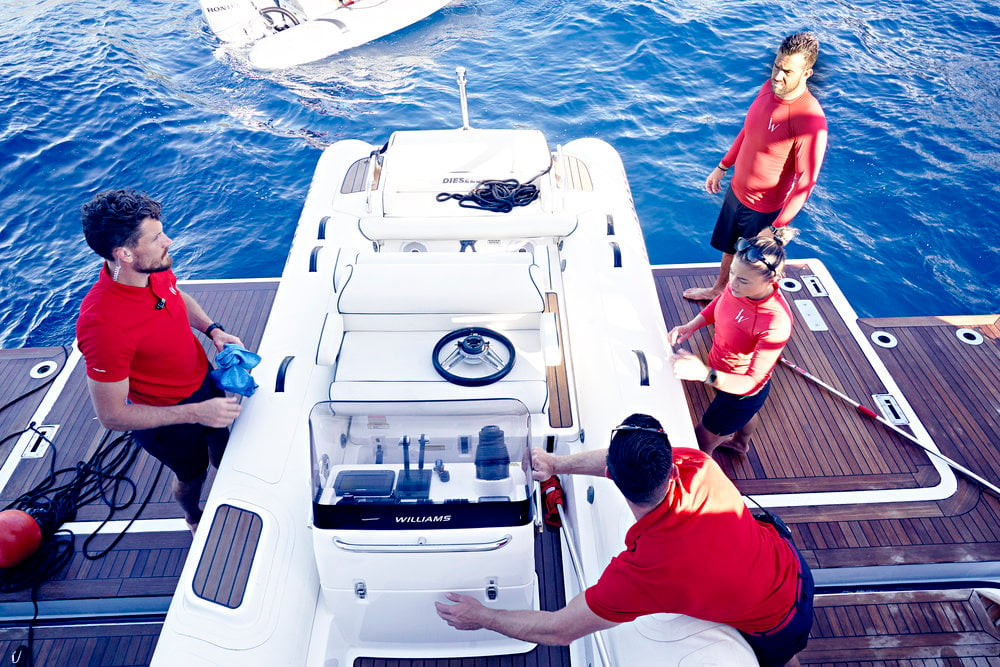 But those early instances paled in comparison to the anger oozing from fans on social media. Chef Hindrigo "Kiko" Lorran quickly became a fan favorite. Although he stumbled in the kitchen, his sweet demeanor and budding friendship with chief stew Hannah Ferrier won over the hearts of many fans.
However, in two episodes, Lorran left the boat and was suddenly replaced with bosun Malia White's boyfriend. During the same episode, White discovers that Ferrier has prescription valium after the two bicker over room assignments. White sends a photo of the medication to Captain Sandy Yawn and now it appears that Ferrier could be on the chopping block. A significant number of viewers are now calling "foul" and think the season was a set up.
Was Chef Kiko set up?
Several viewers now wonder if Lorran was fired because White's boyfriend was suddenly available. However, cameras captured how Lorran left the boat. During a messy dinner service, Lorran is seen pushing Yawn about his status on the boat. She expresses her concern about the dinner, but he continues to tell her that he will leave. Yawn tries to deflect and tells him to just finish the charter. But he says "And then I leave." She finally nods in agreement.
"I can't tell if Bravo or Capt Sandy and Malia are insulting our intelligence, thinking we wouldn't see through this sh*t," one person tweeted during the latest episode. "First Bugsy just happens to be the only available stew, and now the only chef is Malia's boyfriend? Stop."
RELATED: 'Below Deck Med': Chef Kiko Admits Exhaustion and the Cameras Pushed Him to the Brink
Another person tweeted, "So we're supposed to believe that Malia's chef boyfriend just happens to be coming to town the day after Kiko got fired AND is available for the rest of the season?"
"This is the most obvious set ups in Bravo history…which happens to be at the same time as the most obvious setup on #rhobh," one viewer shared on Twitter.
Anger is mounting against some crew members
White received significant backlash for turning in Ferrier. In fact, some tweeted that chef Adam Glick had to be smirking somewhere in the Oregon woods. He and White had a painful breakup during season 2. "Adam is probably somewhere in the wilderness searing salmon over a campfire like…" one person tweeted along with a video of Stephen Colbert pointing at the words, "I told you so."
Others were angry with the way White demanded that Ferrier change bunks. "So just because Malia wants to sleep with her boyfriend who JUST got here now Hannah and Bugs have to 'man up/be professional' and bunk together even though it's clearly an issue? Girl you better snuggle up in that twin bed together the way Jess and Rob were," a viewer tweeted.
RELATED: 'Below Deck Med': Malia White Insists Hannah Ferrier Was Taking Valium Every Night All Season
Someone even started a Change.org petition to have White removed from the show. While a bevy of viewers are angry with White, some anger is being directed at Christine "Bugsy" Drake and Yawn. Drake opened up about dealing with anxiety on social media but was quickly attacked. She removed the posted. Yawn has had sustained social media attacks for several episodes too. She is being accused of micromanaging Lorran.
"Oh how convenient that right after Sandy canned Kiko, Malia's chef boyfriend shows up… Cripes can this show be any more scripted?" one viewer shared.