Some Fans Think 'My 600-Lb Life' Is Scripted, Losing Quality
Is My 600-Lb Life scripted? Some Dr. Nowzaradan fans are starting to feel a little dubious about the show and its quality. In fact, some have suggested that the show is scripted, and others feel as if quality and creativity is being lost in production. Here's what fans of the show had to say about the show and the possibility of scripting.
How did 'My 600-Lb Life' start? It was Dr. Nowzaradan's idea
Dr. Nowzaradan, AKA Dr. Now, started My 600-Lb Life as a family affair. In fact, Megalomedia is founded by his son, Jonathan Nowzaradan. And according to Jonathan, the show came to life as a result of a random idea from his father — one in a slew of many. 
"It was actually my father, he's a doctor on the show. And he would call me with terrible ideas. And one day he had a good one, and it was based on helping people as opposed to just entertaining people," Jonathan Nowzaradan said during a chat with The Donna Drake Show. 
According to Jonathan, the show originally needed to seek out individuals to appear on My 600-Lb Life. However, he and Dr. Now are now receiving application requests without reaching out.
"Now we really don't have to find them, they're coming to us. There are a lot of people out there who need help," he explained.
"When we first started people had gotten to that point where, for lack of a better term they were mythological — they didn't go out, there wasn't social media, so you didn't know there were people suffering from severe obesity like that behind walls," Nowzaradan added.
Does Dr. Now charge patients on 'My 600-Lb Life'?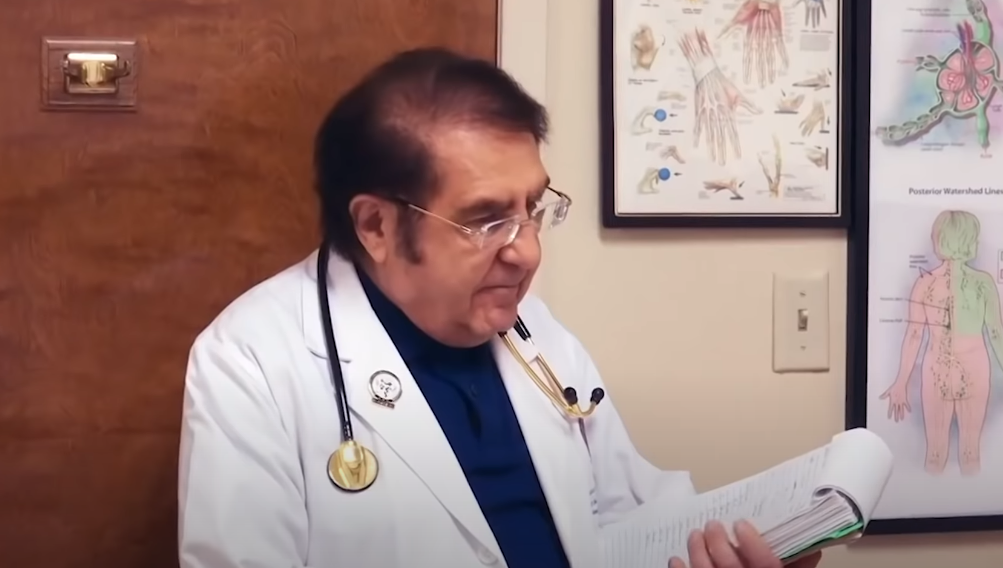 The popularity of the show has earned Dr. Nowzaradan many followers on social media. They're fond of Dr. Now's no-nonsense attitude when it comes to his My 600-Lb Life patients, as well as some of his other mannerisms that they find endearing. 
Because of this, fans have wondered whether or not Dr. Now charges patients who appear on My 600-Lb Life. The good news is that Dr. Nowzaradan has a strict personal code about this, and as a result does not charge patients who appear on the TLC show. 
"Looking at the moral obligation that we've got, you see somebody who has no life who could have a life. We don't need to be rich. We do make a living, but we don't need to worry about making a living out of every patient we see," he told the Houstonia magazine. 
Patients who appear on My 600-Lb Life receive a $1,500 payment, as well as a $2,500 resettlement fee if they must move to be closer to Dr. Now. 
Some fans feel 'My 600-Lb Life' is scripted, losing quality
Despite My 600-Lb Life and Dr. Nowzaradan's popularity, there are fans who feel as if the show is losing quality in recent seasons. Some even feel as if My 600-Lb Life is scripted. One Redditor expressed their frustrations on a post entitled "I'm done with this show."
"Watched my last episode. Absolutely no creativity in the film making. Awkward scripts and VO. Obvious manipulation of the rather predictable story lines. Creation of one-dimensional characters that miss the richness of their personal stories. Technical disasters like the audio editing," they listed.
"Can't take it any more. It is like a bag of potato chips. The first few are good. But then it's all the same and [not] worth it," they added.
Commenters were quick to back up the original poster, voicing their own opinions about My 600-Lb Life. 
"I bought the earlier, 1 hour seasons on Prime. They are so inspiring for the most part, with the OCCASIONAL, deluded idiot who refuses to do the work. Seasons 7-9 have just been frustrating to watch," opined one user.
"I think the show needs to both go back to its roots and revamp. Like they should actually follow the participants for a year again," added another fan of the show.