Some Fans Think Pete Davidson's Texts Were Leaked to Distract From Kim Kardashian's Recent 'Work' Scandal
The Kardashian-Jenners are constantly finding themselves involved in scandals. Kim Kardashian recently was in the hot seat after she made comments claiming that "nobody wants to work these days." She also said the "best advice for women in business" is to "get your f***ing ass up and work."
Kardashian has been receiving a lot of criticism for her comments, and some fans believe her boyfriend Pete Davidson's recent leaked texts were a ploy to distract from Kim's scandal.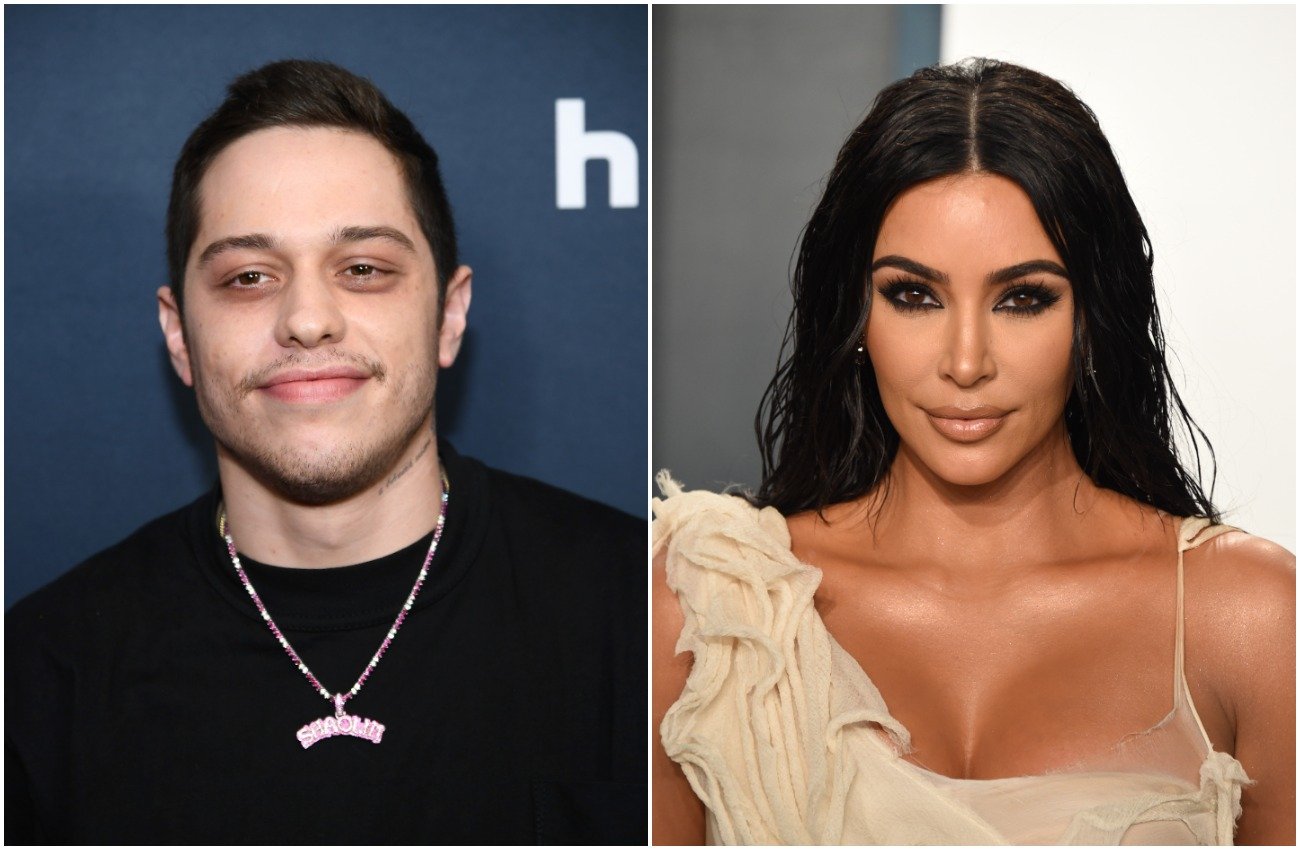 What do Pete Davidson's alleged text messages say?
For weeks now, Kardashian's ex-husband Kanye West has taken to social media to slam Kardashian and Davidson, both individually and as a couple. Although Davidson has largely remained quiet about West's antics, leaked texts allegedly show that he tried to have some words with West.
"Yo it's Skete," Davidson said, according to Buzzfeed News, referencing a nickname West often uses for him. "Can you please take a second and calm down. It's 8am and it don't gotta be like this."
Davidson continued, "Kim is literally the best mother I've ever met. What she does for those kids is amazing and you are so f***ing lucky that she's your kids mom. I've decided I'm not gonna let you treat us this way anymore and I'm done being quiet. Grow the f*** up."
When West asked Davidson "Where are you right now?" the comedian sent a selfie of shirtless and holding up a peace sign. He wrote, "In bed with your wife."
Davidson also called West's actions "so p***y and embarrassing" and told him to talk to Davidson in person. He also pleaded for West to resolve these issues privately instead of on social media.
However, Davidson's tone took a more sympathetic turn when he tried to relate to West's mental health issues: "Let me help you man. I struggle with mental stuff too. It's not an easy journey. You don't have to feel this way anymore. There's no shame in having a little help. You'll be so happy and at peace."
The texts ended with Davidson claiming he had tried "for months" to stand up for West and not allow Saturday Night Live and other comedians to make fun of the rapper.
"I have your back even though you treat me like s**t because I want everything to be smooth," he said. "But if you continue to press me like you have for the past 6 months I'm gonna stop being nice."
Some fans think the texts were leaked to distract from Kim Kardashians' 'work' scandal
RELATED: Kim Kardashian's Instagram Unfollow Suggests She's Possessive About Rumored Beau Pete Davidson
The texts have gained a lot of attention online. Some fans even theorize that it could be a ploy to take the heat off of Kardashian's "work" comments.
"I think the release of these texts is calculated," one person wrote on Reddit. "They are trying to distract from the Variety interview (and it's working). They know how hot any Skete/Kanye drama is and they're pulling out all the stops."
Someone else added, "I'm sorry but the timing for this family is JUST SO CONVENIENT. EVERY. SINGLE. TIME."
Another commenter even brought in Kardashian's "momager," who often tries to do damage control on her kids' image: "Honestly Kim's comments were BAD and Kris Jenner acted accordingly. Annoying but impressive."
Kim Kardashian give hints at how 'The Kardashians' will portray Pete Davidson and Kanye West
In April, Hulu will premiere The Kardashians, a new reality show about the Kardashian-Jenner family.
Speaking to Variety, Kardashian shared that Davidson will not appear on the show anytime soon.
"I have not filmed with him," she said. "And I'm not opposed to it. It's just not what he does. But if there was an event happening and he was there, he wouldn't tell the cameras to get away. I think I might film something really exciting coming, but it wouldn't be for this season."
She also will continue to try being diplomatic with West and would not use the show to paint him in a negative light.
"I believe in championing publicly and criticizing privately," the reality TV star said. "I don't think I would ever criticize the father of my children on my TV show. That's just not really what I'm about, and I just don't think that would ever make me feel good."
She added, "I'm always really respectful of what the kids will see. The reality is, we're always a family. We always will have a love and respect for each other. And even if there's moments where it might not seem like that, there are so many moments that are super positive."
RELATED: Kim Kardashian Was Told 'Kanye's Way Better' by a Stranger During Her Movie Date With Pete Davidson