Some Fans Were Disappointed Brooks Koepka Didn't Name 'Caddyshack' as His Favorite Golf Movie
Golfer Brooks Koepka recently sat down for an interview where he discussed some famous scenes that took place on golf courses in films. In the interview, he shared his favorite golf movie.
Many fans were surprised to find out it wasn't one of their favorites — the legendary comedy Caddyshack. So why didn't Koepka pick Caddyshack, and which movie did he say was his favorite golf movie ever?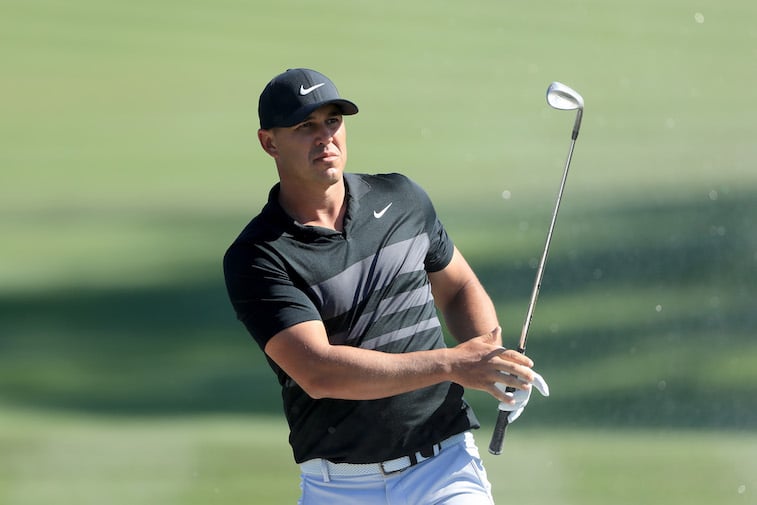 Brooks Koepka's career overview
The 29-year-old Koepka has seven career PGA Tour victories. He has a career scoring average of 71.785 per 18 holes. Koepka's best year came in 2019 when he won three times on tour.
He's had 39 career top 10 finishes with nine second-place finishes. His total career earnings on tour total about $30,399,947. 
Some famous films about golf
Golf is one of the toughest sports to accurately portray on camera. Because of this, there isn't a high volume of golf films produced – at least compared to other sports movies. That said, there are some from throughout the years that are have been decent box office hits as well as being critically acclaimed. Before looking at Koepka's favorite golf film, here are some other great golf movies:
Tin Cup. Kevin Costner stars as an undisciplined golfing savant who attempts to win the U.S. Open. 
The Greatest Game Ever Played. This drama starring Shia LaBeouf was about legendary golfer Francis Ouimet. 
The Legend of Bagger Vance. Charlize Theron, Matt Damon, and Will Smith starred in this fictional tale about an early 20th-century golfer and his mysterious caddy. 
While all these films have their fans, none of them qualified as Koepka's favorite. He also didn't select Caddyshack. So which one made the cut?
Why golf fans were disappointed in Brooks Koepka
Koepka recently broke down some of the best golf films of all time for a video for GQ's YouTube channel. He said his favorite golf movie ever is Happy Gilmore, the 1996 Adam Sandler comedy. In it, Sandler plays an amateur hockey player who isn't very good at hockey but has a heck of a slapshot. He becomes one of the best players on the PGA Tour.
Golf fans were up in arms at Koepka's selection. They couldn't believe that not only did he neglect to pick Caddyshack — it wasn't even mentioned in the piece. Caddyshack is another golf comedy starring Chevy Chase, Bill Murray, and Rodney Dangerfield. It's beloved by golf fans — and in general, fans of comedy – for its hilariousness. It's also a favorite among PGA golfers. 
But why did Koepka identify Happy Gilmore as his favorite over Caddyshack?
Why Koepka said he loved Happy Gilmore
Koepka defended his choice of a favorite golf film. Koepka isn't yet 30 years old, so Caddyshack may have just been before his time. Happy Gilmore is from his era. Plus, there's the element of how out of place the main character looks on the golf course. Here's what Koepka had to say:
"It's a fun movie. Everybody gets a good laugh out of it. Obviously, Happy Gilmore is a little bit different. It can be fun, you can laugh at it sometimes…sometimes it really doesn't look realistic. It's fun for golfers to laugh at."
Koepka is right about that one. Part of the enduring comedy of Happy Gilmore is Sandler's hilariously bad golf swing. Rather than stand still as he drives the ball, his character gets a running start and hits it – almost like a hockey puck – down the fairway. It would never work in real life, but that's the fun of the film. It makes sense that it would appeal to an actual pro golfer because it's almost like a video essay on how NOT to play golf.